"Dog!" whoops Ben Gowell as he reels in his line 12 miles offshore, pulling up a spiny dogfish from nearly 300 feet down. The dogfish, well-known among recreational and commercial fishermen, is one of many that have been landed this mid-July day aboard a University of New England research boat.
Gowell is among the students taking part in a research project to collect data and determine if a device attached to the lines is effective in repelling dogfish — thereby reducing the shark bycatch for fishermen from Maine to Florida.
The contraption, called a bycatch reduction device or BRD, emits weak electrical stimuli that keep sharks away. They operate under the same concept as electrical dog controls, commonly called "invisible fences" and give off electrical fields to keep dogs in their yards.
If the data show that the BRDs are effective—and preliminary findings suggest they are—the goal is to commercialize them for widespread use, said John Mohan, an assistant professor of marine science at UNE who is overseeing the student-led project.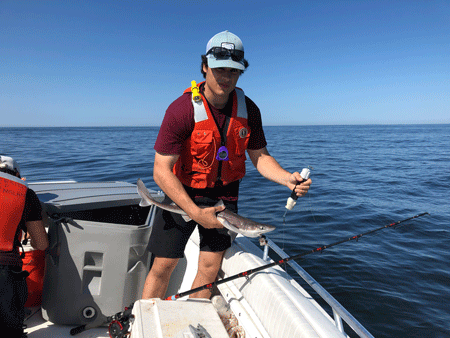 "Industry adoption is the ultimate goal," Mohan said as he manned the wheel of the Sharkology, a 34-foot boat with twin 250-horsepower engines.
Spiny dogfish are abundant throughout New England waters and along the Eastern Seaboard. They have little commercial value and are generally viewed as a nuisance, reducing fishermen's harvestable catches and sometimes damaging gear.
The UNE project is testing the devices at sea and in some large tanks in UNE's Marine Science Center. The research focuses on recreational fishing, but is being done in collaboration with a separate project to determine if the BRDs are effective on commercial longline fishing vessels that are targeting swordfish and tuna off the coast of North Carolina. Both projects are receiving funding from a NOAA Saltonstall-Kennedy grant.
The North Carolina study previously captured 141 sharks (covering nine species) in 15 days of commercial longline fishing, but only 34 of those were on hooks with BRDs that emitted an electrical field. That represents a shark catch reduction of more than 50% with BRD-equipped hooks.
For the Maine project, students this day are fishing four fishing rods with 60-pound test line. Two are equipped with active BRDs emitting electrical fields, and two have BRDs that are not activated and serve as a control group. The cylindrical devices are 8.5-inches-long, made of PVC, and equipped with microprocessors and lithium batteries.
Sharks are repelled by the BRDs because they have the uncanny ability to sense tiny electrical fields, which allows them to home in on their prey. Fish, however, are not repelled because they don't have the same sense.
Out at sea off Biddeford, students are pulling in pollock, red hake, and white hake in addition to dogfish. Of the 21 dogfish hooked during the day, only a handful of them go after the chum on lines with active BRDs. The results suggest the devices are effective, but not 100%.
Clayton Nyiri, a marine science major at UNE, is leading the field testing portion of the project. When the dogfish are brought aboard, he measures them and takes blood samples to determine their stress levels. Some of them are put into a water-filled cooler to be brought back to land to be used for laboratory tests.
Collecting the data is vital to determine the viability of the devices, said Nyiri, who plans to make a career studying sharks. He hopes to write an academic paper on the project this fall and have it published in a scientific journal next year.
Bycatch reduction devices would help fishermen financially, while also helping shark populations remain healthy, he said.
"It's a win-win," he said. "Reducing bycatch is good for the fishery, and it's good for the environment."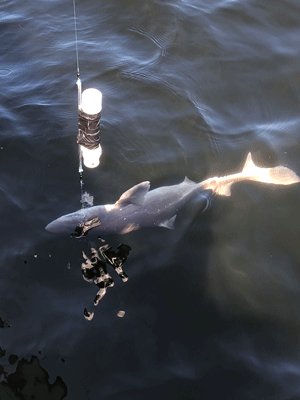 UNE graduate student Michael Nguyen is leading the laboratory testing trials, with Mohan—who has a doctorate in marine science—serving as the adviser to both Nguyen and Nyiri.
Nyguen said the battery life and the device housing need to be revamped to make them durable, so it could take time before they are in widespread use.
"As of now, [the testing] serves as a proof of concept and it's exciting to see that in the lab and field it works well deterring the most common shark in the western North Atlantic," he said.
Whether the BRDs become must-have equipment for fishermen remains to be seen. But the interest was high among recreational fishermen at an informational table that UNE set up at a recent fishing seminar hosted by Saco Bay Tackle at Dunegrass Country Club in Old Orchard Beach.
"They were like 'Can we buy this from you now, because we need something like this,'" Mohan said.
Atlantic Spiny Dogfish (Squalus acanthias)
Appearance: Dogfish are slim with a narrow pointed snouts, two dorsal fins and ungrooved large spines. They are gray above and white below with characteristic white spots. Males grow up to 3.3 feet, and females grow up to 4 feet.
Range: Along the Eastern Seaboard, dogfish live from Labrador to Florida, and are most abundant from Nova Scotia to North Carolina.
Market: There is little consumer demand for dogfish in the U.S., but it is commonly used in Europe as the fish in "fish and chips."
Source: NOAA Fisheries