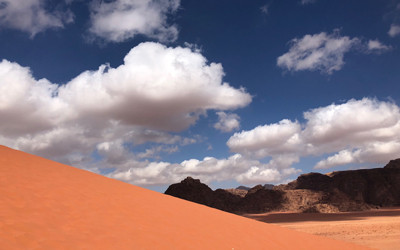 ROB SNYDER
By Rob Snyder​
I recently spent a week with a Jordanian friend touring his country. I learned that Jordanians have lived at the center of waves of people and commerce, of politics and art, religions, deserts and water scarcity for millennia.
Jordan is a crucible for the Arab world. The country borders Iraq, Saudi Arabia, Israel, Lebanon, and Syria. Those who have settled here left behind a beautifully sedimentary history at this crossroads of the Middle East.
While I was there, the border with war-torn Syrian was opening after a period of closure, allowing refugees to enter, and Jordanian products, particularly produce, to flow to this critical regional trading partner.
The first morning in the country I enjoyed a panoramic view of the capital city  Amman from the patio of Wild Jordan, an NGO that is using social enterprises to preserve and develop a series of national parks throughout the country. The city of three million covers seven mountains and has an architectural color pallet from bleached white to sand-swept browns, reflective of the ancient desert from which it rose. 
A set of buildings on Jabal Al-Ashrafiya stood out because of a slight variation in construction. I asked about it. My host noted that this was a refugee camp—settled in the 1940s. Wait, what? I naively thought refugees are temporary settlers moving back home or onward with time. I had not thought of them as immigrants.
My perspective grew as I learned that what started as tent villages became villages of sticks with corrugated roofs. These were replaced by one-story brick buildings. These one-story buildings were in turn replaced over generations of occupancy by larger four-story brick buildings.
Jordan has a population of just under ten million people. About 7 percent of Jordan's population are Syrian refugees. I would characterize the general attitudes of the people I met during my trip as caring and concerned for refugees.
I came to understand that many Jordanians believe the country has ultimately benefited from its openness to accepting people fleeing wars in the region over the past century. They cite how the Iraqis brought financing to major urban projects, and they note that Syrians are adding to the workforce, as the government has granted them work visas.
Jordan has a long history of settling displaced people. It appears to be part of how the nation imagines its role in the world. Interestingly, the country has been relatively stable since its creation as the Hashemite Kingdom of Jordan in 1946. This melting pot approach to new residents is paired with one of the most stable governments in the region.
The Jordanian people are proud of the role that they play in the region, despite the difficulties that have accompanied this policy of acceptance, including 15 percent or higher unemployment. 
We have our own fears of displacement here on the Maine coast. Many service sector employees fear being displaced by immigrants. A number of fishermen fear being displaced by aquaculture and energy projects. In general, communities fear economic uncertainty, new languages, different value systems, changes that upset the established culture. It is normal for people to fear change. What matters is how we respond to these fears.
I recall a Maine islander explaining to me that nothing causes more anxiety than someone arriving on the boat and claiming they are staying on the island, permanently. The rest of the community is aware of the work involved integrating this person in to the community. What skills do they bring? What will they do for work? Will they volunteer and contribute to the community or take more than they give? Are they running from something?
Folks in the community will know that you can't escape yourself on islands. Yet, like the Jordanians I met, many Maine islanders are willing to chip in and do the work to integrate new arrivals in their small communities in hopes that the new person or family will ultimately make the community stronger.
According to the United Nations Refugee Agency, in 2016 nearly 65 million people were on the move as a result of wars and persecution. Climate change threatens to add a whole new dimension to the global refugee situation.
The Jordanians I met have a lot of experience with how to navigate new arrivals, as do Maine's coastal and island communities. These communities contain examples that will shape a more tolerant world at a time when the world will need to be increasingly tolerant of the displaced.
Rob Snyder is president of the Island Institute, publisher of The Working Waterfront. Follow Rob on Twitter @ProOutsider.