Reflections is a monthly column written by Island Fellows, recent college grads who do community service work on Maine islands and in remote coastal communities through the Island Institute, publisher of The Working Waterfront.
This week has been one of anticipation in Eastport. I'm not referring to spring's slow arrival, though the sight of the first daffodils last week inspired an impromptu happy-dance of celebration. It's inside the Eastport Arts Center that creativity and new growth is blooming. 
On any given day this winter, you could walk into the warmth of the EAC and discover yourself in a circle of international folk dancers, a community choir, ecstatic dancers, preschool kids playing with colors and shapes, a movie showing, all surrounded by visual art and ever-present pots of tea and coffee.  The arts center has its own seasonal ebb and flow, and as winter has eased towards spring, community members have been gearing up to wow audiences with two upcoming productions.
Full disclosure: I'm the director of both Stage East's production of August: Osage County, opening June 2, and The Children Theater Workshop's production of The Curse of the Mona Lisa, opening May 6. I didn't expect to be working on two plays simultaneously when I first arrived in Eastport last September, but working with such dedicated actors and crew has been invigorating.
I'd like to share a few snapshots of recent rehearsals, primarily because they're too fun to keep to myself, but also because spring, I think, sometimes happens in unexpected places. A chilly converted theater, for example, or anywhere else that patience and hard work brings beauty and cheer.
First: the clue box.
Our children's theater troupe wrote an original play that chronicles the journey of Clue characters (from the classic board game) as they go to Paris to investigate the supposed suicide of Mr. Black. Of course, ticket prices being what they are, our characters are unable to fund their expedition until they realize (ah-hah!) that they are a board game, and traveling by mail would be a much cheaper proposition. Thus, the script calls for a magical moment where all the Clue characters squeeze inside a game box to be shipped to Paris.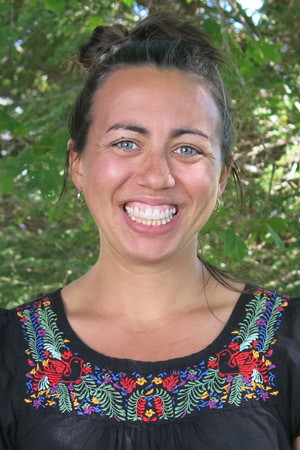 While theater depends on magical moments, this one presented a conundrum.  How do we fit seven kids into a game box? Several parents stepped up armed with massive sheets of cardboard, paint, and a staple gun. A few days later, the Eastport Arts Center now proudly contains the biggest box of Clue the world has ever seen. If you come and visit, you could fit in it, too.
And the moment when the kids burst out of the box, shouting in excitement over seeing the Louvre (a painted cardboard sign) and the Eiffel Tower (exquisitely rendered on some canvas) gladdens the heart of anyone watching.
Second: a "Bill" for every role.
Community theater is challenging, especially on island schedules where people travel for work, have irregular hours, and are juggling the responsibilities of multiple jobs and children. The 13-member cast of August: Osage County has been pouring their hearts and souls into this demanding, two-and-a-half-hour play, but as of this writing (we've been in rehearsal since late February), we have yet to run through with every actor present.
Enter Bill Johnson, line-reader extraordinaire, and the salvation of this spring's production. Bill has read for everyone, from a 14-year-old angsty teenage girl, to the family patriarch, to a shrill, demanding aunt. He does a mean impression of a strident Oklahoman woman in her mid-60s. He's been at more rehearsals than any actor, filling in wherever he's needed.
Perhaps this spirit of standing in the gaps is what's most inspiring about these two productions and island living in general. When you need help, there is always someone ready to lend a hand. Normally, they do it quietly and quickly, shrugging off thanks because they don't think they're doing anything exceptional. The expectation here is that people help each other, and it really happens.
So, as the songbirds return and the trees bud, cast a thought towards us at the Eastport Arts Center. We're working towards our own kind of spring, and it's coming soon to a theater near you.
Naphtali Fields works with the community to build a "makers space" in Eastport that will foster creative expression and support the arts based economy. She recently graduated from Virginia Tech with an MFA in Directing and Public Dialogue.