And Poison Fell From the Sky: A Memoir of Life, Death, and Survival in Maine's Cancer Valley
By Marie Therese Martin (Islandport Press, 2022)
The poison in Marie Therese Martin's And Poison Fell From the Sky: A Memoir of Life, Death, and Survival in Maine's Cancer Valley is the toxins emitted by the paper mill she grew up near in Rumford. Few people called it poison; denying the health threats was a way residents of Rumford and Mexico, flanking the mill on the Androscoggin River, tried to avoid that reality, instead seeing the mill as a source of steady paychecks and the industry as inevitable, with generations of with ties to it.
Many in the community had Acadian roots, coming from Canada originally. With new opportunities, this life represented success in America. The two things towering over the towns were smokestacks and steeples. That visual cue symbolized power and authority—the mill and the church could demand unquestioning respect.
Martin's childhood was typical, she writes, one of three children of Catholic, with French-Canadian ancestors. But the family was decimated by the father's philandering and her mother demanded he move out. Shock and shame followed the divorce.
Martin's conflicted feelings about Catholicism grew when her mother sent her off to boarding school where she was expected to become a nun.
The community blamed her. Martin's conflicted feelings about Catholicism grew when her mother sent her off to boarding school where she was expected to become a nun. After two years of misery and loneliness, she returned home, gratefully, to Rumford.
But again being exposed to sickening smells and visible pollution in the river, Martin began to recognize the mill's lethal potential. She writes, "I had always been interested in environmental issues. I loved my hometown but hated the familiar smell of caustic chemicals that invaded everything… On bad days my eyes burned and taking a deep breath made my lungs ache."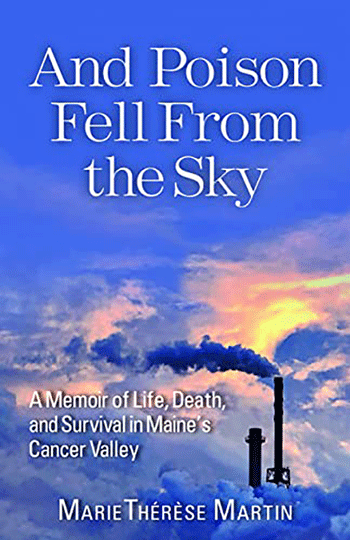 A nursing degree, supported by a scholarship, meant she returned again to Rumford to work at its hospital. Disregarding warnings from co-workers, she dated a doctor she found appealing, despite his being twice her age, newly-divorced with six children, and with a pronounced "cockiness."
Her surprise pregnancy served as entrapment. "Doc" said he'd marry her, and expected her to take on parenting his own children (plus the three they'd have together), be his full time office assistant, and sublimate her own needs, always, to his.
While that might seem a traditional arrangement to some, Martin saw the dark side and how he controlled her. But she would not consider divorce. She begins to see similarities between what she was expected to overlook as dangers—the mill spewing poison, the church teaching unquestioning obedience—and ignoring her husband's verbal and emotional abuse.
Yet the toxic relationship served as a catalyst—they began working together to document the illnesses and cancers occurring locally. With so many reported cases, their area had become known as Maine's "Cancer Valley," and more people were asking questions.
On a national level, Maine Sen. Ed Muskie was crafting environmental protection laws, leading to the Clean Air Act of 1970 and the Clean Water Act of 1972.
Martin writes: "Despite these changes, our local and state governments were not doing anything to protect the people impacted by a polluted environment… Without good-paying jobs, there would be no economy here or anywhere else in our rural state. The mill provided a living wage for the whole town, and in exchange, the paper industry as a whole was given carte blanche."
The couple began to speak out about the cancer, linking it to chemicals released by the paper mill. They paid a high price for their advocacy, receiving tax audits, record reviews, a lawsuit, and social ostracism. When Doc died of cancer, his heroism in confronting the polluters was noted. One editorial said, "He spoke truth to power."
Martin kept up the fight. Readers of Kerri Arsenault's award-winning memoir, Mill Town, will be familiar with Martin's work because Arsenault, who grew up a generation later in nearby Mexico, also recognized the toxic environment. Her investigation utilized the careful records Doc and Martin had kept.
And Poison Fell From the Sky deserves your attention as Maine's coastal waters continue to be impacted by the mills still discharging waste into the rivers that flow into our bays. Humans and wildlife are still exposed to toxins. Questions continue to need to be asked.
Tina Cohen is a Massachusetts-based therapist who spends six months of the year in Vinalhaven.