One way in, one way out.
That's how community officials often describe Deer Isle and Stonington, and it's a worry when that one way includes a sometime deteriorating Route 15, a circa-1939 bridge spanning Eggemoggin Reach, and a causeway linking Little Deer Isle and Deer Isle.
The causeway was the subject of a Sept. 20 meeting with concerns focused on a warming climate's impact on the roadway. Splash-overs and seaweed on the road coinciding with high tides are becoming more common, officials said, prompting concerns over a storm that might tear a breach in the causeway.
"It's a huge vulnerability," said Jim Fisher, Deer Isle's town manager, and the rising seas could become a monthly, or even daily problem.
Andy Sankey, director of Hancock County's Emergency Management Agency, explained to those attending the meeting in person and online that some 30 regional public safety officials—including those representing public works, fire departments, ambulance services, and law enforcement—had undertaken a "tabletop" exercise simulating the response to a breach of the causeway which carries Route 15 and is the only road link from Deer Isle and Stonington to the mainland.
Sankey said the premise of the exercise had "a 30-foot by 30-foot by 3-foot deep hole" cut into the two-lane causeway, presumably by a storm, which "absolutely, very much so" could happen.
Currently, seaweed and rocks must be cleared from the road a couple times a month, he added.
The planning exercise considered a breach that might cut off traffic for 48 to 72 hours. Such an event would disrupt mainland medical appointments for residents, as well as school and business affairs, including the delivery of fuel.
"It was a lot of 'what ifs' to find out what the public safety response was," Sankey explained. "It would get fixed in a couple of days," he said, and emergency plans have been drafted for such a scenario.
"Those plans exist. Will they work? I guess we're not really sure," he said. "We want to make sure we have a very realistic view. The causeway is at the top of our list here in Hancock County."
Sankey referred to road washouts in Prospect Harbor and Roque Bluffs in June 2021 from a heavy rain storm.
"It took weeks and weeks to get it repaired."
Linda Nelson, economic and community development director for Stonington, presented information on what is at stake if road access is lost.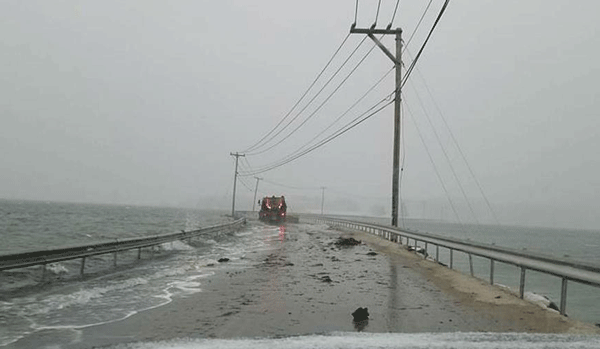 "We know we have two single points of failure—the causeway and the bridge," she said, and then offered some history.
"It was really businessmen who were fighting for the bridge, because the car was on the ascendancy. So all of that granite and all of that fish used to go out of Stonington by boat across the water. Without a bridge, the island was becoming more and more isolated."
It took two years to build the bridge, Nelson noted, but about ten years to secure construction funding.
Nelson urged the communities to act while federal funding is available through the recently passed infrastructure bill.
"The fact that we're the biggest risk factor in Hancock County will also mean we're at the top of the list for some of those infrastructure funds so we can do the mitigation that climate change in requiring," she said.
"We've had problems with the causeway for years, and now it's much more vulnerable. What's also more vulnerable is our economy."
Communication and power lines are strung across the causeway, she said, and an average of $55 million in lobster is landed each year in Stonington, Nelson said.
"These are live creatures that are dying the minute they come out of the water," she said, "so the timely transportation of lobster from Stonington is hugely, hugely important."
In addition to the lobster industry, construction and tradespeople use the causeway, as well as tourists. Lumber and fuel trucks also regularly travel the road.
"That point of failure is a two-way street," she said.
The Isle au Haut boat service also relies on the causeway, with the company reporting it carried 10,000 non-resident passengers in 2021, Nelson said.
Dale Doughty, head of planning for the state Department of Transportation, told the gathering that a causeway failure "would garner a lot of statewide attention."
DOT has begun evaluating the causeway, he said, with any work coming with funding in the summer of 2024. Drill crews will soon be on the causeway to gather data.
"We're doing the engineering studies right now," he said.
On the matter of medical transport, Julie Eaton, a local lobsterwoman, promised that she and others in the business would use their boats to carry patients to Brooklin Boatyard, if the need arose.