Damariscotta is moving forward with projects aimed at improving its waterfront. The work comes despite the Jan. 4 "king tide," the highest tide of the year, and the associated storm surge which flooded a municipal parking lot and the lower levels of two downtown businesses.
Improvements include a new facility housing four bathrooms, a utility room, a small office for the harbormaster, and an information kiosk, along with upgrades to Riverside Park, a new green area near the maritime history  kiosk, and a new pedestrian walkway and improvements to the parking lot's asphalt surface.
Town manager Matt Lutkus said more than 75 percent of the cost of the bathrooms is being funded by individuals and local businesses. The town has budgeted $422,000 for the project and a pedestrian walkway from Main Street. Improvements already made to Riverside Park last year also were funded by private donations.  
The rising waters which flooded the parking lot and shops don't typically come from the park that is between the parking lot and the harbor, Lutkus said. Instead, as the surge comes in, the flood waters come up into the parking lot through the storm drain system. New drains with devices that block back flow would help prevent much of flooding seen in recent years, he said. That work and improvements to the sanitary sewer system through the parking lot are being planned for 2019. 
After conducting a flood resiliency study in the area, consultants also recommended building a sea wall along the harbor side of the parking lot and other changes to reduce the likelihood of storm damage to commercial structures during the next 30-50 years. Lutkus said the parking lot would be raised by three feet; at that height, views of the harbor wouldn't be obstructed. A much smaller structure would also need to be built on the north side of the small peninsula on which the downtown commercial district is located.
"The total cost for the flood resiliency measures is estimated to be $1.4 million," Lutkus said. "By implementing the recommended measures, the businesses downtown could avoid the sky-rocketing cost of flood insurance since the improvements would be designed to remove the village from the 1 percent, or 100 year flood zone."
Once the engineering work is completed, Lutkus said the town would seek modification of federal flood zone mapping. One difficulty is that while hazard mitigation grants are available, projects funded have been limited to those where actual major flood damage has already occurred.  
Most of the flood resiliency measures probably will not be implemented until major federal funding becomes available.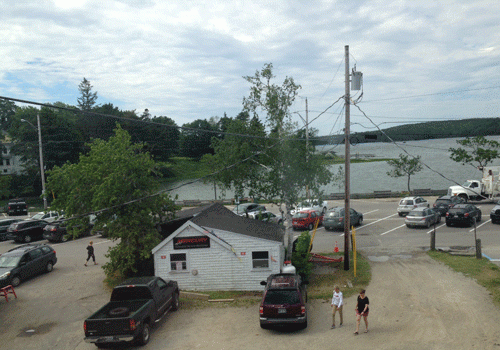 PHOTO: COURTESY MATT LUTKUS