Nora Flanagan renders the beauty of Maine's cool blue coast in a warm and tactile form. Her applique quilts, born from scraps of fabric, are as evocative as any painting and, given the process by which they are created, rely on a kind of abstraction—scissor-sliced color swatches—that serves to represent scenes of sea, sky, and headland.
Her work has been commissioned by Maine celebrities, including Sen. Angus King and singer-songwriter Noel Paul Stookey (of Peter, Paul & Mary fame), and a photo of one of her creations is featured in Maine Quilts: 250 Years of Comfort and Community by Laureen A. LaBar.
Flanagan grew up in Portland, the fifth in a family of eight children, and after high school, attended the University of Colorado at Boulder where she studied studio art. Primarily an oil painter then, her work was mostly abstract.
"I really am just a folk girl, not a fine artist."
"I just wanted to make things that would sell," she recalls with a laugh.
But a more traditional medium beckoned.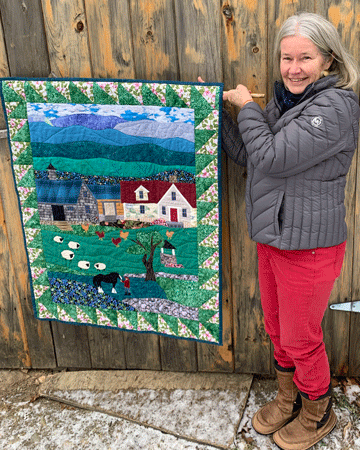 "I was making quilts since high school, on the side, for friends," she said. "I started doing some traditional ones. I got a little bored, so I started doing the appliqué landscape ones." After stops in Boston and New Orleans, she returned to Maine, where the coast continues to be her muse for the quilts, most of which are treated like fine art and hung on living room walls.
Flanagan's skill with a sewing machine and needle have led to jobs making decorative curtains and clothing manufacturing, and a stint painting furniture, but these days, it's her custom quilt work that pays the bills.
Some 30 years ago, she began selling her work to visitors at Rockland's Lobster Festival, and that approach continues to serve her. She has sold at the Maine Fishermen's Forum in Rockport, the Blue Hill Farmer's Market, and the Belfast Farmer's Market, among others, all accessible from her home just outside of Belfast.
She describes a project that now hangs in a home in Castine to illustrate how commissions come together. While at a booth at the Blue Hill Farmer's Market, which the Blue Hill Co-op hosts, a husband and wife, while independently wandering through the market, stopped to admire her samples. They met up and exchanged their enthusiasm about Flanagan's wall quilts.
The couple invited her to their Castine summer home to discuss a piece that would hang on an open wall, concluding it should be 6-feet by 8-feet. Asking the couple what they enjoyed about their waterfront home, they described scenes from the window such as seals cavorting in the waves.
"Seals playing out there—now we have something to work with," Flanagan recalled concluding, and she returned to her home studio to get to work.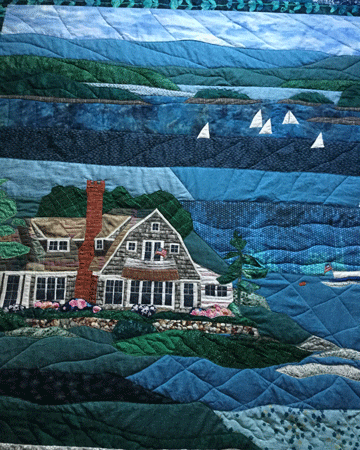 Sometimes she'll make sketches before building the quilt. For the wall hanging for Angus King's office, she sent him three drawings of the Owls Head scene he requested, adding in a lobster boat and the Rockland breakwater. Over the years, her scenes have become more complex.
Stookey, who also came across her at the Blue Hill location where he has lived for decades, asked Flanagan to create a quilt that would be photographed for the cover of his 2018 Christmas CD, Somethin' Special.
"He asked for a view out a window with some kids playing," and that's the scene that is adorning the CD case, spread over front and back.
She typically starts with the background which features larger pieces of fabric, and begins at the top of the scene and works her way down. The fine work of stitching the pieces together, which requires an exacting eighth-inch overlap, takes time. Finally, batting is included, lining the piece.
Another recent piece she shows, Moonlight Sonata, uses pieces from a tie-dyed dress.
Not surprisingly, given that many of her subjects are sea-based, Flanagan is generous with her use of blue fabric.
"It is my favorite color," she says.
Showing a work in progress, she describes one fabric choice as "lakey blue."
But it's not all seascapes for Flanagan. She also is fond of using architecture in her creations and cites work depicting the densely built waterfronts in Stonington and North Haven. She often is asked to produce house and camp portraits. That work, capturing home or a getaway, elicits satisfying responses.
"I like it because the people I sell to give me very good feedback. 'That looks just like my camp,' or 'Just like the place I swim.'" Depictions of farms are also favorite customer requests.
She estimates that she has produced 20 large wall hangings in the last year, along with over 100 pillows and five queen-sized bedding quilts. Aprons, slipcovers, and cards round out her work.
Flanagan is modest and rather shy. She says she is content to work in her small home. In fact, the living room is mostly eclipsed by her materials and sewing machines.
She downplays the fine-art label.
"I really am just a folk girl, not a fine artist. I don't mind copying Winslow Homer and Grandma Moses," she says, then quickly scolds herself with a laugh, saying, "Influenced. Don't say 'copy.'"
Flanagan's work can be seen at noraflanaganquilts.com and she may be reached at bluebirddesignofmaine@gmail.com.