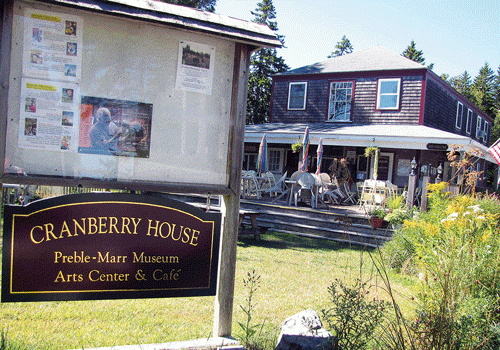 TOM GROENING
On any given day, locals and visitors to Cranberry House on Great Cranberry Island might attend a play, concert, or summer lecture, or view historical exhibits featuring island artifacts and personalities. 
On the grounds outside, they might walk the trails, visit a Revolutionary War cemetery, fish for trout in a pond developed from a mud hole, or explore an old hermit's cabin made famous by God's Pocket, a book written by famous former Great Cranberry summer visitor and Sutton Island resident Rachel Field.  
They might grab a tasty bite to eat, sitting at tables on the porch or lawn at Hitty's Café, named after Field's children's book Hitty, Her First Hundred Years. Or they might attend one of the distinctive events only to be found on this small and friendly island, like Polly Bunker Day and Wilfred Bunker's Birthday Party. 
The Great Cranberry Island Historical Society opened Cranberry House only ten years ago, but it rapidly became a central community fixture that houses the Preble-Marr Historical Museum, archive collection, arts center, gift shop, Hitty's Café, and upper-story space dedicated to events, meetings, and classes. Overlooking the island's main, one-mile-long road and its flock of wild turkeys and bicycling children, it's attracting 5,000 visitors each summer these days, and is a primary stop for the "Cranberry Island Explorer," a stretch golf cart that has been providing free shuttle service since 2013 and itself a popular tourist attraction.
Now the historical society is seeking to raise funds to build a modest addition onto Cranberry House to sustain programs and better protect the archives.
On July 28, the historical society kick-off of the Cranberry House 10th Anniversary Campaign, called "Honoring Our Past, Building For The Future," received great enthusiasm from both year-round and summer residents.
The campaign was launched July 28 at the home of Jim and Molly Singerling, overlooking the water and accompanied by sun and sea breeze until a late-afternoon fog set in. 
"This is an entity that the island community and visitors have come to rely on," said Jim Singerling, who is chairing the campaign. "We needed to do something to preserve the past, but also to prepare for the future."
Initiatives like Cranberry House, the shuttle, the advent of a broadband network, and Cranberry Isleßs Realty Trust—a separate entity whose mission is to provide affordable housing for those wishing to live year-round on Great Cranberry Island or Little Cranberry Island—have been essential to ensuring the island's future as a year-round community and attracting more visitors, said Singerling. 
The campaign seeks to raise $450,000. Of that, the campaign's quiet phase raised $160,000. 
A sum of $150,000 will be for a staff sustainability endowment fund. According to campaign materials, in 2013 the historical society hired a part-time professional archivist and, two years ago, a part-time general manager. Grant funding currently supports those positions. An unrestricted endowment fund is viewed as a way to ensure the sustainability of the two staff positions and relieve the stress of annual fundraising. 
A sum of $250,000 is designated for the Cranberry House addition to improve archival storage. An August 2017 assessment of the archives by the Friends of Island History determined the basement storage environment is humid, has fluctuating temperatures, and that mold is a major threat. The archives include historical documents, nautical charts, audio and video recordings, old photographs, and works of art. Nearly 2,000 items still require the archivist's attention. A collection of ten mid-19th century nautical charts, a pair of antique rowing boats, and a horse-drawn carriage from the 1890s are among the donations in need of attention and improved storage facilities.
The expansion is expected to start with a ground floor to provide additional humidity- and temperature-controlled archive space. Additional exhibit space and a small auditorium with a stage would be completed as funds become available. The existing archive would be used for non-archival storage and offices.
"This is good for Cranberry, this is good for the community, this is good for our children and our grandchildren," Singerling said during the official announcement.