Connecting America's deepest Atlantic Coast seaport to mainland America is becoming a 100-year challenge.
"It's been said that there are only two things that Mainers here in Washington County hate," says Chris Gardner, who oversees the Port Authority of Eastport. "Change, and the way things are."
For many years, Gardner has characterized Eastport's deep-water port as a largely undiscovered and seriously untapped resource in the now-thawing North Atlantic. To wit: A cargo ship leaving the New York/New Jersey harbor complex for Europe will require four more days at sea than a similar vessel headed to the same European ports from Eastport.
"The whole idea is to focus not on where we are now, but where we need to be."
For years now, Gardner has been doing the economic, political, and cultural math, using a calculus that embraces the vision of transforming Eastport into a major international import/export cargo facility. It's a vision tempered by the reality that Eastport—population 1,300 and change—is more than less in the middle of nowhere. There's no rail link, no convenient access to U.S. or Canadian interstate highway systems, and no easy access to a serious airport. Then, too, are the issues inherent in Eastport being located within not only the poorest region in Maine but one of the most economically depressed counties in all the U.S.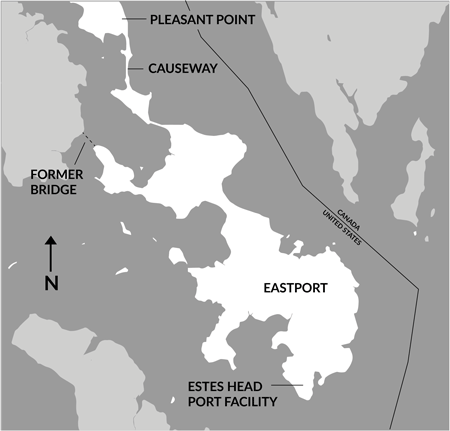 Gardner and others who are determined to revitalize the Washington County and Maine economies see a glimmer of hope in the new federal "Build Back Better" political agenda, which is grounded in a strategy encouraging massive commitment of federal dollars to constructing new infrastructure—including roads, bridges, and rail lines—that will underpin 21st Century America's economic growth.
"This infrastructure effort may be our best chance ever of simultaneously addressing multiple environmental, economic, and cultural concerns," Gardner said. "The time is right politically. The whole idea is to focus not on where we are now, but where we need to be."
The inherent environmental concerns deeply involve the Native American community at Pleasant Point, which is known to the area's 2,100 Passamaquoddy residents as Sipayik.
Eastport, which before the 1930s was an island, has been linked for decades to interior Washington County by Route 191 and a causeway. The aging, two-lane route bisects Sipayik. For years it's been the only means by which cars, recreational vehicles, motorcycles, and heavy trucks can get into or out of Eastport.
As they pass through Sipayik, safety and speed are issues. An estimated 40,000 vehicles travel through the community each year, among them 18,000 trucks, all encountering school-zone and pedestrian crosswalks requiring speed limits of 15 miles per hour.
The Passamaquody community and others are eager to address and resolve those traffic concerns, which involve a man-made causeway first proposed in the 1930s during the Roosevelt Administration. For decades the causeway has spanned Half Moon Cove. The causeway blocks the tidal flows of Passamaquoddy Bay, which for centuries has served as a natural fish passage to the St. Croix River.
"The causeway has choked out the tidal nutrients to the clam flats and access by alewives and the elvers," said Ernie Neptune, the Sipayik tribal council's vice chief, who is a proponent of removing the causeway. "For thousands of years Passamaquoddy Bay was our garden," he said. "It provided our people with lobster, clams, flounder, whales, alewives, and salmon."
Tribal leaders now find themselves immersed in yet another study of the complex issues involved. The U.S. Army Corps of Engineers has been commissioned to undertake a two-year study of various options. The tribe anted up $62,500 as its portion of the $1 million cost of the two-year study. Neptune expects the first of the public hearings on exploring how best to assemble the puzzle pieces involved will be held in late spring or early summer. He, like Gardner, agrees that there currently are many more questions than answers.
Eventually, the Passamaquoddy community will vote on which option residents prefer.
"Alternatives have yet to be determined," Neptune said.
"I think we have the right people working under the right circumstances to determine the best ideas that will take us where we need to be," Gardner said.
How much the remediation efforts will cost, Gardner said, will be determined by the option selected by those involved.
One bypass concept under study involves less than two miles of new road but includes a bridge that would be longer than the length of the Penobscot Narrows Bridge bridge at Bucksport. Costs, he said, may ultimately be the "billion-dollar question." Perhaps literally.
"With inflation, the numbers are changing by the day," he said. "And costs may kill us. But we have to make sure this project is well thought out and well-shaped, as we will be in competition with projects in places that are so much bigger than we are and with so much more clout than we do. We'll also need a a load of luck."