In 2014, a group of residents of the town of Ōsakikamijima, Japan, invited the College of the Atlantic in Bar Harbor to help them start a college.
Ōsakikamijima is on a small island in the Seto Inland Sea, off Hiroshima. It has a population of 7,800 that's trending up in age as younger people move away. Shipbuilding and fishing have long been stalwarts of the local economy, along with native blueberries. 
Bar Harbor on Mount Desert Island has a population of 10,400 that's trending up in age as younger people move away, and it, too, has a heritage of shipbuilding and fishing. Blueberries also are a native crop.
"The parallels with Maine, and with MDI in particular, are unbelievable," said Jay Friedlander, COA's Sharpe-McNally Chair of Green and Socially Responsible Business.
After a 2015 visit to Ōsakikamijima with COA President Darron Collins, Friedlander led COA's effort to fulfill the island community's request. Over the next two summers, Friedlander, Academic Dean Ken Hill, and students brought together students from institutions of higher education from elsewhere around the U.S. and the world to convene in  Ōsakikamijima  and establish a program called the Human Ecology Lab & Island Odyssey, or HELIO for short. The program was established in partnership with Ashoka Japan, Ashoka U, the Town of Ōsakikamijima, and Designing for Social Innovation and Leadership Global.
The idea to start a college began with a small group of Ōsakikamijima residents seeking to revitalize their community, introduce new educational ideas, promote a year-round community, and reverse youth flight, said Friedlander.
"The community is getting hollowed out and they need to bring young people to the island," he said. The folks had connections with Ashoka Japan, a global network of social entrepreneurs based in Arlington, Virginia. COA is a member of the Ashoka University Network, a consortium of colleges engaged in social entrepreneurship and  social innovation.
"With their Ashoka connections, the island folks said, 'We're on this small island. We want to start a small school.' Ashoka said, 'We know this school on a small island'—and they connected us."
THINKING CREATIVELY
The Ōsakikamijima group is interested in creative thinking.
"They realized that, for the economy of the future, they needed people to think in ways that stretch beyond typical disciplinary boundaries, to embrace creative and multi-disciplinary thinking to solve today's complex problems," Friedlander said. "If you look at COA, that's basically the mission of the college," with a focus on interdisciplinary, student-driven studies. 
In July 2016, HELIO launched with 24 students from colleges and universities within the Ashoka University Network—including students from the U.S., Japan, and other nations. They held workshops, trainings, and hands-on local immersions. The idea was to have the students design an educational program around topics that piqued their interest, building momentum from within the community rather than imposing something from the outside world, he said.
"The first group focused on how to redesign higher education in Japan," Friedlander said. "What are the resources the students see on the islands, and how can those be used in classes?"
A similar cohort traveled to Ōsakikamijima in 2017, with a focus on the island itself.
"It might seem counterintuitive, but many people who live the same life every day don't necessarily understand what they have that's so special, that's all around them," he said. "The students were involved in activities around the island. What we kept hearing was, 'Why would anyone want to come here?' So we sort of reflected that back onto the people and helped them understand why these students from away were interested in being on the island. We helped people on the island understand what a special place it is."
Typical days included visits to businesses like an oyster farm and a soy sauce  manufacturer, and interviews about island culture and heritage. Cultural programs included Hokkaido drumming and Noh dancing, and guest lecturers included a Hiroshima bomb survivor.
Recently, Friedlander was preparing a trip with half a dozen schools that wanted a look at the program's potential.
"They want to use the island as a platform for people to dive into social issues happening in Japan, be it around aging, rejuvenating the island economy, looking at more traditional ways of life, those kinds of things," he said.
And plans were in the works for this summer's program. Ultimately, he said, the community would like to see the programs morph into a full-fledged college.
"It looks like they're in the final stages of securing a partnership with a Japanese university, so that can be a platform for the university to send students," he said. "It's also a huge stamp of approval."
Islands make great learning laboratories, said Friedlander, who was also part of a COA group that traveled, through a partnership with the Island Institute, to Samsø, an island off Denmark, in 2015 to study how residents there made their community carbon negative.
"These islands are such that it's easier to get your arms around," he said. "You can really demonstrate the possibilities in ways that are very meaningful to a distinct area. And it's a different kind of place to be, so they attract a lot of creative people."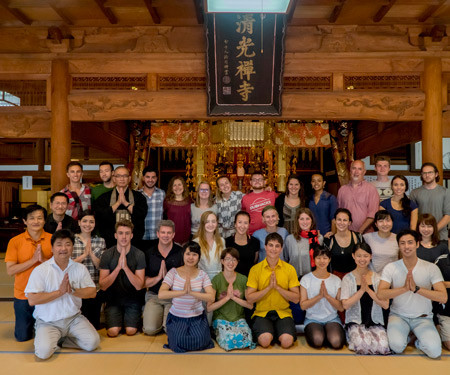 COURTESY COLLEGE OF THE ATLANTIC