Both institutions see their missions as providing high-quality education to a relatively small group of students. Beyond that, Waterville's Colby College and Port Clyde's Herring Gut Learning Center would seem to have little in common.
Beginning late last year, though, Colby and Herring Gut began a partnership aimed at enhancing each institution. The partnership was highlighted at a July 14 press event that included a tour of Herring Gut's campus in Port Clyde, which was in high gear with summer programs for area high-school age students, as well as a visit to Allen Island, where incoming Colby students were staying overnight and exploring the island's in-the-field laboratory work.
Herring Gut began as an aquaculture endeavor in Port Clyde funded by Phyllis Wyeth, wife of the painter Jamie Wyeth. In the late 1990s, local students deemed at risk of not graduating began working with the aquaculture operation, raising oysters. Phyllis Wyeth then began planning a marine science center in Port Clyde.
Herring Gut Learning Center was formally established in 2000, and summer educational camps were offered to local students. By 2005, programming expanded to include after-school classes. In 2007, an eight-week aquaculture program was offered to a local school district's gifted and talented students. The center then began offering educational opportunities for teachers.
Speaking at the July 14 event, Peter Harris, chairman of the nonprofit board, said Herring Gut teaches about 1,000 students each year, and "We've taught more than 100 teachers now," mostly from Maine, but some from as far away as Chicago and Miami.
Of Wyeth, Harris said: "She's a visionary. She's a determined person and a courageous person."
The tour of the Port Clyde campus, led by a student, included stops at a lobster pound area, now used to grow kelp, and buildings in which tilapia, a finfish native to the Nile River, are being raised in tanks.
"Our goal is to give kids an education that will literally change their lives," Harris said. "What we care about more than anything is that students have an education that works for everyone."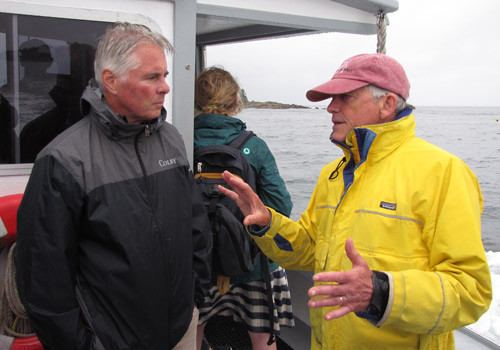 TOM GROENING
That point was underscored by Herring Gut's executive director, Sam Belknap, who recounted being told by a guidance counselor that he might not be right for college. Not only did he go to college, but he is now completing a doctorate.
Classes of no more than a dozen students with three teachers help reach kids who may have slipped through the cracks, Belknap said.
"It truly lets us get to know these students as individuals," he said. Many are from fishing families, so the marine focus helps stimulate their interest. Herring Gut sees student emotional and social growth as "the most valuable thing we do," Belknap said. "At the end of three years, their lives are truly transformed."
Caleb, a student leading one of the tours, later echoed this observation, saying of the center, "It's helped so many kids in so many ways."
Colby president David Greene said he had observed teachers at work at Herring Gut and was impressed with their dedication to keeping students engaged.
 "This is an inspiring place," he said. "If you don't have a high school degree, your average salary is $25,000," Greene said, while those who finish high school can expect an average salary of $46,000. Someone without a high school diploma is five times more likely to be unemployed than someone with the diploma, he added.
"And that's what Phyllis (Wyeth) wanted to solve," Greene said.
On Allen Island, where the Wyeth family has summered for decades, Jamie Wyeth welcomed those on the tour. The island once was home to 85 school children, he said, a stark contrast to the barren looking landscape dotted with a few buildings. Phyllis wanted to revive the island's connection with the vibrancy that comes with active learning, Jamie said.
"Her whole thing is to not have this island as a museum," he told the group.
Bringing Colby students to the island opened up academic inquiries into such disciplines as archeology, history, marine science, and art, Wyeth said.
"Something's going to grab a student," he said. 
For more information, see: HerringGut.org and Colby.edu.