By Laurie Schreiber
Ocean explorer Allison Fundis has seen many amazing things on her journeys to the depths of the sea.
Thousands of octopuses brooding along the warm-water vents of submarine volcanic systems. Rare Deepstaria jellyfish billowing like translucent ghosts, and weird gulper eels with mouths larger than their bodies. Giant tubeworms growing in clusters along hydrothermal vents off the Galapagos. Small bobtail squids with giant eyes, seeming to stare into nothingness.
Then there are the archeological finds, like the rusting hulk of the USS Independence, used after World War II as a target during atomic bomb tests and then scuttled off California.
"But there was no record of exactly where," Fundis told a packed house during a talk in February at her alma mater, College of the Atlantic in Bar Harbor. "So we went to look for it. Now it's a remarkable sponge habitat."
Fundis, a 2003 COA graduate, is chief operating officer for Ocean Exploration Trust, a nonprofit founded by famed oceanographer Robert Ballard, who discovered the Titanic. Fundis leads teams of scientists, engineers, educators, and communicators to conduct annual missions aboard the 211-foot exploration vessel Nautilus.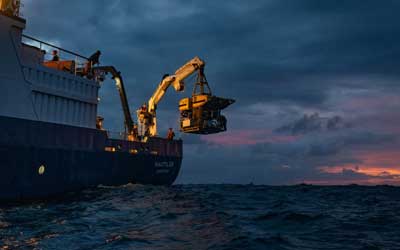 ROV Hercules deployed off Nikumaroro Island. PHOTO: COURTESY NATIONAL GEOGRAPHIC
Since 2006, she has led or participated in over 50 expeditions utilizing deep-sea technologies and submersibles in the Eastern, North, and South Pacific Ocean, Gulf of Mexico, Gulf of California, Caribbean Sea, and the Mediterranean Sea. She leads the development and management of the organization's ocean exploration and outreach activities, conducted both on board the ship and through live video, audio, and data feeds from the field.
Since 2013 it has mapped over half a million square kilometers of the sea floor, using high-frequency, high-resolution sonar that generates finely detailed images. Remotely operated robotic vehicles equipped with high-definition cameras provide sampling capabilities.
The organization works with numerous research partners. For example, NASA's Jet Propulsion Laboratory used the ship to test a new tool on the sea floor, as a proxy for planetary exploration.
One of her most intriguing expeditions, Fundis said, was the month-long search in  2019 for Amelia Earhart's plane.
Conducted in partnership with National Geographic Partners and National Geographic Society and the subject of a National Geographic documentary released in October 2019, "Expedition Amelia" followed clues unearthed by The International Group for Historic Aircraft Recovery (TIGHAR), a Pennsylvania nonprofit that has been exploring the disappearance of Earhart and her navigator, Fred Noonan, during their 1937 attempt to circumnavigate the globe.
On one of the last legs, Earhart and Noonan were due to land on tiny Howland Island in the Pacific Ocean, where an airstrip had been built for her plane and a U.S. Coast Guard ship was standing by with fuel.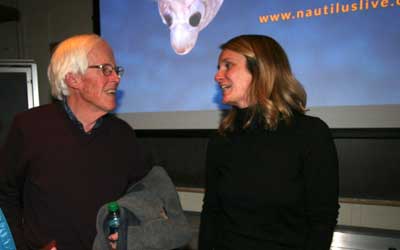 Allison Fundis answers a question after her talk.
"This was hardest leg," said Fundis. "One minor error would kick them off course."
The Coast Guard heard Earhart broadcasting but never saw the plane.
TIGHAR's theory, she said, is that they landed on a remote Pacific atoll called Nikumaroro in the Republic of Kiribati.
"TIGHAR has spent 30 years exploring this theory and found compelling evidence, enough for us and Nat Geo to check it out," she said.
Evidence includes a photo taken three months after the plane went missing. The photo shows a vague object in the water that's conjectured by some to be the plane's landing gear, she said. Radio signals picked up at the time of the plane's disappearance triangulated to Nikumaroro. A jar of freckle cream was found on the island; Earhart was known to use the cream.
The expedition had two primary search areas, focused on the landing gear image and the jar discovery.
"We looked at theories about the plane sinking there," she said. "We created a map, mounted GoPros on the ROV, and mapped the perimeter. We also sent up drones for visual surveys. With the water clarity, we would have seen the sunken plane."
In the end, she said, the team failed to find further evidence.
"We have a very good idea now of where she is not," Fundis said.
Upcoming projects, she said, include mapping seafloor proposed as mining locations, in order to inform management decisions.
Expeditions involve being at sea for five to eight months.
"We run 24/7," she said. "It's nonstop."
Although sleep might be in short supply, the ship is comfortable and the food is good. Most of all, the people are great.
"It's a small community," she said. "You get to know each other and you're there on this island in the middle of the ocean."