Editor's note: This story first appeared in the 2019 edition of Island Journal.
By Tom Groening//Photos by Lorinda Valls
Cheryl Crowley offers a vivid metaphor for the challenges and rewards of working to support a small island community.
"It's like painting a house," she says. "I hate all the scraping. But then," after the final coat is applied, it's "Ahhhh!"
Crowley has been scraping away, reimagining, and applying a fresh coat to her beloved Cliff Island for years. Though she had to have her arm twisted to consent to an interview about her volunteer work, she is, in fact, one of a small number of folks on this island of about 50 year-round residents plugging away at keeping it vital.
The journey that led Crowley, 56, to Cliff Island—which lies at the southeast edge of the Casco Bay archipelago, the last stop on the outbound ferry run—is as angular as its shore. Her family has visited the island since 1916, but she grew up in Trumbull, Conn., where her father was a school teacher.
While in high school, Crowley worked as a nanny for a family on the island, and, that same summer, met David, who today is her husband.
She attended and graduated from the University of Maine at Farmington, then, following in her father's footsteps, became a teacher, working in special education in the Gray-New Gloucester system in southern Maine. Later, she ran a group home for disabled adults in central Maine.
After her first marriage ended, she moved to the island in 1996, while her grandparents were still living there, and never left. She reconnected with high school friend David, and married and had a family. His family had a cottage on nearby Stave Island.
"He migrated south to Cliff," she jokes. The couple have three girls, one still attending Casco Bay High School in Portland. And it was being the parent of school-aged children that led to her volunteer work, a natural progression for many, she observes.
"Being on the island, and being available, I started getting busy," she recalls.
Crowley began substitute teaching, then lending a hand in administrative work, like helping hire a teacher for the island's one-room school. Even though her daughters no longer attend, and the school has just two students, she remains actively involved.
"I can't let it go," she says with a smile.
Early in 2018, the Portland school system considered closing some island schools, which drew her into fighting such a move, and a commission formed to study the matter.
"I'm on that, too."
Crowley also is her island's representative to the Maine Islands Coalition, a group that gathers to discuss island issues.
SUSTAINING ISLAND LIFE
Since Cliff Island is part of the city of Portland, it's challenging to create island-based organizations for activities typically operated by a municipality, Crowley explains. To address the lack of summertime programs, islanders formed the Cliff Island Corporation for Athletics, Conservation, and Education (known on-island as "ACE"). Among the offerings it made possible was live music.
"It's really awesome," Crowley said, as residents and summer folks gather at the pier for the performances.
Another island-based entity, Cliff Island Association, operates the community hall. Last summer, residents supported a plan to expand the hall.
Another big step was taken when Crowley and islanders Roger Berle, Bob Howard, and Eric Anderson formed Sustainable Cliff Island.
"We started this way back when—12, 13 years ago," she remembers. "It was about housing," trying to create more affordable options, a common concern on Maine's islands. But the effort was set aside when the housing bubble burst.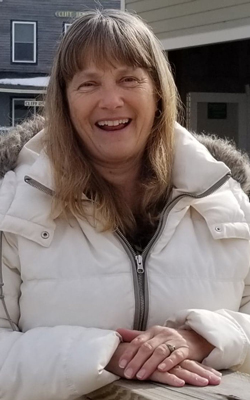 Five or six years ago, the group became active again, and seized on an opportunity that was presented when a waterfront parcel that had included a pier, fuel depot, store, and house had been seized by the city of Portland when its owner failed to pay property taxes. The city put the property out to public bid, and Sustainable Cliff Island secured it for $10,000.
The house on the parcel could only be rented or sold as affordable housing for the next 20 years and the fuel depot must to be maintained as such for 20 years, conditions attached by the city.
"It's all about sustaining a year-round community," Crowley explained.
Sustainable Cliff Island is still working on plans for the waterfront parcel. The old fuel tanks have been removed, and the wharf is being rebuilt. The store could be revived in some form, she said, and the small house might serve as a residence for an island teacher
"We need to gut the house," she said. "It needs a lot of work."
The property also might help serve the island as the base for a health clinic. Earlier on in her island volunteer work, Crowley dove into health care, and persuaded Portland city officials to hold EMT classes on the island. She and husband David now are two of the island's three EMTs. Crowley and Peggy Akers, a summer resident, have worked to expand medical services.
"We've created an informal health center," she said, clarifying that the "center" looks like a Rubbermaid bin with supplies. A shed on the property Sustainable Cliff Island now owns might someday serve to house a proper clinic.
Focusing on health is a passion for Crowley.
"I love it," she says. "It's one of those things that doesn't divide a community."
Working on offering home care for aging island residents is another project on the agenda for Crowley.
Island life agrees with her.
"I love the nature of it—being in the elements, skiing in the middle of a snowstorm," she says, along with the deeper, multi-generational relationships that form. "I see that in my girls. They're so accepting."
Roger Berle, a fellow Cliff islander, has worked closely with Crowley on a number of projects. "I'm a huge fan," he said, adding that he's known her since she was a child.
"She is smart. She is patiently thoughtful. She's got her eyes wide open and she's pretty quick to understand where people are coming from," Berle said, adding that Crowley has one foot in the year-round community and one foot in the summer community, he said, making her effective.
"She is quietly persistent, a quiet but effective leader," he continued, with "a wonderful personality" that gives her "a way with people."
On the day we talked, Crowley was in Portland to attend a meeting of the Casco Bay Lines board of directors, hoping to lay the groundwork for designating a private space in its terminal for cancer patients to wait for their ferry back home.
And in explaining her plans, she disclosed something about her approach to her community work. Rather than demand change, she said her goal for the meeting was to gently introduce the idea.
"I like problem-solving. I like to collaborate," she says, when asked what drives her volunteer work.
Tom Groening is editor of Island Journal.