Big Truck, Little Island
By Chris Van Dusen (Candlewick Press, 2022)
Review by Carl Little
Grandchildren Maria, 9, Serita, 8, and James, 5, are children's book author/illustrator Chris Van Dusen aficionados. Allow Gahbi (their nickname for this grampa) to boast a bit: they've memorized The Circus Ship, made up music to go with Hattie's song in Hattie and Hudson, and read Down to the Sea with Mr. Magee a hundred or so times. And then there's Van Dusen's "If I Built" series—don't get me started.
Over the years the arrival of a new Van Dusen book in the Little-Barzun household has created a major buzz. Big Truck, Little Island (Candlewick Press, $17.99) was no exception: they welcomed it with open arms, which were necessary to hold the large-size picture book.
Maria and Serita are avid chapter book readers, but they did not hesitate to sit down with their brother to peruse Van Dusen's latest. All three agreed on a favorite illustration: a bird's-eye view of the island that shows the twisted route the truck must take to get from one end to the other. They liked the premise, too: how four island kids on their way to appointments—ballet class, swimming practice, a volcano experiment, and a dog wash—on either side of the stuck truck manage to figure out a workaround while their parents fume.
James, on the other hand, has always admired large vehicles so Van Dusen had him at "big truck."
Trained on the hide-and-seek illustrations in The Circus Ship, these sharp-eyed readers found details in Big Truck, Little Island that an older book lover might miss: a Christmas tree air freshener dangling from the truck's rearview mirror, swimming goggles around a girl's neck, or the clothespin on the nose of the mother in the car with the skunkified dog, Bunk.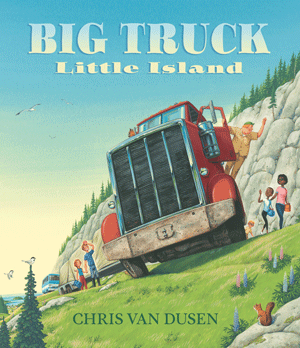 Maria and Serita love animals so while they enjoyed the dogs in Big Truck, Little Island, they missed the creatures in Circus Ship and the lake dinosaur in Hattie and Hudson. James, on the other hand, has always admired large vehicles so Van Dusen had him at "big truck" (the author inscribed the book to him with the famous Grateful Dead line, "Keep on truckin'").
While enjoying Van Dusen's rhyming text, our young critics questioned one piece of language: the word "thud" to describe a truck wheel landing in mud. Possible replacements: "smoosh," "squish," "glug," "glop," and "plop."
The trio loved the surprise ending, when the contents of the truck's extra-large cargo are revealed (no spoiling here). They also appreciated the fact that the story is based on a real-life event. At book's end, Van Dusen shares its origin, an incident on Vinalhaven where a truck hauling part of a wind turbine blocked an island road. Founding Island Institute director Philip Conkling filled him in on the details and co-founder Peter Ralston contributed a photo of a truck hauling a ginormous turbine blade onto the island.
The Portland-born, Maine-based Van Dusen dedicates Big Truck, Little Island to Jan Coates, founder and director of Island Readers & Writers, calling her "a friend to me and every island kid in Maine."
Speak for yourself, Mr. Van Dusen, my grandkids might say: through your books you have befriended—and delighted—a whole world of readers.
Van Dusen's illustrations are featured in the exhibition "Imagine That! The Power of Picture Books" at the Portsmouth Historical Society (through Sept. 25).