No matter how you feel about Facebook, one thing the social networking site does well is to connect scattered friends in times of celebration and grief. On Feb. 5, less than 24 hours after his death, it did not feel to me that Ashley Bryan was gone. It seemed more like he had just come back home to Islesford. His bright smile shined from post after post on Facebook as people shared their memories and condolences.
There were videos of Ashley reciting the poem, "My People," by Langston Hughes. There were pictures of his paintings, and photo after photo of people standing in Ashley's glow, smiling at the camera, having just spent some amazing time with him.
Ninety-eight years is a long time to create memories. How fortunate we are that Ashley had that time and that spirit to provide such a wealth of recollections for so many people. I think he would get a kick out of how many people are telling their stories of Ashley moments and describing the impact he made on their lives.
"When you're making art you're not hurting anyone or doing anything wrong."
One conversation I had with Ashley, a while ago, was about new ideas. He described the feeling he sometimes got at the beginning of a book project, wondering if he was headed in the right direction.
"I mean, my Islesford family will always say they like it, but what about out in the world? Will this be OK?"
I gaped back at him in shock.
"Really? At age 80-something, with so many awards and so many books published, you still have doubts about your work?"
We continued to talk about doubts and depression and how really the only thing to do was to keep moving forward until it got better.
Ashley said, "Just keep making art, because when you're making art you're not hurting anyone or doing anything wrong."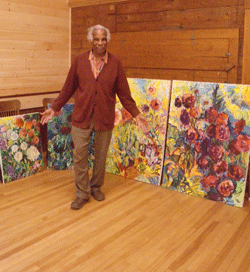 In the summer of 2015, an impressive stand of white hollyhocks appeared in the garden under Karen and Hugh Smallwood's kitchen window. Across the street, Ashley was going through his sketches and letters from World War II as part of his next book project. When the work got too somber, he would take his easel across the street and start painting the tall white flowers. Just as the hollyhocks faded, the dahlias came into bloom. Ashley was out there painting almost every day through July, August and September. By the time the dahlias dropped he had two dozen canvases full of color.
That December, Ashley wanted to see all of the flower paintings displayed together. He chose two days between Christmas and New Year's to set up a show at the Islesford Neighborhood House. He set the chairs in a U-shape around half of the room, leaning canvases against the legs to create the illusion of flowers growing up from the floor. It was simple and beautiful.
By sharing the artwork that had soothed him all summer, Ashley was passing on that gift of a lifted mood to his Islesford family.
December is a pretty dark month here, but for two days, thanks to Ashley, we had the opportunity to walk through a summer garden.
I'm sure there will be so many Ashley stories going back and forth this summer that it will feel like he has just arrived back on the island.
I hope he pops up often in your memories, whether in your mind or on Facebook or both.
Need to lift your spirits? Go make some art. When you're making art you're not doing anything wrong. In fact, you're celebrating Ashley.
Barbara Fernald lives on Islesford (Little Cranberry Island) where she makes jewelry. She may be reached at Fernald244@gmail.com.