By Tom Groening
Castine is as rich in history as any town on Maine's coast. The island-like body of land jutting into east Penobscot Bay was occupied and fought over by the French, Dutch, English, and Americans, and even played a key, but disastrous role in the fledgling nation's war for independence.
But an exhibit put together by the Castine Historical Society tells the story of the town's heyday in the early to mid-19th century, a period that also is rich in international connections, but based on trade, not war.
Risky Business: Square-Rigged Ships and Salted Fish, which opened June 10, has been two years in the making, explained the historical society's Lisa Simpson Lutts. The idea was born when Richard Ames, a decendant of the multi-generational Whitney family of Castine, and himself a long-time summer resident, began inventorying and researching the family's artifacts.
"Like any good New England family, they never threw anything out," joked Lutts, and she and historical society curator Paige Lilly are glad they did not. Ames, an amateur but enthusiastic historian, had written a 60-plus page paper on what his research turned up with the collection, and asked the historical society to publish it in its newsletter.
"We realized he had done a very good job," Lutts said, putting the family collection into a larger, historical context, and so the idea for the exhibit was born.
"Unbeknownst to many, Castine was a major shipbuilding town," she said, with schooners, barks, and brigantines constructed along the half-mile of shore from the site of today's Maine Maritime Academy northward.
"There were 18 four-masted, square-rigged ships built here," Lutts said, "and many of them have fascinating stories." Those stories drive the exhibit.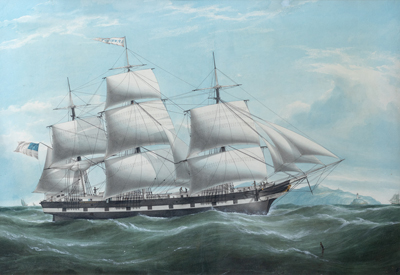 In addition to building ships, Castine was the center of Penobscot Bay's fishing industry from the early 1800s through the Civil War, she said.
The town also enjoyed a prosperous "trade triangle," with its ships hauling salted fish to ports like Charleston, S.C., and New Orleans, much of it going to feeding slaves. The ships took on cotton, and then sailed to ports like Liverpool in England, where textile mills purchased that cargo, and the Castine ships loaded up on salt, which had been extracted there and was carried back to Maine to preserve fish.
The "risky" business came in traversing the expanse of water within the triangle, where severe weather, slow communications, navigational hazards, competition for cargo and crew, illness, war, politics, and even pirates were threats.
While ships from other ports, like nearby Searsport, traveled to trade in east Asia, Castine square-rigged ships did not.
"Castine was a very prosperous town," Lutts said, and the homes built during those years are evidence of that success. A dozen active wharves punctuated the waterfront, and chandleries proliferated.
"It was a very cosmopolitan village," she added, and a variety of languages could be heard along the shore, a sometimes dangerous place, but one which drew the town's young boys, looking for a taste of adventure, she said.
The good times ended with the Civil War. Northern ships were no longer welcome in southern ports, and, since England favored the southern states, doing business in Liverpool became difficult.
The exhibit—in the historic Abbott School at 17 School Street, Castine—is open, free of charge, daily from June 10 to Sept. 2; Monday-Saturday, 10 a.m. to 4 p.m. and Sunday 1-4 p.m. Sept. 6-Oct. 14 the exhibit is open Friday, Saturday and Monday, 10 a.m. to 4 p.m. and Sunday 1-4 p.m. The historical society is hosting a series of related lectures; see: www.castinehistoricalsociety.org.