For a century, a stone and mortar, wooden-roofed tank on the outskirts of town provided Castine with a necessary resource—water. Today, the remains of the structure and the site are being repurposed to serve the town in a new way.
The municipal water tank is gone and in its place a childcare center is being built, with completion expected next summer. The nonprofit group leading the effort believes the center will help sustain Castine as a vibrant, year-round community.
The work is being led by a couple who retired to the picturesque coastal town in 2007. Nancy and W.G. Sayre, both 74, had been college professors in Pennsylvania, she in early childhood development at Clarion College and he in chemistry and physics at Slippery Rock College.
In a conversation around the kitchen table in the house that W.G. built—a replica of an 18th century sea captain's home—the couple's enthusiasm for the challenge emerges.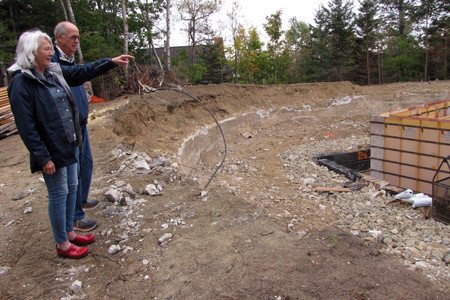 TOM GROENING
So does their willingness to dive into the details and grunt work of the project, which had them removing timbers and pulling nails when the water tank's roof was dismantled during the summer. Key to keeping the project affordable, they explain, was salvaging as much of the wood as possible.
"I became an independent contractor," W.G. joked about the work, as he cut out large timbers and dimensional lumber for reuse.
Why not ease into the slow lane and enjoy retirement?
"We've had a good life and we figure it's time to give back," explained Nancy, whose quick smile puts an exclamation point on her assertions that the project will come to fruition. But it's not a random endeavor just to keep busy. The couple, who have been married for 52 years, say Castine is at risk of becoming a retiree enclave. Increasingly, locals commute to the community to jobs at Maine Maritime Academy or to do work on the historic houses. If these working folks can have a place to leave their children that is safe and engaging—and affordable—they are more likely to live in Castine or in neighboring Penobscot and Orland.
TOWN OUT OF BALANCE
"I don't want to walk down the street and see myself," Nancy said. "I want to hear children laughing and giggling."
"It's a town out of balance," agreed W.G., with retirees dominating the demographics.
"It's cheaper to invest in childcare than it is to invest in welfare," he added, citing studies that show drop-out, drug use, and incarceration rates lower for those who had adequate childcare in their early years.
"Health care costs drop," both for the children and their parents, and employment rates for both rise, with reliable childcare, he said.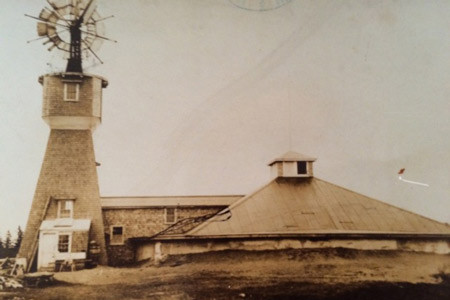 A survey of the area found just one licensed childcare center with 20 slots, yet 190 children of kindergarten or preschool age, Nancy said.
After determining the need, the Community Childhood Learning Place was established as a tax-exempt nonprofit in 2014. A pilot childcare program ran out of the Episcopal church in 2015-16, "and within five months, we were at capacity," Nancy said, serving 11 children from 4 months to 5-years-old.
The goal is "to draw from a 20- to 30-mile radius," W.G. said, and include older students as well.
Earlier in 2017, residents at a town meeting endorsed the project by a 3-1 ratio, agreeing to lease the town property to nonprofit.
The plans for the nearly 4,000-square-foot building were developed by architect Tim Mohr and partner Sherman Todd, who own a summer house in Castine. The Sayres say the work was deeply discounted, citing Mohr's belief that childcare "is part of the infrastructure."
The plan calls for a conical-shaped roof and four, slices-of-pie shaped rooms, where the age groups can be segregated. One of the rooms will be developed as a workshop and art room, where older children can be engaged after classes at the town's K-8 Adams School. A kitchenette and conference room also will be included.
The Adams School has about 50 students, and the Sayres hope the center can be an after-school attraction for them. Currently, many go to the town library, or, as W.G. says, "wander the town until their parents get off work."
W.G. was especially excited about the art and workshop room, envisioning projects to engage the older students.
"Kids need space to really move around," he said.
As an early childhood expert, Nancy wants the programming to be top notch, and is aiming to have it accredited by the National Association of the Education of Young Children.
FINANCES
The budget for the building is $500,000, but they hope to cut that to $360,00 with volunteer labor.
"I think we'll get a pretty good level of help," said W.G.
A local firm, WRT Construction, is the contractor.
The nonprofit landed a Davis Family Foundation grant to pay for windows in the new building, as long as the locals raise funds above a certain threshold.
"We're very close," W.G. said.
In-kind contributions have been a big source of the effort.
When the roof was dismantled, W.G. was joined by a retired medical doctor, retired engineer, and a restaurant manager in pulling nails from the salvaged lumber.
"We saved 80 percent of the wood," said Nancy.
A local handyman donated sinks and desks; others have loaned generators, staging and ladders; the golf club held a fundraiser; a woman hosted a benefit fashion show; a woman who makes and sells dog biscuits raised $200 through a special promotion; and Maine Maritime Academy students helped clear trees on the site.
"I can't tell you the number of hours they've put into this," Nancy said of her neighbors. "The community has been so open because they know we need it," Nancy said.
Castine is a town steeped in history in part because it was fought over by the French, Dutch, British, and American forces. The water tank has its own story to tell. Built in 1895-96, it sits just off the main road entering the peninsula town. It once stored 375,000 gallons of water that was then gravity fed to the village. Unlike more modern steel tanks, most of the tank was underground, held in place by thick rock and mortar walls and covered by a wooden-frame roof. A windmill once pumped the water from the 60-foot-deep well.