By Tom Groening
Portland's waterfront is booming—new hotels, restaurants, pubs, a marina—so it's no wonder the ferry serving Casco Bay's islands is responding to that activity, says Hank Berg.
Casco Bay Lines (CBL), for which Berg is general manager, has a lengthy history on the city's waterfront, though recently, it's gotten notoriety for a plan to replace one of its boats with a larger one, capable of carrying more passengers to nearby Peaks Island. Resistance from residents of that island has led to a compromise of sorts, but Berg believes the service has little choice but to respond to a busier bay.
Midmorning on a recent Wednesday, a dozen or so people strolled through the terminal to buy tickets. But on the northeast side of the building, adjacent to the Maine State Pier, CBL crew were using forklifts and handcarts to sort and load freight, while a UPS truck unloaded.
Berg shows graphs that reveal higher passenger, vehicle, and freight traffic over the last ten years. Freight revenue was up by almost 10 percent in 2018 over the previous year, and vehicle traffic also grew, up by 19 percent.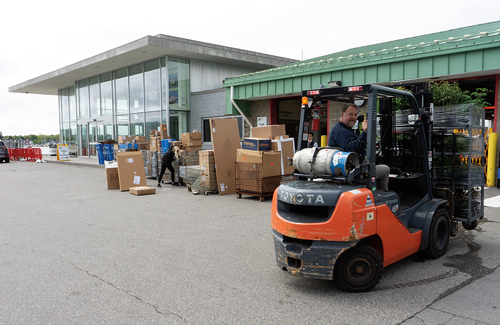 CBL handled 500,000 pieces of freight and carried more than 36,000 vehicles last year, he said.
While six islands in the Penobscot Bay region are served by the Maine State Ferry Service, the Casco Bay islands—Peaks, Great and Little Diamond, Long, Cliff, Chebeague and, in summer, Bailey—were served by private ferry companies for more than a century.
Service began during the steamship era, and was first focused on the recreational opportunities islands provided. Peaks Island was a particular draw, once billing itself as the Coney Island of Maine. But it didn't take long for operators to learn that revenue dropped precipitously in the winter.
Competing ventures arose, failed, merged, and regrouped. CBL's website features a 26-minute film about the history of boat service on the bay (www.cascobaylines.com/about-us/history/) tracing the various iterations.
Even as the service resolved into one dominant company in 1920, it wasn't always smooth sailing. "It went bankrupt a couple of times," Berg said.
In 1981, the operators again faced pressure from creditors, and islanders—weary of the uncertainty of their link to the mainland—petitioned state government to create the Casco Bay Island Transit District. This quasi-municipal entity was formed in 1982, Berg said.
Berg notes that unlike a private company, or even like the Maine State Ferry Service, CBL has many masters. The pier and terminal building are owned by the city of Portland. The 12-member board of directors includes ten representatives elected by islanders, as well as a representative from the city and one from the state Department of Transportation.
Fares and rates are set by the Public Utilities Commission, and the U.S. Coast Guard and Department of Homeland Security also have roles as regulators.
Funding sources, which include the federal Highway Trust Fund and the Federal Transit Administration, also come with strings.
Berg began working at CBL in 2001, and has seen it change and grow. The service had operated from Custom House Wharf, but moved to its current location in 1988. And in 2014, the terminal was renovated into the striking building it is today, with floor-to-roof windows on three sides giving views of the bay and the boats arriving and departing.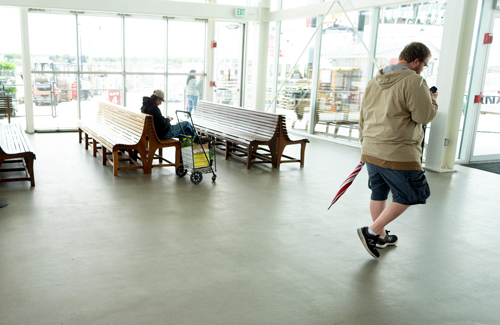 The next step, Berg said, is to renovate what been the waiting area to accommodate administrative offices, and so the freight storage and handling room and a waiting area for bus service can be expanded.
"We have about $20 million in capital funds ready to go to do these improvements," he said. Other scheduled work includes replacing pilings, improving gates, a turn-around area for city buses, and a wider walkway near the boats. A system that tracks vessel arrivals also will come online soon, a service islanders who are waiting on a pier in a blizzard will appreciate, he said.
"We're setting the place up for the next 30 years," Berg said.
GROWING PAINS
Some islanders criticize what they say is CBL's bias toward carrying more passengers, even if the onslaught of day trippers threatens to turn an island community into a seasonal playground, unrecognizable by year-round residents. Peaks Island, a short hop from Commercial Street, is a case in point.
But Berg counters that CBL is "legally obligated" to respond to demand for service. "Certainly, the demand has grown," he said. Still, though the mission statement requires that response, concern for island sustainability is also at play and language was added in 2015 supporting that goal.
The fleet includes five boats—a number determined by the PUC—with four active and one, the Bay Mist, serving as a spare. That vessel also is used for charters in the summer.
As vessels reach the end of their useful life, their replacement brings the demand question into focus. The Machigonne II, which primarily serves on the Peaks Island run and can carry 399 passengers and 12 vehicles, is 32 years old.
CBL had begun discussions to build a new vessel capable of carrying 599 passengers and up to 16 vehicles, which prompted sharp opposition from some on Peaks Island. A CBL board decision in late May directed staff to consider building the same size boat, but limiting passengers to Peaks Island at 499. The boat would allow up to 599 on the return trip.
Berg notes that on a recent Sunday, CBL carried a total of 2,600 to Peaks from Portland, and carried 3,400 back to the mainland from the island. People are getting to the island by other means, he said, and CBL should help them return to Portland.
Berg notes that a decade ago, CBL was $1 million in debt, a victim, like many other enterprises, of the Great Recession. Today, people again are flocking to islands, for a day trip, a week's vacation, or because they live there, and Casco Bay Lines must be prepared to transport them.