It's hard to get a fix on just what Jim Harkins has going in his Portland warehouse. Is it a nautical-themed flea market? A maritime museum? A high-end nautical antique store? A kind of Goodwill store for boat owners?
Well, it's all of the above.
Harkins, 57, is a character as colorful as the gear that's packed into his building. His enthusiasm for and knowledge of the carefully organized nautical gear shines as bright as the brass World War II signal light he's selling, one of several pieces with a five-figure price tag.
The inventory includes all kinds of brass hardware, miles of coiled lines, teak and mahogany benches and cabinetry, flotation devices and buoys, ship's wheels, anchors, cushions, pumps, winches and motors—and so much more.
Harkins and his wife have several businesses, but Captain Jim's Marine Salvage & Nautical Antiquities has become the most profitable. Outside the small warehouse building in an industrial park area on Presumpscott Street are a couple of dozen boats on jacks. Harkins buys the boats, most of which are no longer fit to be on the water, and strips them.
Masts, wood, hardware—including every screw—is removed. Much of that material ends up in the warehouse where boat owners, collectors, those looking for décor for a restaurant, bar or home will make purchases.
Masts are cut up and sold as scrap metal, though some become flag poles and one was recently sold to serve as a cross at a religious retreat on Peaks Island.
Fiberglass boats are ground up and the resulting material is sold to a local cement contractor to be used as a reinforcing agent. Harkins also commits to disposing of toxic materials—parts of the hull covered with bottom paint, fuels and lubricants from engines—in an environmentally sound way.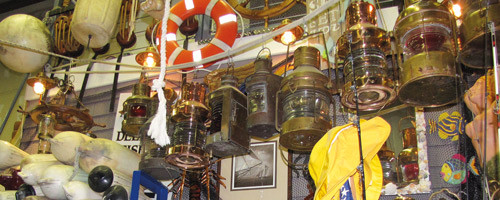 TOM GROENING
He and his helper, George Smith, don't spend a lot of time repairing or cleaning the salvage, in part because buyers find other uses for much of it.
"We sell more sails for bags and awnings," Harkins says, than for use on boats. The same is true of the salvaged wood, with much of the tropical hardwoods used in new furniture. Interior decorators from New York and Connecticut are among the buyers, as are bar owners, looking for that curio to hang on a wall.
But overall, about half of the inventory will go back into use on a boat, with the other half serving as décor or filling out someone's collection.
He advertises on Craig's List, but Harkins prefers to sell to Maine people who can browse the offerings.
"We've got a good local following," he says.
BOATS TO BARGAINS
Though he does buy maritime gear in estate sales, Harkins estimates that three-quarters of his inventory comes from boats he has purchased and scrapped.
"We'll probably decommission 300 boats this year," he says. A trip to Cape Cod to visit several boatyards is on tap, and Harkins will clear out the abandoned, written-off, unfixable vessels.
The business also disposes of boats that have become fixtures of backyards, those with saplings growing through the hulls. Harkins has a deft touch with these jobs, always bringing a bottle of champagne for the seller, knowing that giving up on a boat can be a difficult emotional hurdle.
"People call us because they know we have an appreciation for this stuff," he says.
The business also rescues disabled boats and works for insurance companies in recovering sunken or seriously damaged vessels. Harkins coordinates with five captains along the coast from Kennebunkport to Boothbay, and in western Maine lakes, to respond.
"We go out and recover the asset," whether it's floating or on the bottom.
Harkins isn't posing as a salty character—he's the real deal.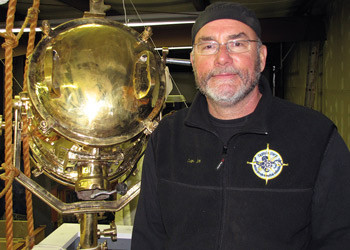 TOM GROENING
"I started working on the waterfront when I was 11," he says. "I used to ride my bike down to the pier" in Portland, where he would fish. The captain of a deep-sea fishing charter boat noticed Harkins was on the pier earlier than he arrived and offered Harkins a job.
After logging enough hours on various boats, Harkins earned a master's license allowing him to operate 100-ton vessels, and worked for 36 years on boats. He also worked for a crane service for many years before retiring and starting the salvage operation.
"Being a captain, I'm kind of passionate about saving the nautical stuff," he says. "Every day, it's like going on a treasure hunt."
The warehouse at 326 Presumpscott Street is open on Saturdays, the website is MarineSalvageMaine.com and Harkins is available by email at captainharkins@hotmail.com.