It would be nice, Mark Brooks admits, if his family's business could make just a few types of lobster traps. But with a laugh, he explains that lobstermen, legendary for their independent views on what works and what doesn't, would not be the loyal customers they are if the company narrowed its line.
Brooks Trap Mill is the state's biggest seller of lobster traps, with about 50,000 going off the lot each year in Thomaston, and from satellite stores in Jonesboro, West Bath and Portland.
With the record catches and values of the 2015 and 2016 seasons, Brooks sold another 20,000 or so traps each year.
"One hundred is pretty typical," Brooks said of individual sales, though that number jumped to 300 or more during the last two seasons.
A mid-summer tour of the Thomaston shop, where 50 are employed, revealed a business that is still low-tech and highly service oriented; so service-oriented that the business will sell a single trap.
During the tour, Mark stops to demonstrate the operation of a wire bending and cutting device; it's obvious he's not far removed from production. Later, a fisherman perusing stock in the yard spots Brooks and climbs up onto a loading dock to chat with him; again, it's clear this part-owner doesn't sit in an office with his feet on the desk.
Amid the clatter and growl of the equipment, the history of the three-generation family business emerges, as Mark points out the buildings that have been added and adapted to what had been—and still resembles—a lumber mill. In all, the sprawling complex covers about 40,000-square feet.
FAMILY TIES
The story starts with Michael Brooks, Mark's grandfather, who operated a small lumber mill on the property with his brother. When Michael's son Karl returned from serving in the Pacific during World War II, the business began milling trap stock—back when lobster traps were built with lath-like strips of wood.
Karl ended up attending the University of Maine on the G.I. Bill, and eventually earned a doctoral degree in psychology, teaching for a time at the University of Florida. But despite his forays into academia, the business remained in the family, and on his passing, now is run by his three children: Mark, Stephen, and Julie. Their mother, Sally, still works in the office.
All three children worked at the business, starting in their teen years.
Julie remembers being handed "a big, black ledger book, and I had to add up columns of numbers. It was so boring." One of the older employees still working at the business teases Julie that he remembers her as a teen spending more time picking flowers near the road than working, she says with a laugh.
Mark, Stephen, and Julie joined full time after each finished college.
During the tour, Mark shows a 4-foot-long wooden trap, typical of the company line in the late 1970s. The design had evolved to include wire mesh on the bottom, but the red oak wood strips had to be hand-cut and hand-nailed.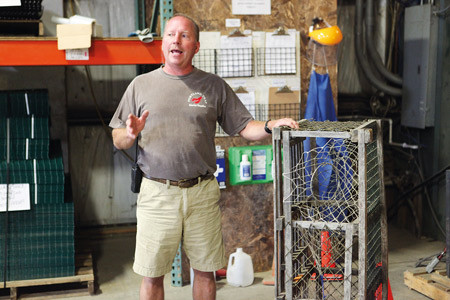 JULIA NEMY
Nailing the hard wood together with galvanized nails required "about two smacks," he remembered. "We figured out how to get away from that," he said, not only because the process was labor intensive, but because red oak was prone to attack by ship worms.
But oak—and keruing, a wood imported from Southeast Asia, similar to teak—are used today for the "runners" attached to the bottom of the trap. Those runners allow the trap to be slid across the deck of a boat.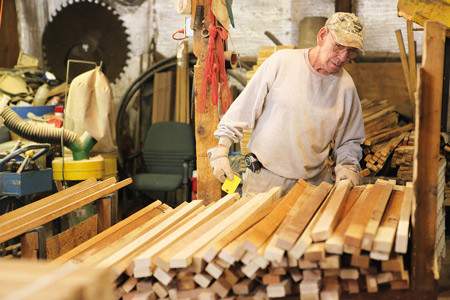 JULIA NEMY
George Bartlett, a 40-year-employee, was cutting the wood to length in an older part of the shop. Mark estimates that over 200,000 oak runners are produced each year, along with 100,000 pieces of keruing.
WIRED
In about 1990, the industry began using wire mesh traps. The wire mesh comes to Thomaston from Riverdale Mills in Northbridge, Mass., in 100-foot rolls, 57-inches wide. The supplier "welds it, galvanizes it, and coats it," Mark said. The coating is made from a PVC powder, and though it stands up to the corrosive effects of salt water, it will wear off when the trap gets scraped across rocks while being hauled or from the tides.
Brooks Trap Mill designed an auto shear machine to cut the wire mesh to the right lengths.
"That really gave us an advantage over our competitors," he said, after demonstrating its speed in cutting the heavy gauge wire to length.
Cutting—and weaving—were underway in a back room, too, where MacKenzie Hall, Holly Bowman, and Faylyn Vitale worked with polypropylene imported from Asia to build the "heads," or netting in the traps. The women, at times with the brightly colored fiber draped around their necks, worked with skilled hands to get the netting material at just right tension.
Those bright colors carried over into another area of the building, where buoys, buoy sticks, bait bags, gaffs, bands, and more are stored.
"We sell a lot of rope, a lot of buoys, a lot of gloves," Mark said.
"Guys will drive three hours to come here," he said, even from as far away as Massachusetts. "We have so much inventory."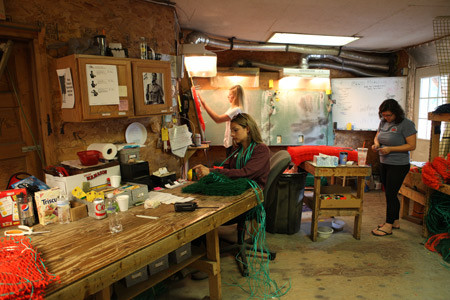 JULIA NEMY
In fact, Mark believes completed traps constitute about 40 percent of revenue.
But the traps may be what keeps them coming in. Local fisherman Mike Cushman was looking over some of the stock in the yard during a visit.
"I fish trawls offshore, and they get pretty beat up," he said of his gear. He's giving his older traps to his sons, who have begun fishing.
That generational connection—on both the business and customer sides—is at the heart of the success of Brooks Trap Mill. As Mark observes, "Guys place a trap order with us and they know we'll be here in spring."