One couple is moving into their new empty-nest house. The other, into their first home. The houses are nearly identical, which isn't surprising, given that they were designed by the same architects.
But they have more in common than an architectural firm.
The two couples are separated by 25 years in age, but share values which led to them choosing smaller, energy efficient houses. It's a trend that housing experts have noted in recent years, and one that reflects post-recession, post-fossil-fuel ideas about mortgages and energy bills.
The houses are part of Holland & Foley Architecture's small planet series. The Northport-based firm began working on the designs after the 2008 housing crash, using a slow time in the business to rethink the next wave.
Paul and Jula Sampson's Lincolnville home is just across a valley from where they lived for years and raised their children. From the new house, Paul points out the ridge where his grandmother was born.
Keaton and Megan Scarponi received a parcel of land from Megan's mother, who lives next door to the new house, as a wedding present. The houses, on a private, gravel road that runs into the woods in Washington, are shouting distance apart.
According to the U.S. Census Bureau, the median U.S. house size in 2014 was 2,453 square feet. The Sampsons' new house is about 1,700 square feet, and the Scarponis' house is about 1,300 square feet.
"Jula and I wanted to have a smaller house," Paul Sampson said, but he admits "it was a big move." The new house features a large master bedroom that could be divided; the Scarponis have the same sized bedroom, and also have the option of dividing it.
A guest room on the second floor of both houses is small; the Sampson home features a first- and second-floor bathroom, while the Scarponis have just one bathroom.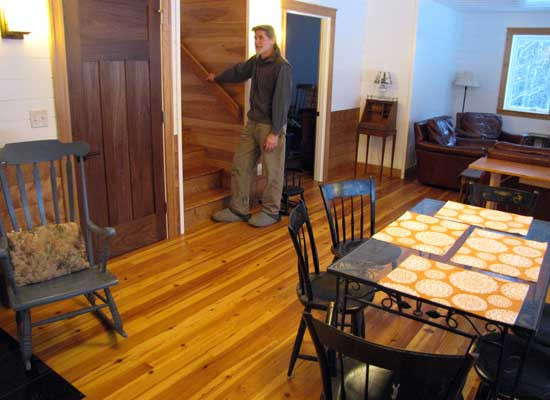 TOM GROENING
Both houses have daylight basements that also offer room to grow.
Both homes have traditional elements, yet are a far cry from the New England cape. They feature double, staggered 2-by-4 walls with "rock," or mineral wool insulation, cellulose in the small attic space, and highly efficient heat pumps and air exchangers.
The Sampson house features triple-glazed windows on the north side, while the Scarponis splurged on triple-glazed windows throughout. The windows in both houses are awning and casement styles, which tend to leak less air than traditional double-hung windows.
Both couples may add photovoltaic panels to their homes.
THIS NEW HOUSE
Paul Sampson, 55, jokingly calls his new home, "the left-overs house." It is that, but they are beautiful left-overs. Sampson and his wife, Jula, own and operate A.E. Sampson and Son in Warren, which mills specialty flooring, paneling and molding.
Giving a tour, Paul notes which species he used in each room: cherry handrails and red birch (from a yellow birch tree) on the treads on the stairs, walnut on the floor in the guest room, a tropical wood from Paraguay on another floor, reclaimed heart pine in the main living area, elm on a wall, chestnut and cypress in other places.
Each was a batch the business couldn't sell, for some reason or other.
And each selection elicits a story.
The wood on the kitchen wall was salvaged from the Edwards Dam in Gardiner, demolished in 1999. The 19th century specs called for white oak in the base of the dam, which a buyer from the Midwest was hoping to salvage. Instead, Sampson said, it seems the contractor cut corners and used elm.
That wood, complete with checks and stains, now conveys warmth and character in the Sampson home. In all, he figures 30 species of wood are represented in the house.
Keaton and Megan Scarponi work at Washburn & Doughty, the tugboat builder in East Boothbay. Keaton, 27, is an electrician, and Megan, 31, maintains and repairs the shop's tools.
The couple doesn't plan on having children, and hopes this first house will last them a lifetime.
"We've lived in some places that were older and kind of drafty," she said, "and we wanted to be warm." Lots of natural light was also on the must-have list.
"It's so bright in here," Keaton observed while giving a tour, and points to the overhang that's designed to block the summer sun from the small second-floor windows, yet allows in the December light.
Kitchens sell houses, real estate agents say, but both couples have opted for small, galley style versions.
"Jula grew up in a boating family," Sampson says, so the galley suits her. It features upper cabinets and a granite counter. A wall separating it from the combination living and dining area is broken by a small window area.
The Scarponis didn't want upper cabinets in their galley kitchen. With the first floor open from one end to the other, they're looking forward to entertaining their extended families in the space.
DESIGNER PLANS
Being in the building trade, Paul and Jula figured they could design their own house. As they approached the idea of building the empty-nest house, they sketched out floor plans.
Paul remembers some 15 years ago perusing house magazines at a bookstore when he heard a "Tsk, tsk" sound from behind. It was David Foley, a friend and colleague, of the architectural firm Holland & Foley.
Much later, they learned of the firm's "small planet" designs. Jula used white-out to tweak the "Wide Open Spaces" plans, "making it a little cozier," Paul says.
"Dave was a real big help," Sampson said, quickly resolving some of the conundrums the couple encountered in their plans.
The Sampsons built with "aging in place" in mind—there are no thresholds between rooms and all interior doors are a full 36-inches wide, allowing wheelchair access. And if they can no longer manage the stairs, a first-floor room could serve as a bedroom, and the first-floor bathroom already is handicapped accessible.
The Scarponis are decades away from such considerations, but they, too, turned to the architects.
"We were trying to do it ourselves," Keaton recalls, and Matt Senecal of Senecal Construction, the contractor, referred the couple to Holland & Foley. Both Keaton and Megan love the result.
"It just used every inch of space," Megan said, and the couple wanted predictable and modest energy bills.
"We just knew we needed it designed smart," she said. "Keaton and I like to live simply."
Jula Sampson also acknowledges a lifestyle philosophy that inspired the new house. Grown children meant not using three rooms, and though they could be closed off to save heat, "cleaning rooms we did not use became tiresome."
She's struggling to downsize the things that fill a house, but says it's a struggle she welcomes.
Foley said customers for the smaller houses enjoy the compact design, balanced with space that functions well for everyday use.
"Many have liked the spacious feeling of an open floor plan combined with some 'retreat' spaces such as alcoves or studies," he said. "And they like the comfort, low fuel bills and low maintenance of a heavily-insulated, tightly-built home."
For more information about the house designs, see: hollandandfoley.com/small-planet-homes/