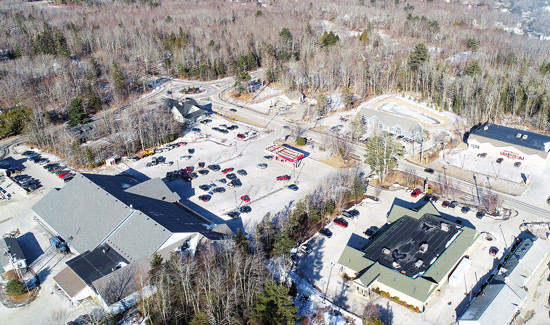 PHOTO: JACK SULLIVAN
By Laurie Schreiber
The Blue Hill Co-op is on track to move from cramped quarters on a complicated downtown corner to a much larger and custom-designed space a mile to the east, on a road that's become the town's second commercial hub.
The co-op expects to be in its new digs, at 70 South Street, by this summer, said co-op manager Kevin Gadsby. The new store will have 7,000 square feet of retail space, compared with its current 1,800 square feet. It's expected the expansion will allow the co-op to add inventory and buy in larger volume, thus enabling it to negotiate better prices with suppliers, which could mean price reductions to consumers.
Energy-saving initiatives include heat recirculated from refrigeration units into hot water and heating systems. There will be an expanded parking area of 70-plus spaces, tucked to the side of the store in order to feature landscaping in front. That compares with the current store's strip of limited parking out front, with entrances on a blind corner of busy Route 172 as it enters Blue Hill's downtown. 
The co-op's overall membership has shown strong support for the project, said Gadsby. That's evidenced by three successful rounds of fundraising, raising $1.5 million toward the $6.1 million project cost from member investment and donations.
Still, some members and residents expressed concern that the move could detract from the downtown.
"There was a small group of folks that assumed that, with the co-op leaving the village center, it would cause the downtown to suffer," said Gadsby. "But actually, since we've been promoting our move, the downtown has seen new restaurants, boutiques, and shops open. I think our expansion will increase attention to Blue Hill because a larger co-op will be a draw for many people from outside Blue Hill."
In addition, there's an argument to be made that South Street has become part of the downtown district, he added.
DEFINING DOWNTOWN
Both the downtown—or "the village," as it's often called—and South Street have seen expanded commercial activity in recent years. In the village, new shops and restaurants include Sandy's Blue Hill Café, which opened last summer after the owners reconstructed a downtown building dating to 1796.
On South Street, the co-op will join enterprises ranging from the locally formed Bagaduce Music Lending Library, to banks, and a Dunkin Donuts.
"There's been a lot of changes in my lifetime," said Rob Clapp, who grew up in Blue Hill and is now president and owner of the Merle B. Grindle Agency, an insurance agency near the co-op. "Most of the changes have been good."
Clapp recalled that, when he was a child, South Street was just another rural road. South Street's first major commercial activity was an IGA food store. As it happened, an entrepreneur named Tom Largay opened the IGA in the 1970s where the co-op is now. He moved it to South Street in the 1980s. It burned down in 1998. Shortly afterward, Chuck Lawrence opened the first in his chain of Tradewinds Markets in the former IGA spot.
Clapp said expanded commercial activity on South Street is due in part to available land and in part to Tradewinds; it draws customers not only from Blue Hill but surrounding towns. 
"That drives a lot of the economics on that strip," Clapp said of Tradewinds.
South Street's development is not the result of any particular planning effort, said Jim Schatz, chairman of the board of selectmen.
"It's just the way the neighborhoods are set up," Schatz said. 
He agreed that Tradewinds has acted as a magnet attracting other enterprises.
"When Tradewinds came in, and the bank—that type of thing draws traffic," he said. "When the traffic circle came about, that also made that area more accessible and safer to navigate. There's a confluence of traffic there from surrounding towns, so it became a logical place to set up business. It wasn't created by a plan but by the circumstance of Tradewinds and the bank and the roundabout that gave access to more commerce."
Sometimes there's disagreement on what type of development there should be on South Street, he added. 
"There were certainly people who didn't want Dunkin Donuts there," said Schatz. "But for the most part, the town is very supportive of what's happening on South Street."
Schatz expects South Street will see further development. 
"Nothing specific," he said. But a new 13,000-square-foot fitness center—to include a six-lane pool, fitness training equipment, and aerobics studio—is currently under construction behind Tradewinds and will also likely generate traffic, he said. 
"The more magnets, the more that stimulates other types of growth," Schatz said.
The town has recognized South Street's status as a commercial hub by exploring other incentives for development, primarily Maine Department of Transportation grants to help fund the creation of sidewalks and bike paths in order to connect the downtown with South Street; those funds haven't yet come through, said Schatz.
But other realities are likely to materialize, he added.
"A good question would be whether commercial development stimulates residential growth," he said. "We have lots of commerce but no workforce living space. It's a challenge and will probably become more of a challenge as Ellsworth becomes more of a destination for business and we become more of a bedroom community. Jackson Laboratory moving to Ellsworth will, we think, have an effect on our housing market. Those are things that loom in the very near future as problems."
Blue Hill Co-op
Founded: 1974
Membership: 1,885 
Membership growth: 21 percent since 2013
2018 sales: $3 million (new record)
New store cost: $6.1 million (full build-out, equipment, inventory, staff)
New-store member investment/donations: $1.5 million