By Sally Noble
For as long as anyone can remember, there's been a 15-stool Palace Diner in Biddeford—in fact, it's been there as long as its habitat, a 1927 Pollard train car, was first built. And until recently, the food was what one would expect at this little Disneyland curio, tucked in the corner of a parking lot at 18 Franklin Street, overshadowed by the hulking, empty 1890 Marble Block mercantile building. 
When two young entrepreneurs, Chad Conley and Greg Mitchell, purchased the property in 2013, Biddeford was a jumble of undeveloped property and promise. As the Palace Diner's sixth owners in nearly 100 years, Conley and Mitchell's timing was as perfect as their stacks of pancakes when they opened with their interpretation of the venue's classic menu.  
That same year, Bon Appetit named the Palace Diner one of America's "50 Best New Restaurants."  
Suddenly, lines began forming. 
"Since our first year, it just gets busier and busier," sums up Greg Mitchell.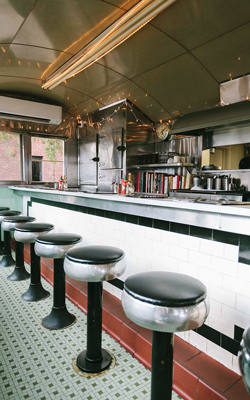 Then in 2018, Eater's food critic Bill Addison weighed in with this piece of prose: "Eating here haunts me," he wrote. "I can't find better light, lemony, buttery pancakes, or a more precisely engineered egg sandwich, and theirs is the only tuna melt I ever hunger after."
And this year, they made it to the semi-finalist round for a James Beard Award, perhaps the most prestigious culinary award in America. 
"We had no idea anyone would care about a 15-seat diner in a town few people had even heard of five years ago," observes Mitchell, who showed his self-described perfectionist tendencies when he noted that "no one from New England made it past the James Beard semifinalist list."
Visitors longing for those haunting pancakes continue to flood the train car. And sharing food with strangers can be a part of the culinary adventure.
"Here, try these potatoes," a smiling, happily unshaven guy offered to my elegant friend. And she took one, right out of his hand. "My, this is good," she smiled. "My husband remembers coming with his Dad in the early 1940s," my friend recalled. "Food was good and cheap, and there were mostly mill workers eating there."
WELCOME TO THE CLUB
"In such a small space, you're immediately in a convivial spirit. All 15 of you are in a club," explains Mitchell.  "We aim to create an experience that's about more than just the food." 
In fact, the pancakes are truly memorable. Mitchell mulled through "old American cookbooks, the Boston classics (like Fannie Farmer) and books from the Boston Cooking School."
All these substantial references inspired Mitchell's recipe in which buttermilk and lemon react with baking powder and baking soda to… well, the rest would spoil the mystery. Mitchell also came up with the spicy bread-and-butter pickles to "cut through the richness of a burger and a tuna sandwich."
Many of the Palace's ingredients come from Maine. "Locally sourced," explains Jacob, the hardworking young man who does all jobs at this well-oiled operation.
"Is the syrup real?" inquired another friend, a world traveler who joined me for lunch. Of course. "The pancakes were fab," she wrote in an email thanking me for introducing her to the Palace.  
Mitchell and Conley wanted to create a place that is "warm, fun and welcoming to all," according to their website. In the process, they created phenomenon.   
As the accolades rained down on the partners, each has expanded to solo endeavors. Chad Conley opened Rose Foods, a Jewish deli in Portland in 2018; Greg Mitchell's new "old world tavern," Flood's, located in Portland's chic, upscale Frances Hotel is slated to open in late May, according to Mitchell.
Suggestions for a successful Palace Diner experience
Study the menu online before going, and then plan to eat fast. When lines run long outside, you may be suddenly presented with a take-out container.
Parking: The diner offers limited metered parking, located along the side of the Pollard car. Or park on Biddeford's Main Street for free and walk down Franklin Street. (Park anywhere in the lot adjacent to the Diner and you risk the $39 ticket my friend just paid.)
Only cash is accepted and the tab will run at least $20, before the tip.  An ATM machine is outside. As another friend, a young, local resident, remembers vividly, "My first time there, before they put in the ATM machine, I had to run around the corner to a bank, leaving my husband as collateral."
Best times to go: "If there's one thing we're unable to predict, it's how busy we'll be on a given day," Mitchell sighs. He advises trying to visit any time, but on weekends, seating may be limited during the breakfast rush hours of 8 a.m. to 9:30 a.m. and the lunch crunch hours of 11 am to 12:30 p.m. The diner is open until 2 p.m., seven days a week.