The Midcoast
By Adam White (Random House Books, 2022)
Review by Tina Cohen
Adam White's debut novel, The Midcoast, is set in Damariscotta, a town familiar to him from his childhood. This is contemporary Maine, with a close-up look at several families, including Andrew's, who is the book's narrator, and the Thatches. At a lobster bake at the Thatches, family and guests are shocked when police arrive, and this is where the book both begins and will end.
The Midcoast is less about a place and more about Andrew's obsession with the Thatches, prompting him to write a book about them. Ed Thatch had always been hard to figure out, but now there was more, including the mystery of Ed's financial success. Could it really be just his family's business, lobsters?
The novel seems to ask what to make of the Thatches—a lobsterman, his wife the town manager of Damariscotta, their son a local police officer, and their daughter attending Amherst College. The same way a village—Damariscotta a case in point here—could hope to be seen as quaint, safe, and friendly, families might also project an illusion.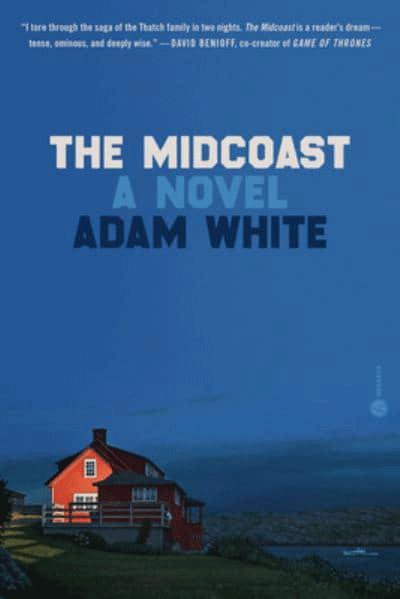 This is certainly a familiar phenomenon in politics. We're asked to believe of some individuals that they are indeed how they would wish to be seen or that things are as they describe. For example, Maine residents may remember when a previous governor said, in January 2016, that the state's heroin problem was because of "guys by the name D-Money, Smoothie, Shifty" who "come from Connecticut and New York. They come up here, they sell their heroin, then they go back home. Incidentally, half the time they impregnate a young, white girl before they leave."
The Portland Press Herald later published available FBI statistics that showed 1,211 people were arrested on charges of drug sales or manufacturing in Maine in the time frame that then-Gov. Paul LePage was referencing. Of those, 14% were black and almost all the rest were white.
That characterization is especially apt for this book. And while it may not have been an intended subtext, White seems to encourage reader skepticism as Andrew gradually questions outward appearances to see the reality behind them.
It's not a bad exercise for any of us.
Near the book's end, Andrew reflects, "On the May afternoon of the lacrosse reception held in the Thatches' backyard, our little village looked every bit as perfect as the ads in Down East magazine make it out to be… There's a sign now, just after the bridge, that says 'Welcome to Damariscotta… Maine's Vacation Haven,' and at first the slogan struck us as a little phony and ridiculous, but then, after a couple hundred times driving past the sign, we stopped noticing it, stopped thinking of it as something that didn't quite fit."
Life is like this—we want to believe towns are havens, families are perfect, politicians are truthful, and so on. Looking more closely could shatter the illusion.
Tina Cohen is a therapist who lives seasonally on Vinalhaven.