Racing the Clock: Running Across a Lifetime
By Bernd Heinrich
Review by Carl Little
Bernd Heinrich boasts a double life. He is a brilliant field scientist, known for ground-breaking work, including numerous articles and books on a host of flora and fauna, from irises and chestnut trees to honeybees and ravens. He is also a record-holding long-distance runner.
His new book Racing the Clock: Running Across a Lifetime melds the two pursuits into an engaging and at times suspenseful narrative.
Racing the Clock is personal, with bits of Heinrich's life story adding to what we know from his autobiographical magnum opus, The Snoring Bird (2007). It's a self-study, with episodes of defiance and doubt, triumph and tribulation—and the ever-present wonder of nature his many readers have come to love.
The 81-year-old Heinrich goes back in time to revisit a remarkable life, from fleeing northern Germany with his family as the Russians advanced in World War II, to attending the Good Will-Hinckley Home Farm and School and later the University of Maine and UCLA. He recaps some of the high—and low—points as a biologist and runner, always with a lively eye.
Heinrich moves seamlessly between biology and running, at times mixing the two.
"This book concerns aging," Heinrich notes near the beginning of the book, and he sets out to explore his attitudes toward growing old while offering examples of the lives of diverse plants and animals, from the ephemeral blowfly to "Methuselah," a bristlecone pine in California thought to be 4,850 years old.
Curiosities abound. There's the "suicide tree," which dies after blooming only once, and an eel named Putte which lived to age 88.
Heinrich moves seamlessly between biology and running, at times mixing the two. "Running ability may be as complex as the bumblebee's flight," he writes, and uses his runner's stopwatch to time the speeds of caterpillars.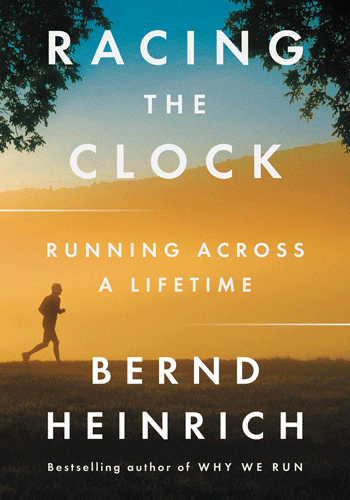 Note that the book's title is not Outracing the Clock. Heinrich has no illusion about senescence, the process of deterioration with age. That said, he may ignore a doctor's appraisal of his knees and run another ultramarathon. "Death is not a thing I like looking forward to," he writes, "but I must look forward to it if I want to get my licks in, as they say."
And get his licks in Heinrich does: several chapters recount his amazing feats as a long-distance runner, including setting an American record for a 24-hour run—156 miles, 1,388 yards—on a track at Bowdoin College in 1979. Among the songs he runs to: Cat Stevens's "Bitterblue."
Heinrich pays tribute to his mentors, many of them from his early years in Maine when he began to develop his passion for the natural sciences and running. Coaches, professors, and others saw his promise in both pursuits and (mostly) encouraged him.
From trapping gypsy moths for the U.S. Department of Agriculture one summer to publishing his first scientific papers in prominent journals, from high school meets to races with the Maine Rowdies running club in Brunswick, Heinrich benefited from timely reinforcement.
If Racing the Clock at times has a swan song feel to it, it never lasts long. Heinrich goes with the flow and never ceases to challenge himself. This past October he ran the Chicago Lakefront 50K in 6:14:28, placing 59th out of 117 runners. Fleet of foot and nimble of mind, Heinrich is, well, the bee's knees.
Carl Little is regular contributor to The Working Waterfront. He lives on Mount Desert Island.