Once a primary mode of transportation for many Mainers, ferries are more often a fun excursion than a necessity, at least for those who live and work on the mainland. Yet for over a century, such vessels transformed life along Maine coastal and inland waters, enabling commerce, travel, and recreation to reach previously isolated areas.
While ferries today are mostly associated with crossing bays, the scene pictured here is actually the Kennebec River in about 1890.
Looking downriver, it depicts steam ferry Union, having just left its slip on the Bath waterfront. A passenger steamer can be seen in the distance and a couple of schooners are dockside.
Steamboats like Union ferried passengers from Bath to Woolwich for over 90 years.
What's striking about this image isn't just the active waterfront that no longer exists. There are also two "missing" bridges: the Carlton and Sagadahoc bridges that have connected Bath and Woolwich since 1927 and 2000, respectively.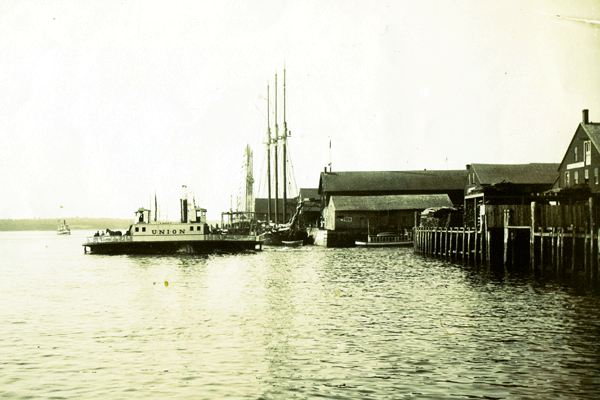 To place this image in its contemporary context, most of what you can see here is currently municipal property known as Waterfront Park and is probably best known as the spot where thousands of people gather to admire the fireworks during the Bath Heritage Days' Fourth of July celebrations.
Steamboats like Union ferried passengers from Bath to Woolwich for over 90 years and railcars for over 50. Before this, ferrymen rowed passengers across the river. There was once even a horse-powered ferry in Bath!
Learn more about the Maine Maritime Museum: https://www.mainemaritimemuseum.org/
While steam power was a technical upgrade, the wait to board a ferry and embark across the river could be hours long.
This was the case whether you were a passenger, driving an automobile, or in a train car.
The locals' frustration with ferry service resulted in some unflattering nicknames for the steamers they relied upon. Union came to be known as "Onion" in its later years and the Hockomock was called "Hunky-dink."
An extreme example of a lengthy crossing occurred when P.T. Barnum's circus was en route to Rockland in 1876. The train was 65 cars long and could only be ferried across the Kennebec two to four cars at a time. It took the railroad ferry nearly two entire days to complete the task.
Talks of a bridge spanning the Kennebec at this site began as early as 1868, shortly after the railroad came to Bath, but it was ultimately a shift in modes of transportation and tourism that paved the way for a bridge. The tourist destinations made popular through steamer travel became accessible in other ways: the condition of roads improved, the popularity of automobiles increased, and railways expanded deeper inland.
Rivers like the Kennebec became an impediment to more direct travel as opposed to the transportation highways they once were. And so, with state Sen. Frank W. Carlton of Woolwich leading the effort, the Carlton Bridge opened to vehicle and rail traffic in late 1927 after a year of construction.
Ferry service completely ended in 1929. The Carlton Bridge remains an active rail bridge with Route 1 vehicular traffic having been diverted to the four-lane Sagadahoc Bridge upon its completion in 2000.
Kelly Page is collections and library services manager for Maine Maritime Museum in Bath. Among the exhibits the museum is now featuring is "Broadside: The Power of Print in the Maritime World." From sailing cards to shellback certificates, mass-produced images shaped the maritime world. This visually rich exhibit explores the role of these prints in commerce, conflict, and leisure.