The city of Bath has its well-known institutions. The Maine Maritime Museum, Bath Iron Works, the Chocolate Church Arts Center, the Patten Free Library. But the city's best kept secret is not a place; rather, it's a person.
One Charles "Charlie" Williams.
Known to most in the city of ships as the long-time driver of the city trolley (also named Charlie—although not after him, as he's quick to tell you), Williams is a jovial soul. Many a person has been walking the sidewalks of Bath to be greeted by Williams with a ring of the trolley's bell, a friendly honk and a wave. He's known to pick up passengers at non-designated pick-up spots and to drop them off at their doorstep. And he's no stranger to the classic brand of Maine humor and to joshing with his passengers, visitors and regulars alike.
But in these days of seemingly bottomless rancor and cynicism, it is his almost-giddy delight for his job that marks him as a rarity: the sort of person whose own joy infects those around him.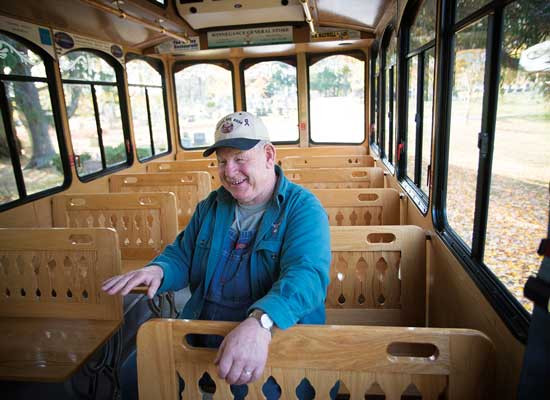 MICHELE STAPLETON
"It's his laugh. It's his smile. It's how welcoming he is when people get on the trolley. You can tell that he's happy to be doing it," says Debby Labrecque, administrative assistant to codes and planning for the city of Bath and trolley coordinator.
"I found a part-time job that fits me really good," Williams says. "This has been—actually—the best part-time job. It's pretty fun."
Williams, who is 68, has been driving the trolley on a part-time basis for about 19 years. He recently retired from Bath's public works department where he worked for more than 30 years.
While he only drives the trolley part-time—on weekends and for special events and charters—he devotes himself to it, Labrecque said.
He makes sure all the maintenance that's needed gets done, he keeps it sparkling clean and decorates it for particular holidays, he continuously learns new things about the city and its history that he can tell his passengers, he arranges the music for trolley Christmas caroling and he seeks out sponsors to help cover the costs of running the trolley, which is otherwise paid for by the city, she said.
"It's just his baby. That's what it comes down to and everybody knows that." Williams, though, is old-school. "He doesn't take credit for the success of the trolley or for all the good he does in the city or the happiness he brings to adults and kids alike," Labrecque said.
"As much as we try to say, 'Oh, Charlie does this, that'—and he really does—but he doesn't take credit. He just wants that trolley to run and he wants everybody and their son and grandson and great-grandson to come and ride and join him."
Case in point: trolley Christmas caroling. It is because of Williams that the popular trolley Christmas caroling has gone to two nights, notes Labrecque.
Until last year, trolley Christmas caroling only took place on Friday nights, which meant a lot of the high school kids who played basketball wouldn't be able to participate because they almost always have games on Friday evenings.
"Some of the kids have known him forever," Labrecque said. "They grew up seeing Charlie driving the trolley." Williams wanted those kids to be able to go caroling on the trolley, she said, so he came up with idea of getting sponsors to cover the costs of running an extra night.
Through his efforts, six local businesses are sponsoring the Saturday night runs.
"It's a great thing for [the sponsors] to do," she said. "It's great for the community. Everybody has a blast."
Everybody does have a blast trolley Christmas caroling, and that's due, in large part (although he would disagree), to Williams.
He decorates the interior of the trolley with colorful lights, selects music appealing to young and old and welcomes everyone on board—some of whom have waited on the sidewalk in the cold (rides are first come, first served)—like they were old friends visiting him for the holidays.
And they are.
Trolley Christmas caroling is 5-9 p.m. on Dec. 2-3, 9-10, 16-17 and 23.
Williams picks up passengers every 30 minutes in front of City Hall on Front Street. Rides are free (donations accepted).
For more information: Go to http://www.cityofbath.com/trolley.
Call the trolley hotline at 522-6335 if the weather is iffy.