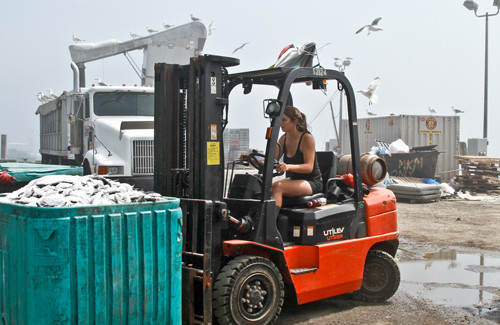 PEACH FREDERICK
By Susie Arnold
There is no question that herring is going to be in short supply in 2019 and the years to come.
Based on the recent poor stock assessment of the Atlantic herring population, the New England Fisheries Management Council recommended a catch quota of 15,066 metric tons (mt) for 2019. The National Marine Fisheries Service responded with a proposed rule of 24,468 mt. For context, the revised 2018 quota ended up being 49,900 mt, with about 87 percent of those fish landed as of mid-December.
So, at the very least, the herring fishery is looking at over a 50 pecent cut in allocation from last season, with additional cuts likely to come in 2020 and 2021.
This spells trouble for the lobster fishery, which is heavily reliant upon herring for bait. What has been discussed less is what this may mean for Maine's coastal communities. The American lobster was the single most valuable species landed in the U.S. in 2015, 2016 and 2017. Statewide, the total value of lobster landings was $540 million for 2016 and $438 million for 2017. The lobster supply chain contributes over $1 billion to the Maine economy each year, producing 4,000-plus associated jobs on land and about 6,000 jobs on the water.
Three communities, Stonington, Vinalhaven, and Friendship, landed $122 million worth of lobster in 2015. That was equal to the combined value of all commercial fisheries landings from Rhode Island, Connecticut, and New Hampshire.
With bait hard to get or extremely expensive, communities will feel the financial ripple effect, some more so than others. With more than 3,500 miles of coastline, there is broad variability in the size and accessibility of communities. The long distances to service-center hubs may prove costly for island and remote peninsula communities. Remote locations and smaller buying operations will be less likely to have access to bait. 
In addition to accessibility issues, many Downeast and island communities are disproportionately dependent upon the lobster fishery.
From 1995 to 2015, lobster landings in Washington County went from just over 2 million pounds to over 21 million pounds. On four of the islands with the smallest populations—Matinicus, Frenchboro, Islesford, and Isle au Haut—over 25 percent of year-round residents hold a commercial lobster license. Frenchboro has a year-round population of 45, and 18 residents hold lobster licenses, or 40 percent of the community. If each captain has a helper who lives in the community, that puts 66 percent of the community working on a lobster boat during some part of the year.
The hope is that a combination of expanded freezer space and alternative baits will be able to fill the gap. This may be largely dependent upon pogeys (also known as menhaden) showing up again this summer and fall, as they have the last couple of years. Even those who don't traditionally use herring may find "hard bait" (typically fish racks) or other preferred baits to be more expensive or harder to find.
For better or worse, people are getting more adventurous with non-traditional baits. The Maine Department of Marine Resources has about 30 species listed on its approved lobster bait list, and a number on their prohibited list, largely due to the risk of introducing an exotic pathogen to our waters. But storage infrastructure and access to alternative bait is much less an option for small remote communities and fishermen not connected with larger coops.
Efficiency improvements are also part of the conversation, including bait-saver bags and effort reductions. With expenses rising every year in the fishery, at what point do fishermen stop making money with the current model?
The availability of alternative baits, like pogeys, is unknown at this time. Thus, we can't predict the extent of the shortages the industry will face. Given the potential severe community implications, it is critical to consider the disadvantages facing some of the most remote, highly dependent communities.
What will the impact be on families, communities, and support businesses if fishermen can't access bait and go out and fish? There are no easy solutions, but in the moment of crisis, communities and individual fishermen will have even fewer options. Thinking back to the economic crisis in the industry in 2012 due to abrupt ocean warming, it makes sense to have a proactive adaptation strategy in place for the security of coastal community economies and social well-being along the coast. 
Susie Arnold is a marine scientist with the Island Institute, publisher of The Working Waterfront,and works on the impacts of climate change and ocean acidification on marine resources and fisheries-dependent communities.