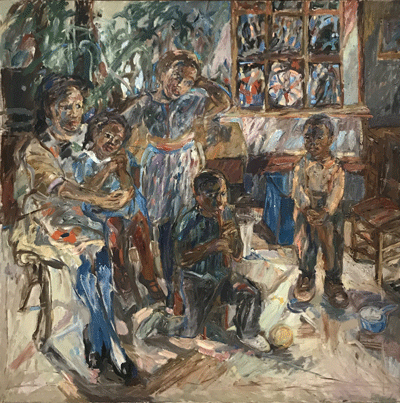 The exhibition "Ashley Bryan: Beauty in Return" is now on display in the Farnsworth Art Museum's Rothschild Gallery in Rockland through Dec. 31. The show recognizes the work of the Farnsworth's 2022 Maine in America Award honoree: painter, printmaker, illustrator, author, puppet maker, poet, and storyteller Ashley Bryan.
Bringing together examples of the artist's work from throughout his long career, including paintings, illustrations, puppets, and stained glass, the exhibition is a joyful celebration of the enduring power of art, and of the human spirit over adversity.
In conjunction with this exhibition, and in recognition and celebration of Ashley Bryan's selection as the Maine in America Award recipient, multiple programs are scheduled throughout the summer.
On Wednesday, July 13, the Farnsworth will mark Bryan's remarkable life on what would have been his 99th birthday with art-making activities for children under a tent on the museum grounds. Then, on Sunday, July 17, the museum will honor the artist with free admission and special programs all day long for members and the community.
Visit the Farnsworth website for additional information about events or to join.
The museum is grateful to the collection of Oakland University School of Education and Human Services and curators Linda Pavonetti and Jim Cipielewski for their generous loan of works to the exhibition, and to the Ashley Bryan Center and its executive director, H. Nichols B. Clark, for their support, guidance, and assistance.
For more information visit www.farnsworthmuseum.org, or contact Farnsworth Communications and Marketing Manager David Troup at 207-390-6009.