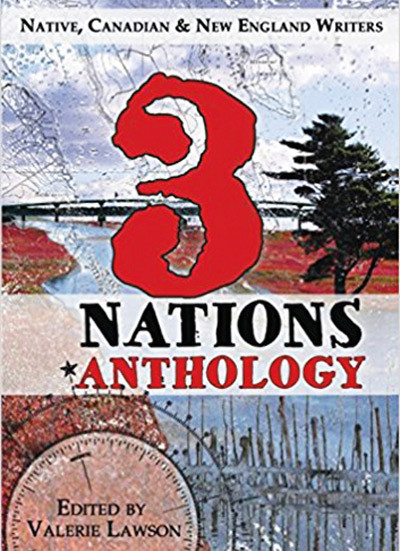 3 Nations Anthology: Native, Canadian & New England Writers
Valerie Lawson, ed. Resolute Bear Press, Robbinston, Maine, 2017; 176 pages, paperback, $19.95.
One phrase to describe what underlies the harrowing political and social divisions in the U.S. these days is "identity crisis." If I remember right, this term gained traction during the 1960s and '70s as a pop psychology catch-all for what existentialist philosophers had identified as alienation, unspecified dread, emotional isolation, and a general sense of feeling lost in a social and moral wilderness.
A lot of people, especially in America, suffered searing internal struggles about who they were and how they fit into their culture. Identity crisis was an acutely personal malady.
Fast-forward about 60 years, and we find ourselves suffering an acute collective malady. Did our most critical historical moment involve a powerful exertion of moral will to put an end to human bondage? Or did it involve a glorious resistance to tyrannical federal government? Does science accurately describe and predict our physical surroundings and processes? Or is it a specialized kind of fiscal boondoggle with the catch phrase "climate change"? Are we stronger if we define ourselves as a racially, religiously diverse gathering of many equal people? Or are we stronger if one racial or religious group, or coalition of the two, dominates our law and culture?
We are having a national identity crisis.
So it's no surprise to find that a principal thread in Valerie Lawson's new 3 Nations Anthology, a collection by writers from the U.S. Northeast, Maritime Canada and local Native American tribes, involves identity—in all its certainty and uncertainty.
Stephanie S. Gough's essay "Borderline" captures, in a way, the complexity of the problem in the first sentence: "There was a time when I was the only one in my family who was not American." Every element of the theme is present here: personal identity, family identity, social/national identity; isolation; seeking; and an implicit question—who am I?
It turns out Gough is a lifelong resident of Campobello Island, a piece of Canada made famous because it was the family retreat of U.S. President Franklin Delano Roosevelt during another tumultuous period in American history. "Campobello'ers" often hold multiple passports. They routinely cross international boundaries. And that border looms as a sharp defining figure in the essay at the same time that it's a kind of blur. Are they Canadians, Americans, or something else? A community of "nebulous nationalities" before the U.S. tightened the passport requirements in 2009 and "we were forced to determine our own nationalities."
Significantly: "In the end … it seemed nothing could change how we felt deep down inside, nor who we were, at least in our own minds, and in that, there was a lasting message for anyone who cared to take notice." Identity is an inner place, even more than it's an outer location.
Inner identities are shaped by whole cultures, for better and worse. Donna Loring, a prominent spokesperson for the Penobscot Nation, scrutinizes the implications of the expression "circle the wagons" in "Tribal/State Relations in the State of Maine USA." The phrase implicitly assigns a threatening identity to Natives, and characterizes how they are treated still, today, in our politics.
"Despite the horrific treatment we have endured from the white majority culture over the centuries of genocidal policies," Loring says, "we have never lost our love for this land or this country."  To me, this seems like a powerful description of an identity shaped from both outside and in.
Emma Suarez-Baez, a native of Puerto Rico, evokes in her poem "A Price to Pay" the fractures the contemporary world has elicited in family identities: "My parents didn't know/How to be/Grandparents/Of faraway children."
We get the same theme from French-Canadian angles when Jeri Theriault gently unfolds in "Names Properly" how the sound of French, when she decides to re-learn it after losing it, discloses multiple emotions that underlie, after all, who she is. In a similar way, David Surette and his young daughter explore for their family identity in names, gravestones and mailboxes in "Acadian Archaeology."
Not surprisingly, one of the most deep-reaching explorations of identity in the collection is by Patricia Smith Ranzoni of Bucksport. "Facing Both East & West at the Same Time: Along Passamaquoddy Shores" gives a vivid, dreamlike portrayal of 3,000 years of life along the Downeast coast, starting long before it was called Downeast. It's a compressed cultural saga, in a way, of identities tied to the land and to the coming of Europeans.
The dream protagonist figuratively "is on the ship looking West/(and all that means), and on the land watching East/(and all that means). Both afraid." The great American identity crisis begins here, deep in the collective historical psyche, and ongoing.
The writings collected in 3 Nations take other thematic tacks too, naturally. There are observations on "place," like we say, by Maine poets Lee Sharkey, Leonore Hildebrandt, Carl Little, and Mark Melnicove, fishing stories by Sharon Mack and J.C. Elkin, and memoirs on history and literature by Ellie O'Leary and Frances Drabick, among many other poems and stories grappling with who we are and where we are, to paraphrase Thoreau's perennial questions from halfway up Mount Katahdin. Amid a great national identity crisis, 3 Nations offers some timely ways to think about these, and related, questions.
The book is available through online book sellers or by writing to Resolute Bear Press, P.O. Box 14, Robbinston, ME 04671.
Dana Wilde lives in Troy and writes the Backyard Naturalist and Off Radar columns for the centralmaine.com newspapers and is a member of the National Book Critics Circle. His recent book is "Summer to Fall: Notes and Numina in the Maine Woods," available from North Country Press; northcountrypress.com/summer-to-fall.html.