In May I usually write about how crazy busy it is, and how fast the month goes, and what a relief it is to finally see signs of spring, like blooming daffodils, buds on the trees, and returning songbirds. Carpenters, caretakers, fishermen, boat builders, painters, gardeners, artists, and craftspeople all wear the same expressions of overwhelmed bravery on their faces. We're so happy to finally experience spring and yet the pressure to finish work before summer starts is all encompassing. 
This year, however, many of us are facing the coming summer with heavy hearts. We have lost a vibrant member of our community. On April 17, Hugh Smallwood died unexpectedly while on a boating trip with his sisters in the Chesapeake Bay. Hugh was married to my husband's sister, Karen, for 23 years. He and I shared the singular distinction of being second and third generation summer kids who married into a 6th generation island family.
He was a great brother-in-law. We shared the understanding that we had fulfilled our childhood dreams of staying on the island whenever we wanted, for as long as we wanted, not just for our family's allotted few weeks in the summer cottages.
I could say to Hugh, "Sometimes I still have to pinch myself to believe I get to live here," and he knew just the feeling I was talking about.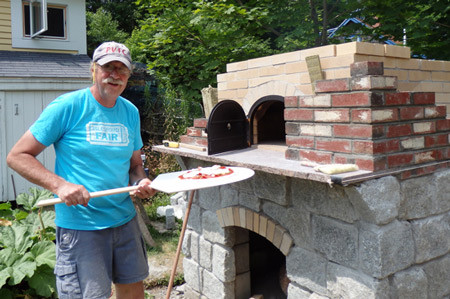 Hugh and Karen had plans to live on Islesford year-round in the not-too-distant future, but his winters in Baltimore never prevented Hugh from being involved in the island community. He served on the municipal advisory committee and helped Denise McCormick translate old town financial information into more modern formats when she became town clerk. When I called to fact check, she told me, "He actually hand-picked me for the job. When the deputy town clerk job became available in 2004, he came to my house to ask if I would do it."
Hugh trained as am EMT and kept his boat at one of the private docks for six months of the year, just to be ready to transport anyone who needed it in an emergency. He served on the Cranberry Isles Rescue Service, avoiding cocktails and carrying a pager on the nights he was "on call." He was a calm and reassuring presence in any emergency.
Hugh also was active with the Islesford Boatworks program, serving on the board and in the boat building barn as mentor and volunteer. He was an amazing woodworker. His creative ability was on display everywhere in his Islesford home, from the dining table and chairs, to various cabinets, to the coffee table featuring a glass-covered recess for Karen's rolling pin collection. 
Hugh will be remembered by so many of us for so many different things. Tuesday night pizzas baked in his wood fired oven, bread for sale the next day, countless dinner parties where the guests were always well fed, the music festivals at the town field and in the Neighborhood House, homemade fettuccine, music gatherings on Wednesdays, a garden filled with dahlias, and a love for fishing are just some of them. 
For someone who was so widely involved with his work, his family, and his community, Hugh seemed to have an uncanny ability to find time to do nothing—what he referred to as "precious little." He could nap at the drop of a hat and was often sitting on the couch reading whenever I would stop by to see Karen. He found a balance in life that I envy. How unfair that death would claim him just when he was doing such a good job of living. 
Those of us who are so busy on the islands in May and June usually accomplish whatever threatens to overwhelm us. We finish our work and start something new and manage to find a reasonable rhythm for summer. But this year we have the added challenge of accepting the empty space left by Hugh Smallwood and other island friends and family who will not be back.
We were so sure we'd be seeing them again this summer. There is nothing to be done to protect our loved ones from the onslaught of loss they feel when they come back to their island homes for a new season after someone has died. The grief is refreshed with every new arrival of summer visitors, but the stories are also revived.
Most of us who have homes here have been coming to these islands for a long time. We've had the opportunity to make plenty of unique memories. My memories of Hugh won't bring him back, but when I tell them to someone it helps to keep his story going.
Barbara Fernald lives, writes, and makes jewelry on Islesford (Little Cranberry Island).