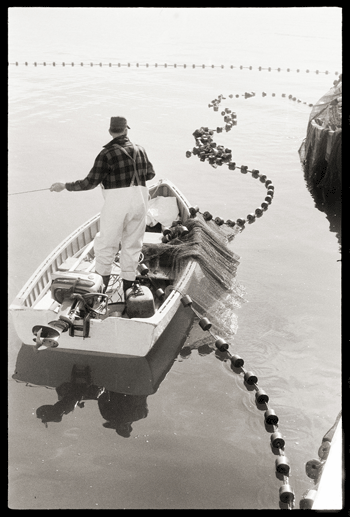 A herring fisherman or "herringer" of Hugo Lehtinen's crew pulls on a line from a purse seine while standing in a wooden skiff in Penobscot Bay in the photo featured in this month's column. A line of seine floats leads the viewer's eye from the lower right corner up to the boat and then snakes up to the top of the frame where it meets a straight line of floats and heads left.
This stunning photo was taken by Kosti Ruohomaa of Rockland while working on a story for Maine Coast Fisherman in 1958. Photography was as much an artistic expression for Ruohomaa as a documentary tool.
It's no surprise that Ruohomaa was drawn to the state's herring fishery as a subject for photography and storytelling. The work was carried out by a cast of rugged characters using multiple boats of various types, small aircraft, and other heavy equipment. The task of landing sardines, as they are called when they are harvested for food, was vigorous, dynamic, and required orchestration of these many elements.
For a photographer, there was a lot to see. Ruohomaa documented the herring fishery from every angle over a number of years, including 1953, 1957, 1958, and 1960. He photographed the boats, fishermen, and nets. He photographed the weirs and seines from the open cockpit of an airplane. He drew detailed diagrams of the nets and weirs and wrote down folk phrases spoken by the fishermen.
The Penobscot Marine Museum's 2022 exhibit, "Kosti Ruohomaa: The Maine Assignments," will showcase his work featuring Maine scenes. The exhibit opened May 27 and will run through Oct. 16.
Ruohomaa was a first-generation Finnish American immigrant and a gifted artist who died young. Though his professional work spanned just over two decades, he documented a critical time in American culture by photographing around the World War II years.
During his career, his photos found their way into some of the era's more visible publications, notably Life, Look, and National Geographic. The affinity he felt with people and places shows in his photographs, and it helped him capture the varied folkways of an America that was changing rapidly, particularly the fading world of rural old New England.
With a focus on his Maine-based photographic assignments, the exhibit explores the ways Mainers lived, celebrated, made their livings, recreated, and communicated. While many of Ruohomaa's most iconic images stand on their own, he approached his assignments with a photo essay in mind—telling the story through a series of photographs. This exhibit embraces that approach and presents his assignments through the eye of a magazine editor. It allows a deeper look at Ruohomaa's work and technique and helps viewers gain more insight into the man and his photographs.
"Kosti Ruohomaa: The Maine Assignments" has been funded in part by generous support from lead sponsor L.L Bean and by Camden National Wealth Management, Allen Insurance and Financial, and Innova Art.