Autobiography of an Island: A Memoir
By Sarah Faragher (2021)
Review by Carl Little
In 2004, while visiting Great Spruce Head Island, painter Sarah Faragher had the occasion to explore nearby Bear Island. Conversing with a Bear islander, she learned of Birch Lodge, a humble dwelling that could be rented in June. Invited to consider this option,
Faragher soon found herself taking up annual summer residence in the middle of Penobscot Bay, her painting supplies at the ready—and her soul, as it were, brimming with the possibilities of retreat and reflection.
With more than a decade's worth of week-or-more visits behind her, Faragher decided to convert the notes she'd been keeping into one extended narrative of her island life. The result is Autobiography of an Island: A Memoir.
Faragher has her share of demons, and the island has given her the time and distance to address them.
Being pretty much alone on the island lends a Petit Prince quality to Faragher's situation. Like the young protagonist of Antoine de Saint-Exupéry's classic story, she addresses a range of emotions, among them, loneliness, love, loss, anger, and resolve. She gains an intimacy with the place that makes this book her autobiography as much as the island's.
The writing is descriptive and detailed. For example, Faragher lists the supplies she must carry with her. There is food, clothing, toiletries—including peppermint soap "because the mosquitoes don't love it"—and the "relevant page from the tide calendar," plus flip-flops and extra pens. She is particularly good at rendering the weather, which is with her at all times in one way or another.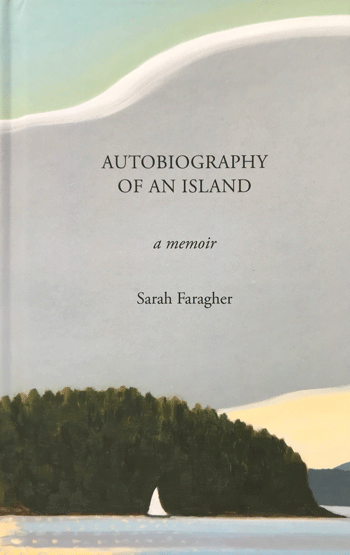 Not all is painting, lying out in the sun, listening to seals, skinny-dipping, and watching the sun set and the moon rise. Faragher has her share of demons, and the island has given her the time and distance to address them. A recurring motif, if you will, is her strained relationship with her biological father who more or less abandoned her family early on.
As someone who has made a living as a bookseller, Faragher provides a generous assortment of quotes as well as a 23-page reading list, which features a mix of art books, poetry, Maine fiction and non-fiction, nature guides and children's literature—from Lord Byron and Emily Dickinson to Ruth Moore and Louise Dickinson Rich.
Among her favorite go-to sources are the Canadian painter Emily Carr and what she refers to as the three H's: Robert Henri, Charles Hawthorne, and Hans Hofmann, whose books on the creative process sustain her.
Fittingly, the book is diary-sized. Ideally, it would include some of Faragher's paintings; the cover image, one of her stunning Bear Island views, will have to do. At the same time, it would have been fun to have a small map of the island with all its curious place names: Piggy's Point, Graveyard Beach, Mosquito Alley. One imagines something like the Hundred Acre Wood map in Winnie-the-Pooh.
The book is dedicated to Faragher's husband Ryan King, who passed away in July 2021. The book was written before he died so references to him in the text bring a frisson of sadness.
"I can't seem to keep my thoughts about loving the world to myself," Faragher says early on and bears that out as she shares her impressions of the island. Her passion for this place, for painting and poetry and the life she lives, carries across the water.
To order a book, contact the author through her website at www.sarafaragher.com. The book is also available at Littlefield Gallery in Winter Harbor and the Landing Gallery in Rockland where Faragher will have a solo show "Portraits of Place" June 2-26.