The Union Congregational Church on Isle au Haut was founded in 1857 and built by island residents on a hill overlooking the village and thoroughfare. The Rev. Joshua Eaton was the first pastor, and there were seven original members, five of them named Turner.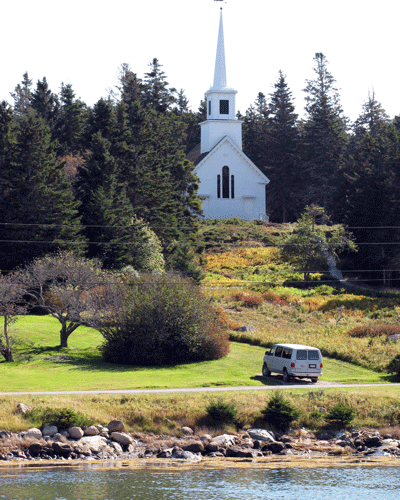 From its early years the church was often served by visiting ministers, missionaries, and seminarians preaching for a few weeks at a time—35 of them in 43 years. In 1907, the minister was a woman ordained in Nebraska. The Rev. Frank Snell served as both minister and physician from 1914 until his death in 1926. During his tenure, a new house was built to serve as both parsonage and doctor's office. The church was incorporated in 1931.
Summer residents arrived by the 1880s as the local economy began to decline and land ownership shifted substantially. In 1943, about half of the Island became part of Acadia National Park.
After World War II, the church became seasonal, hosting ministers who were usually on vacation from their regular parishes. Ever since then, the Maine Seacoast Missionary Society has provided services outside of the summer season.
In 1941 the Reverend Fred Hoskins became the summer minister, arriving for the first time with his family, including his eight-year-old son Ted. Fred Hoskins returned to preach for four or five years, and his family made it their permanent vacation home.
After his son Ted Hoskins became the senior minister of a church in Connecticut in 1961, he too began preaching at Isle au Haut, gradually negotiating a more extended leave in order to serve as the Island's resident summer minister.
A year after his retirement in 1994, he became minister of the outer islands on the Sunbeam, the mission boat of the Maine Seacoast Mission. Throughout his career he continued his role at the Isle au Haut church until his retirement in 2013.
During the 1970s, the church led an effort to revive the year-round community and started a fund which facilitated bringing electricity to the island in 1971. This fund also made microloans, supported the island store, and sent local children to camp. More recently, the church and the Seacoast Mission have co-sponsored a weekly series of free community suppers at The Island Store.
A few years ago, a gift of land was made to the church which included a large part of the shore of Long Pond. Part of this property has been transferred to the town as a public beach. In collaboration with Acadia National Park and the Isle au Haut Land Conservation Trust, an easement has been placed on the remainder of the property.
The sanctuary building has been restored within the past decade. Visitors are welcome throughout the summer.