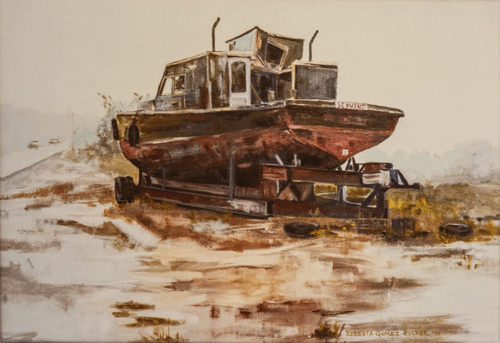 Hundreds of Roberta Ricker's colorful paintings depicting coastal and island life hang in homes in Maine and beyond. The paintings are a kind of artistic documentary of ferries and other work vessels in Casco Bay, and of life on Long Island when she was growing up there decades ago. Her lifelong connection to island life and work boats of all sorts has served as her inspiration, resulting in detailed works of art that span nearly 70 years.
In all, she has created hundreds of paintings that depict ferries, tugboats, fishing boats, oil tankers, and even the U.S.S. Constitution in Boston.
Others show scenes on Long Island: beaches, coves with sailing vessels passing by, clam diggers, lobster boats, and portraits of local characters. One eye-catching painting from long ago shows the late Geneva Rogers behind the candy counter of her small island store, The Spa, with a young girl in front of the counter with a popsicle stick out her mouth.
Ricker describes herself as a "representational artist," painting what she sees and what she's interested in. She first started drawing with pencil and paper when she was just four years old; when she couldn't find a piece of paper, so strong was her desire to sketch that she would secretly draw on the blank pages in the front of books in her family's Long Island home.
"I have a strong interest in the subject matter, which is why I have lots of boats and lots of people," she said at the South Portland home where she and her husband have lived for 36 years. "I've always said you come through the birth canal with talent. It's not something you learn. It's something you have."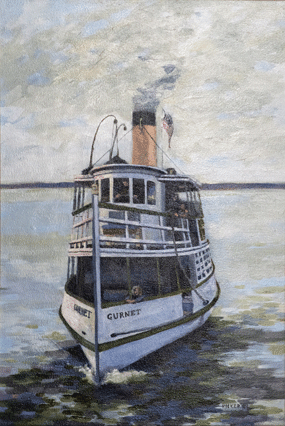 Ricker's love of painting may have started on Long Island, but it was her daily ferry rides to the mainland to attend Portland High School in the late 1950s that sparked her passion for both boats and a young deckhand named Bob Ricker.
It was on those rides, back when she was still Roberta Gomez, that she was drawn to Bob, two years her senior. They got married in 1961, a year after she graduated high school, and had two children, Suzanne and Linden.
During his career, Bob was a boat captain on ferries on Casco Bay, on Lake Champlain in Vermont, and for one winter on Penobscot Bay. For many years he captained small oil tankers, 270 feet or so long, on coastal routes from Boston to Portland and Bangor.
In the later years of his career, wishing to spend more time at home, he worked on the Maine Responder oil spill response vessel in Portland; Roberta joined him on board, both as a cook and a seaman.
Through it all, she cranked out painting after painting, primarily in acrylic, creating a historical artistic view of ferries in Casco Bay—with names like the Abenaki, the Berkley, the Emita, the Island Romance, the Tourist, to name just a few. One of her favorites, which hangs in their home, shows the Gurnet, a picturesque wooden steamer that was built more than a century ago and ran in Casco Bay until 1964, when it was damaged in a fire.
If you look closely at the painting, you'll see where Roberta has painted in Bob in the wheelhouse up high, daughter Suzanne as a young girl on the lower deck at the bow, and herself and son Linden on the second deck.
Her largest paintings were 4-by-5 feet, the smallest the size of a standard sheet of paper. And as fast as she painted them, she sold them at art shows, galleries, and exhibits, while giving some away to friends. A dozen or so of her larger paintings of the ferries were exhibited one summer at the Casco Bay Lines terminal on the Portland waterfront.
David Ward, a former longtime captain of the Maine Responder, is among those who has one of Roberta's paintings. Ward bought a painting of the Maine Responder that Roberta created and hung it in the lounge of the 200-foot vessel. There it lived until the ship was deactivated in 2016, at which time Ward brought the painting to his Scarborough home. (The Maine Responder was later converted into a pilot boat in New York).
"The painting shows the ship coming into Portland Harbor," Ward said. "I thought it was unique that we had an artist married to a crew member, and who was a crew member herself, who could paint a painting of the ship."
Roberta and Suzanne have been slowly putting together a spiral-bound notebook with thumbnail photos and brief descriptions of about 150 of her paintings. But that's only a sampling of her total body of work, and the notebook is a work in progress.
Now 80, Roberta stopped painting about five years ago, suffering from what she calls "painter's block."
"I was all painted out," she says.
But she's a creative sort—she's also written a book and makes elaborate quilts—so she wouldn't be surprised if she resumes painting down the road. In fact, she has her easel standing at the ready in a corner of her dining room for the day the calling returns.