While the experience of quarantining is new to many of us, this is hardly the first time it's been used to control the spread of disease. The large brick building in the photograph was constructed by the U.S. Navy on Widow's Island in Penobscot Bay in 1885 as a hospital to house mariners who contracted yellow fever. One could think of worse places to quarantine!
However, by the time the building was completed, it was obsolete, as the prevalence of the disease had diminished. Widow's Island was returned to the state of Maine in 1904 and for some years, the building was used as a summer retreat for psychiatric patients. The building was razed in 1935 and the island is now privately owned.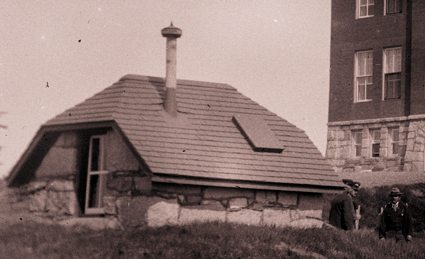 The image below is taken from a 4-inch by 5-inch glass plate negative found in the Deer Isle-Stonington collection. It is one of two negatives depicting the hospital on the island. The presence of men in U.S. Life Saving Service uniforms puts the date prior to 1904.
This view of the island (and the detail from the second negative) shows a small outbuilding. Partially "submerged" buildings such as this stone structure were sometimes used as ice houses and for food storage; this may be the case here.
Mr. D.B. Elmes of Woolwich noticed the images while perusing the Penobscot Marine Museum's online database and wrote us to identify the images and share the story behind them. There is much more to learn about Widow's Island and reading Carl Little's essay in the 2016 Island Journal is a good place to start: islandjournal.com/history/widows-island/
The Penobscot Marine Museum in Searsport has more than 350,000 photographic images in its archive and more than 120,000 of those images are available in its online database. Winter is a great time to explore this vast resource! Fine art prints are available and image licensing for publication, educational, or commercial use is an option. Check it out at www.PenobscotMarineMuseum.org.