Story and Photos by Kelli Park
Long a staple for the swamps of the South, airboats are now finding their way into Maine waters. 
The flat-bottomed, fan-propelled vessels have grown in popularity, and find practical use in shallow water. Airboat hulls are built with aluminum or fiberglass and are coated with polymer to protect against hard surfaces, including snow and ice.
Propulsion is achieved with an aircraft-type propeller and an aircraft or automotive engine, ranging from 50 horsepower all the way to 600 hp, and the boats can reach from 35 mph to 100 mph.
"Think of a reverse airplane," explains Harpswell Harbormaster Paul Plummer, who uses a town-owned 20-foot airboat. "You know how airplanes have the props in front? Well, just flip it around. And put a boat on it. It's literally pushing you with all that horsepower from behind."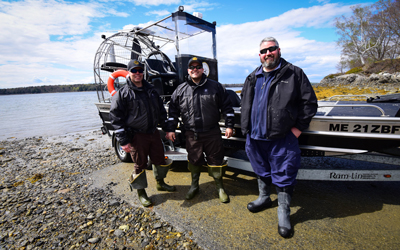 The airboat was invented in Nova Scotia by Alexander Graham Bell in 1905. Airboats were used for military purposes during World War I by the British Army in the Middle East, the Soviet Union in World War II, and by the U.S. in the Vietnam and the Iraq wars.
In the 1920s, Glen Curtiss, an American aviation pioneer and a founder of the U.S. aircraft industry developed an enclosed airboat that could comfortably seat six passengers, while frog hunters in the Everglades tinkered with what they could find to develop their own version of the airboat. In 1933, Johnny Lamb and his friend Russell Howard built a 12-foot airboat using a second-hand aircraft propeller and a plywood rudder to work more efficiently in the Everglades, where they harvested 75 pounds of frog legs a night.
Shellfish harvesters in the Midcoast agree that airboats provide increased efficiency on the flats in more ways than one. Harvesters can reach their destination on airboats when the tide has already receded from the shoreline.
"The airboat makes the job a lot easier," says Daniel Fortin, who digs for clams at Maquoit Bay in Brunswick. "It saves your legs. It saves your hips. You only run your boat for four or five minutes each trip in and out."
Cody Gillis, who works with Fortin, agrees.
"It beats walking. It beats waiting for the tide in a regular skiff."
Airboats also allow for easier access to different, possibly more fruitful, areas. "You can get in and out when you need to," says Peter Holman, who's been clamming in Maquoit Bay for 30 years and has enjoyed the benefits of his father's airboat for the past four years. "You couldn't do that with a regular boat."
Being able to arrive and depart freely on the mudflats is also important for safety during medical emergencies and severe weather.
"They're handy in case something happens out there," Fortin noted.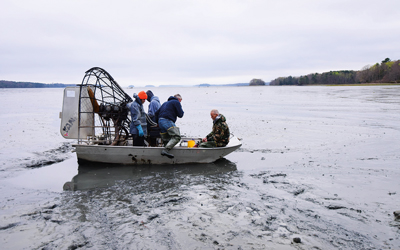 Airboats gained prominence during Hurricane Katrina in 2005 for their ability to navigate over partially submerged buildings and wreckage. The so-called Cajun Navy evacuated over 5,000 people on 30 airboats in less than 36 hours. 
Marine law enforcement officials realize the value of the airboat in Brunswick, with its 67 miles of coastline, and Harpswell, with 216 miles of coastline. Brunswick introduced the airboat to the mudflats in the mid-1990s, and Harpswell recently purchased a new 20-foot airboat with a 550 hp, 6.2 liter big block engine for $76,000.
Although airboat operators take small craft advisories seriously, the vessels can work on frozen bays in winter for search-and-rescue operation. Marine wardens also use airboats to conduct shellfish surveys.
Plummer, Harpswell's harbormaster, warns that different skills are needed to operate an airboat.
"It's a dangerous piece of equipment. It's good to find out what the boat's capable of," he cautions, before zipping off in one.