Historically, ice-fishing for smelt has been particularly popular on the frozen tidal rivers and tributaries of Midcoast Maine. A shack could be set up as early as late December among neighbors and friends in a shanty village on the ice.
In variety of materials, these structures are known to exhibit the utilitarian ingenuity for which Mainers are so well known. With some minor comforts—a woodstove, some lighting, seating, and perhaps some libations—anglers steadily bait and re-bait several hooks to catch smelt through a hole in the ice as the tide rises and the fish enter the brackish waters that are the gateway to their spawning grounds upstream.
Rainbow smelt are an anadromous species, meaning they mature in the ocean and return to freshwater to spawn. They are small and slender and the larger ones are about eight inches in length.
While most harvesting is done recreationally, there is also a commercial opportunity.
Compared to other species, they are a unique fishery to manage in Maine.
They are harvested in three distinct fisheries, have ecological importance as a significant food source for both ocean and freshwater fishes, and abundance is subject to extreme fluctuations caused by factors that are not entirely understood.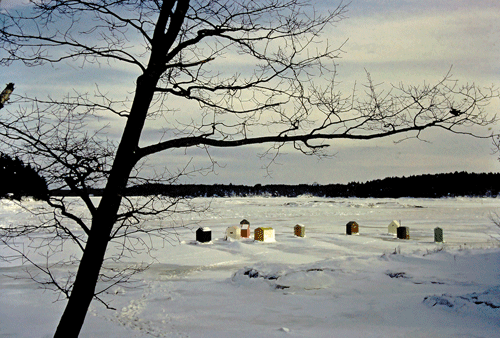 While most harvesting is done recreationally, there is also a commercial opportunity. Either way, the catch is popular as both a food fish and a bait fish. Methods for harvesting depend on the season: during spawning season in the spring fishermen utilize hand-held dip nets and, in the fall, it is a hook and line fishery. And then there is the winter ice-fishery.
The image shown here documents the ice fishing activities of Bernard Henderson in January of 1962 and are part of larger collection of color slides, taken by his son Jack, that document his annual wintry pastime throughout the '60s.
A resident of Phippsburg, he set up his shack on the Sasanoa River between the towns of Woolwich and Arrowsic, a fact solidified by the presence of the Arrowsic Bridge. Much older images in Maine Maritime Museum's collection show dozens of similar shacks on the Medomak River and Back River. None of those images, including Henderson's, could be replicated today. Due to milder winters and warming water, most traditional smelting spots no longer reliably freeze and those that do are now frozen for shorter periods.
With limited access to solid ice, the renting of smelt camps is the primary way that people continue the tradition of ice-fishing for smelt. Five are currently located on the Kennebec and its tributaries in Bowdoinham, Dresden, Pittston, and Randolph.
Although the fish are delicious, such an experience isn't just about the catch. Personally, a wintertime activity that is technically outdoors, warm, and involves food is very appealing. The tail-gate like atmosphere and unplugging with friends isn't so bad either.
Kelly Page is Collections & Library Services Manager at Maine Maritime Museum. Upcoming exhibits include Women Behind the Lens and SeaChange: Darkness and Light in the Gulf of Maine. Plan your visit at www.mainemaritimemuseum.org