Sideshots: Stories from a Land Surveyor's Traverse through the District of Maine
By John T. Mann, illustrated by Earle Mitchell (2020)
Review by Dana Wilde
In the 1970s, Maine was changing, especially along the coast. After nearly a century of being a summer destination for tourists and hideout for the well-to-do, it had transformed, in trendy minds, into a place to settle.
The settlers from away were a mixture of people wanting out of suburbia, cities, other dead-end lives into natural settings they could make their own. Back-to-the-land hippies decamped for the woods. Well-to-do summer people bought year-round houses along the coast. Yuppies made for suddenly cool Portland. They started taking over the social scenes, institutions, and governments of their new homes.
"Coastal properties," John Mann writes in his book Sideshots: Stories from a Land Surveyor's Traverse through the District of Maine, "were the first to be swallowed up by the new arrivals with their push to 'save' the rural nature of the towns they were adopting."
This book really provides an inside story of what's happened in backwoods Maine over the last roughly 50 years.
Mann grew up in Freeport on land his family had worked since the 18th century. In the late 1970s he was a young guy starting his own family and trying to figure out how to make a traditional living in a modernizing world. In Freeport and on the coast, he says, "the pressure of subdivision regulations, arbitrary zoning requirements, loss of the town meeting form of local governance … rising taxes, and a rapid transition from agricultural/maritime/manufacturing economy to retail sales and tourism, were all taking a toll on the old families."
"I reckoned," he explains, "that a 20-mile relocation inland might turn back the cultural clock 20 years—time enough to maybe raise a family and give them a chance to enter adulthood debt-free and grounded in old Maine traditions." So he bought a farmhouse from a back-to-the-land family in Bowdoin, and set to work.
Sideshots tells stories of Mann's life and adventures as a surveyor in the backwoods. He takes us through the fascinating details of sorting out property lines whose descriptions go back generations on land overgrown by centuries, and spends even more time telling us about the people who live there.
In surveying, "sideshots" are "points along the way that may be of interest, helpful, or even critical to understanding the property being surveyed." In this book, the lay of the land is practically identical to the lay of the people.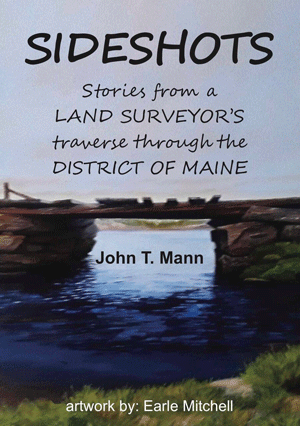 While cast as an informal guide to surveying told in funny and sometimes poignant anecdotes, this book really provides an inside story of what's happened in backwoods Maine over the last roughly 50 years. It portrays generational Mainers living off the main grid and just wanting to be left alone to grow food, keep livestock, hunt meat, raise kids, barter and trade on their own traditional terms.
If you're paying attention, it's possible to see and, moreover, understand in these pages the long, winding road from midcentury Maine, through Ronald Reagan's "Morning in America," to Trump's anti-government appeal.
"New folks want town gum'ment to do everything for 'em," a fed up old Freeport guy tells Mann, circa 1979.
Because the trail is implicit, it's hard to know if Mann thinks of the last five years as a fast-approaching dead end or more morning. And to be sure, this is a rough-hewn book, from typography to writing. You have to already know what Maine's backwoods accents sound like to decipher the book's orthographic representation of them.
The traditional side of rural Maine poverty is well-drawn, but other sides aren't—drug addiction does not come up, nor do bitterly mean incidents such as the shotgunning of a Muslim family's sign for their new halal butcher shop, which happened in my town just a few years ago.
But if you let such omissions slide, and peer beyond the book's homemade surface, you find John Mann is a natural-born storyteller. His affability permeates his characters, and there are descriptive passages of woods, fields, dooryards, and Casco Bay that evoke the feel and mood of Maine as vividly as anything I've read.
Line drawings by Earle Mitchell enhance the authenticity.
"'Who ahh all those people and wheyr-rahh they all goin'?'" 90-year-old Roger Houston asks, while looking out at the cars rushing by on the road to Lewiston in 1983.
A similar question might be asked looking in at Grampa Houston. Sideshots answers it with an experienced surveyor's accuracy.
Dana Wilde lives in Troy. He is a member of the National Book Critics Circle.