A story of romance. A list of plants. A mash-up of fact and fiction about Monhegan Island's people and places circa 1900. These and more are what is within a handmade, leather-bound book that is now part of the Monhegan Museum of Art & History's collection.
The book of about 80 pages, titled Monhegan Stories in gold-leaf lettering on the spine, is a compilation of mostly magazine and newspaper articles that are about or have some relation to Monhegan, said Jennifer Pye, the museum's director. The articles are from a wide variety of sources, such as Cosmopolitan magazine, the Magazine of American History, the botanical journal Rhodora, and college newspaper, The Decaturian, and have publication dates beginning in the 1880s.
Monhegan Stories was donated to the museum in July by Chauncey Erskine of South Bristol, who found the book in a local thrift sale.
Feeling like it was "too special for his bookshelf," said Pye, he posted about it in a private Monhegan-based Facebook profile, asking for suggestions as to where it would best belong. Several responders recommended giving it to the museum.
"We were very excited to see it," Pye said. "It's just so wonderful to have these kinds of handmade things that demonstrate how much people cared about this island, where they were spending time, and how connected they were to it."
Based on a handwritten inscription inside the book's cover, Pye believes it was created by Arthur Winslow Peirce (sometimes spelled Pierce), who, with his wife, Lydia, built a summer home near the wharf on the island in 1909.
The Peirces were from Franklin, Mass., where Arthur, affectionately known as "Dean Awpie" was the headmaster of Dean Academy, said Rob Lawson, professor of history at what is now called Dean College.
According to the Franklin Historical Museum, Lydia, whose family operated a felt and woolen goods manufacturing business in Franklin, holds the distinction of being the first woman from Franklin to graduate from college (Vassar College in 1878).
A.W. and Lydia were married in 1903. He died of a heart attack in 1934 and Lydia died in 1936. Their island home was sold thereafter to the family that still owns it today, said Pye.
The Peirces, although only residents of Monhegan in the summer, were active and well-known in the community, said Pye. They collected art and memorabilia and supported local artists, who loved to paint Lydia's large poppy garden, she said.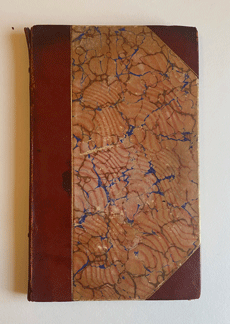 Monhegan Stories is the second handmade book created by Arthur Peirce that the museum has in its collection. In 1968, a child of one of the Peirces' neighbors donated a similar leather-bound book made around the same time. That book does have some articles mounted to its pages, but its contents are mostly of a more personal nature, said Pye. There are photos of the family and happenings on the island, such as the community's gala celebration in 1914 marking the 300th anniversary of Capt. John Smith's arrival on the island, and handwritten poems and rhymes, she said.
The books are important for the community of Monhegan today because they provide a glimpse into what life was like on the island—at least from the perspective of its wealthy summer residents—at the turn of the last century, Pye said. Of particular value is that the Peirces hand-wrote the names of the people and the buildings featured in some of the photos.
"Those are things that we might not otherwise have known," said Pye.
A reproduction of the first book is available for visitors to leaf through, Pye said. At some point, Monhegan Stories will also be digitized so visitors and researchers will have access to its treasures.
Read some of the articles found in the Peirces' Monhegan Stories:
• From Rhodora, "A list of plants seen on the island of Monhegan, Maine, June 20-25, 1900": https://www.jstor.org/stable/23293392#metadata_info_tab_contents
• From Cosmopolitan, "Trailing Yew," by Wiscasset-born writer Patience Stapleton: https://themonheganlibrary.files.wordpress.com/2012/06/trailing-yew-cosmopolitan-stapleton.pdf