Advocating for the Environment: How to Gather Your Power and Take Action
By Sue Inches (2021)
Review by Raina Sciocchetti
"Try starting with one thing, and see where it leads" is Susan B. Inches' advice for tackling environmental issues, whether you are a seasoned advocate or just beginning.
Advocating for the Environment: How to Gather Your Power and Take Action is a solutions-oriented guide to advocating for the environment written by Inches, who brings over 25 years of experience in public policy. As deputy director of the Maine State Planning Office and before that, a director at the Maine Department of Marine Resources, Inches managed a portfolio of environmental policy issues, including fisheries, land-use planning, renewable energy, working waterfront access, and rural broadband.
In this timely 2021 publication, Inches outlines principles and methods of environmental action. She draws on her wealth of experience as an environmental advocate and organizer in Maine to transform what could be used as a textbook in an environmental advocacy class into an instructional narrative driven by personal stories, practical examples, and a compelling sense of purpose.
Unlike many textbooks, Advocating for the Environment is accessible and inviting to readers of any level of familiarity with environmental advocacy.
The text can be used as an introduction to the subject or as a field guide for work on a campaign. Clear headings with inset stories and charts support easy reference and readability. If environmental advocacy is the road to a world that is compassionate, fair, safe, and healthy for all, Advocating for the Environment is a comprehensive guidebook, all maps included.
Unlike many textbooks, Advocating for the Environment is accessible and inviting…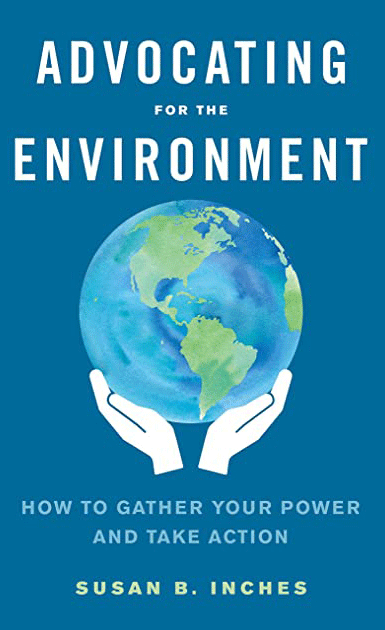 Part I begins with the fundamentals of any movement—understanding thoughts and beliefs. Identifying mental models and paradigm shifts in environmental advocacy is critical when navigating environmental attitudes and behaviors.
Inches explores Earth stories and worldviews to bring to light the beginnings of the environmental movement and summarizes trends in public policy throughout the years. The chapters introduce foundational elements of advocacy work from the power of storytelling to techniques for communicating across polarized perspectives.
Part II transitions from theory into practice, providing readers with tools and advice to address pressing environmental issues and describing ways people can harness their own potential. Not shying away from complex issues of power, political processes, and working with decision makers, the text provides resources that are especially valuable for environment advocates interested in—and possibly confused by—public policy, including lobbying and participation in hearings, public meetings, and task forces.
Additional resources, including sample legislative testimonies and communications documents provide real, Maine-based examples that illustrate the tools that are introduced.
In a particularly inspiring epilogue, "Eight Reasons to Be Optimistic in Troubled Times" (Inches recommends in the introduction that readers in need of motivation skip to the back of the book and read this chapter first), she provides a vision of the future: "When we focus on the future we want, the steps that could take us there begin to emerge from the fog."
As we act on those steps—by starting with just one thing, seeing where it leads, and turning that first step into many more—we may feel energized and rewarded.
Everyone has the power to change the world for the better. Advocating for the Environment offers detailed instructions for ordinary people to become effective environmental advocates and inspire meaningful change. The rest is up to you.
---
Raina Sciocchetti is an Island Fellow through the Island Institute, publisher of The Working Waterfront, working with the Sullivan-Sorrento Historical Society. Originally from Northern California, she graduated from Unity College with a degree in environmental writing and media studies.