Having just been informed that a crowd of angry men was gathering, threatening to kill him, 52-year-old Gen. Joshua Lawrence Chamberlain buttoned his coat and strode to the rotunda of the capitol building in Augusta and dared those assembled to kill him. He was there to keep the peace and the honor of the state, he told those gathered.
"I am here for that, and I shall do it," he said. Opening his coat he declared, "If anybody wants to kill me for it, here I am. Let him kill!"
This mind-blowing scene, recounted in Ronald White's new biography of Chamberlain—On Great Fields: The Life and Unlikely Heroism of Joshua Lawrence Chamberlain—took place in January 1880, when the state government was on the brink of collapse and threatened armed confrontation over election shenanigans prompted the governor to issue an order that essentially made Chamberlain military governor of the state for 12 days. In a letter to his wife Fanny, Chamberlain called the day of his rotunda speech "another Round Top."
"I think Ron is getting at some of the tensions and the contradictions in Chamberlain that make him more interesting."
To most people, Chamberlain is a Civil War hero and what they know most about him are his heroics at Gettysburg and Petersburg. But White's new biography—the first major, full-life biography of Chamberlain in more than 20 years—delves into his life in Maine, especially his childhood and student days.
"We've so focused on him as the Civil War hero. I get that. But there's so much more to his life," said White in a phone interview from his home in Pasadena, Cali. "I think [it is] so important to understand Bowdoin College and its classical education and the kind of Calvinist Christian trajectory that his parents imparted to him. Both of those things really shaped who he [was]."
Having written and researched two major biographies of the most prominent actors of the Civil War—Abraham Lincoln and Ulysses Grant—White knew something about Chamberlain, but not much. When someone in the audience at one of his lectures suggested his next book be about Chamberlain, White mentioned it to his editor and publisher, who jumped on it. So in 2017, White found himself making his first research trip to Maine. "Of course, I fell in love with Maine," he said.
In Maine, White worked with many Chamberlain resources, including the Pejepscot History Center in Brunswick, which owns Chamberlain's Brunswick home, Bowdoin College, First Parish Church in Brunswick, Brewer Historical Society, the University of Maine in Orono, the Maine State Archives, and the Maine Historical Society in Portland.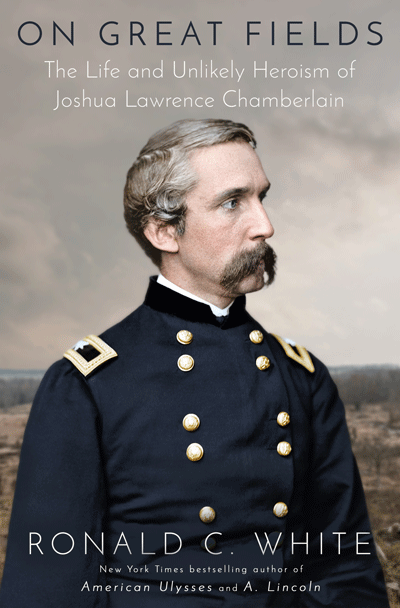 Researching a major biography of someone like Chamberlain is a huge task and one that's collaborative, and, in White's opinion, more fruitful if done in person.
"You have to go," he said, because "someone like Larissa [Vigue Picard, executive director of the Pejepscot History Center], is very, very important, saying, 'Ron, are you aware of this? Have you thought about that?' And so each of these archivists … all helped me think about [how to shape the biography]."
There's a constant stream of scholars and writers interested in Chamberlain, said Vigue Picard, so assisting in research is not something new or a burdensome task, but being a part in the creation of a new major biography written by a noted biographer is something special.
"It's very exciting for us to have a major biography come out," she said. "We have had other people write about Chamberlain … but, yeah, this is definitely a more 'headline' kind of author, and we do certainly look forward to it."
While Vigue Picard hasn't read the book yet, John Cross, secretary of development and college relations at Bowdoin College, has reviewed parts as it was in development and thinks the new biography will present a more fleshed out picture of Chamberlain than previous biographies.
"Ron has an appreciation of Chamberlain as a very complex figure," Cross said. "I think Ron is getting at some of the tensions and the contradictions in Chamberlain that make him, I think, more interesting."
White's biography makes a point of discussing recent arguments that Chamberlain overinflated his Civil War heroics, and addresses the potential abuse of his wife, Fanny. As White acknowledges in the book, there are few known sources to shed light on a letter written by Chamberlain to his wife in which he describes that he has heard that she has been telling others he was physically abusing her.
"I really struggled with what to say about this, and I didn't want to come down with a verdict," White said. "I really sort of said, we don't know, and sadly, the correspondence is missing. We don't have any of her correspondence. How did she experience this? How did she understand it?
"So, I made the suggestion—which others have made—that perhaps for a while, they lived separately, that they had this thing going on. But then I wanted to come back and say, I think they repaired their marriage."
And as White notes in the book, available materials suggest that while the couple did have rocky times in their marriage, they seemed to care for and respect each other.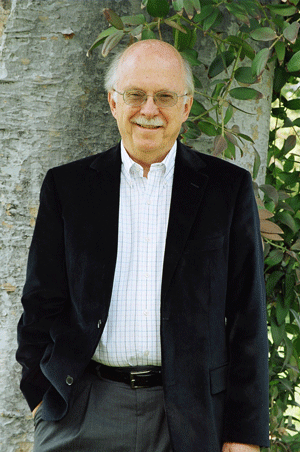 Not having more evidence, said Vigue Picard, "is very frustrating because in a day and age where we want to call out these people who did unseemly things, it's a real limbo area. We don't have another piece of evidence to say, 'Oh yeah, he did it, and boy, that's pretty reprehensible.' But nor can you obviously just sort of toss that letter aside and ignore it. So I think the thing is to talk about it, and again, explain these complexities. This is not just a hero who did all these famous things."
White's On Great Fields: The Life and Unlikely Heroism of Joshua Lawrence Chamberlain, will be released Oct. 31. White will talk about his book at Bowdoin College in Brunswick on Nov. 8. A specific location and time have yet to be determined for the free event. When details are available, you can find them on the Pejepscot History Center's website, pejepscothistorical.org.