If you visit 44 North Coffee's Stonington location through mid-October, you'll notice something different about the beloved cafe. This year, 44 North is hosting an exhibit of photographs, audio stories, and a soundwalk by The First Coast, a collective of storytellers and documentarians that I helped curate.
Founded in 2016 with a grant from The Kindling Fund and distributed by Space Gallery, The First Coast is a multimedia storytelling project that documents and shares stories of rural coastal Mainers. The Deer Isle-Stonington Exhibit and Soundwalk joins the ongoing series of community exhibits thus far in Lubec, Jonesport, and Beals Island.
Many of the interviews featured in these exhibits are from historic archives, or were conducted by me with residents who have lived through incredible periods of change on the coast. While each location of The First Coast exhibits is unique, the stories featured share similar themes of family, place, community, fishing, and identity.
~ ~ ~
When I started The First Coast it was, aside from collaborations with photographers, a completely independent project. I renovated a leaky Airstream and for a few years, I'd spend chunks of time collecting interviews and living in that old trailer with my dog.
In 2020 The First Coast officially partnered with College of the Atlantic, Island Institute, and Maine Sea Grant and the project expanded. As part of that partnership, I committed to teaching one class per year and mentoring and advising students at COA.
The exhibit was written, edited, and produced by two of my students at COA, Annika Ross and Celia Morton. They pored over hundreds of hours of interviews, digging through transcriptions of audio interviews from the Deer Isle-Stonington Historical Society and The First Coast archive.
I renovated a leaky Airstream and for a few years, I'd spend chunks of time collecting interviews and living in that old trailer with my dog.
Through the process of listening to oral history interviews, Annika and Celia became immersed in Maine's coastal history and the culture of Deer Isle. They learned about sardine factories, lobster regulations, island life before the Deer Isle-Sedgwick bridge, fish camps, and back-to-the-landers.
After listening to the interviews and pulling their favorite stories and themes, I gave Annika and Celia the incredibly daunting task of creating a 45-minute non-narrated audio exhibit. They learned tangible professional skills such as how to synthesize information, structure a story, and use audio editing software. They also learned about ethics, accountability, and critical thinking. We talked at length about the role of an editor and artist; how do we decide what stories stay and what stories go?
I grew up in Stonington. The community members featured in the interview archives are people I have known for most of my life. This made the process of mentoring Annika and Celia especially meaningful.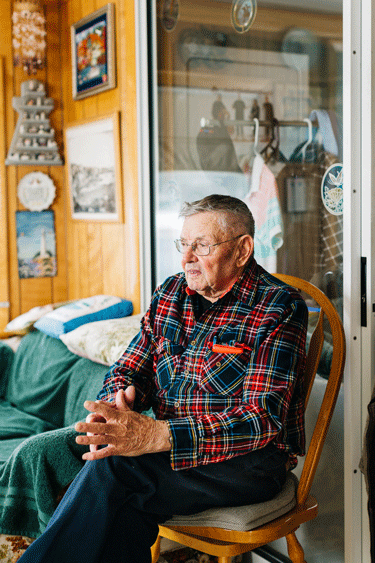 Annika and Celia brought outsider perspectives to the project; they heard moments in the interviews that I would have missed. They found simple interactions in interviews very profound, like when a subject offers me a cup of coffee and a piece of cake. By incorporating those moments, and stories of community care, family, and love, they created an audio story for the Deer Isle-Stonington Exhibit that is deeply informative, personal, and caring.
The Deer Isle-Stonington Exhibit and the Stonington Soundwalk are intended to be an asset to the community and town. As cultural heritage tourism, the exhibit and soundwalk offer visitors a way to engage with history.
Stonington is, first and foremost, a fishing town. It can be challenging to get a sense of that history and identity when visiting the island for a day or overnight trip. The stories in the exhibit and soundwalk give insight into the year-round community; the values, culture, and shared memories that make Stonington special.
The exhibit inside the cafe features 24 stunning photographs by Greta Rybus, Justin Levesque, and Jenny Rebecca McNulty. Each photograph has a corresponding caption and QR code that, if scanned, will play the audio edited by Annika and Celia.
For this exhibit, we also debuted a new method of sharing stories with the public: digital story frames designed by Perch Made. These story frames feature all of the audio and photographs in a touchscreen interface that can be installed in community spaces after the framed photographs come down in October.
The Stonington Soundwalk takes the exhibit outside the walls of 44 North's cafe. A soundwalk is an immersive experience. The intention of a soundwalk is for the listener to be outside, moving, engaging with a landscape and a place. The stories are intrinsically tied to place, something that's difficult to achieve in any other storytelling experience.
If you take the soundwalk, you'll wander through the main streets of downtown Stonington, guided by my voice and the stories of community members. You might be shrouded in fog, or walking in a brisk autumn wind. You may be navigating tourists or find yourself on empty streets in the off-season. You are invited to engage with history, memories, and place while witnessing the town and community firsthand.
Most importantly, the exhibit and soundwalk were made for the Deer Isle and Stonington community. It is with their ears and eyes in mind that Annika, Celia, and I created this work.
On July 1, we hosted the official opening of the Deer Isle-Stonington Exhibit and Soundwalk. Some of the first people to arrive at the event were two of the 90-year old island residents featured in the exhibit. We gave them mp3 players and headphones and I cued up some stories.
When the audio started to play one of them exclaimed, "That's Andy!" as the voice of the late fisherman Andy Gove played from the headphones. They started beaming from ear-to-ear and nodding, listening to a story about the herring fishing.
At that moment I felt the true impact of this work. We create the work to share memories, stories, and histories, but sometimes the most important thing is the simplest: hearing the voice of a friend you thought you may never hear again. It is almost a kind of magic.
For more about Galen Koch and her work, see GalenKoch.com and TheFirstCoast.org.