Many in the seafood business lost their way during the height of the pandemic. Now, one sector is offering a trail to a recovery.
Actually, the Maine Oyster Trail was launched in 2017 by the Maine Aquaculture Association through a website—maineoystertrail.com.
Afton Vigue, an outreach and development specialist for the aquaculture association, said when restaurants were shuttered last year, oyster farmers had to pivot to find local markets. Many opened farm stands, hosted farm tours, and offered direct sales from their homes to diversify income and weather the pandemic.
Being on the trail is going to give Maine farmers the ability to sell directly to the customer…
In response to that situation, Vigue said, the decision was made to revamp the original Maine Oyster Trail created by Maine Sea Grant and the aquaculture association three years earlier. That project was designed to educate consumers about oyster farming in Maine.
The updated trail connects consumers to oyster growers, raw bars, oyster farm tours, "shuck" trucks, boat charters, kayak tours, other related experiences along the Maine coast.
"The Maine Oyster Trail is the first interactive, incentive-based oyster trail in the U.S.," Vigue said, and it features 75 Maine businesses offering oyster "experiences."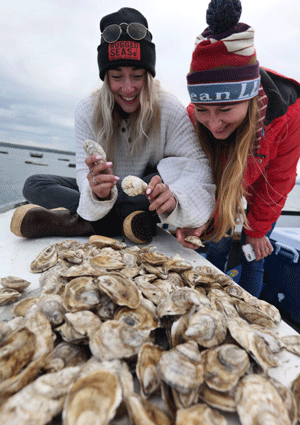 The trail's trip planner allows users to build their own custom trail by choosing experiences and coastal regions they're interested in. There's also an oyster passport to track visits, complete challenges, and redeem check-ins for Maine Oyster Trail swag. A secret grand prize will be awarded at the end of the season.
Growers say the trail has already helped increase sales. Graham Platner, who owns and operates Frenchman Bay Oyster Company, said the new website has attracted customers to both his business and the raw bar at his family's Ironbound Restaurant in Hancock.
"The updated trail has driven lots of business to both the farm and the restaurant this season," said Platner. "Lots of small farms just don't have the resources, time, or ability for extensive marketing, and so the oyster trail has broadened the market and helped small farms immensely."
Kelly Punch, catering and events manager at Mere Point Oyster Company, said the business began to diversify its approach during the past year. It now sells oysters directly to customers from the headquarters in a large red barn on Mere Point Road in Brunswick and also offers lobster tails, clams, and shrimp cocktail.
Punch said she's seen new faces at the Mere Point's farmers market visits and has had new customers participate in a farm tour as the result of the Maine Oyster Trail.
"The Maine Oyster Trail has taken the small family farms and raw bars and quite literally put us on the map," she said. "Being on the trail is going to give Maine farmers the ability to sell directly to the customer and provide the freshest product while building our customers' connection to the ocean and our food."