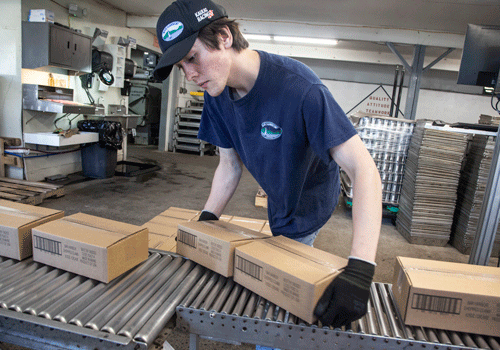 Story by Sarah Craighead Dedmon
Photos by Leslie Bowman
Fish canneries once dotted the coast of Maine, jutting off of small-town shorelines, and employing thousands of Mainers for more than a century. At the sardine industry's height, more than 50 canneries were in operation at the same time.
Today, there is only one.
Bar Harbor Foods runs Maine's last cannery on Holmes Bay in Whiting, population 481. Operating in a structure more than 100 years old, Bar Harbor still sells sardines, but in a very modern way—think clear-lidded cans, extra virgin olive oil—and with an extremely modern supply chain. Bar Harbor's lobster comes from Maine, its clams come from the mid-Atlantic, and its sardines? Latvia.
"The product we have in a can just swims its entire life in the ocean until it's caught, and it's never been treated with anything."
"We have gone international in terms of some sourcing," says Bar Harbor Foods Managing Director Denis Minihane, likening the business model to another Maine company, L.L. Bean. "Some of L.L. Bean's manufacturing is overseas, but their brainpower and design and development remain in Maine," he says.
In Bar Harbor's case, raw materials may come from the Gulf of Maine or the Baltic Sea, but everything is designed and distributed from rural Whiting, a coastal Washington County village located 15 miles from Canada, and 100 miles from the nearest interstate highway.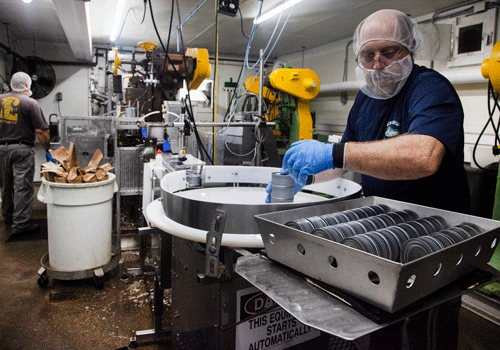 The rural location hasn't hurt business. In fact, says Minihane, it has enhanced its brand appeal, especially with millennial customers.
"They like the story," he says. "They like it to be as near as you can be to the sea, produced in a humble facility, without the additives and preservatives, the same way they're willing to pay more for craft beer and enjoy the value of where it's being produced."
Though the cannery is almost 100 miles from its namesake Bar Harbor, the logo and brand are a vestige of a previous owner, Michael Cote, who purchased the original A.M. Look Canning Company in 2003. The name equals instant brand recognition.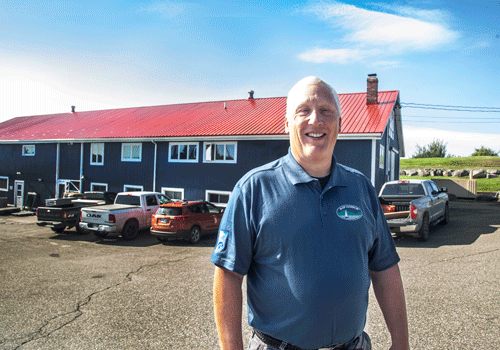 "Everyone knows Bar Harbor," says Minihane, adding that the company may one day make a physical connection to the town.
From its Whiting factory, Bar Harbor delivers dozens of specialty products like lobster chowder, clam juice, and, of course, sardines, into almost 30,000 U.S. supermarkets and 10 countries including Ireland, South Africa, and Korea. Pending changes to clam import rules might soon open the European Union market, too.
"I expect and anticipate that's going to be lifted, which will open an entirely new market for us," Minihane says. "We think there's a huge opportunity in supermarkets in the U.K., and as France and Germany open up, we want to expand into those markets, too."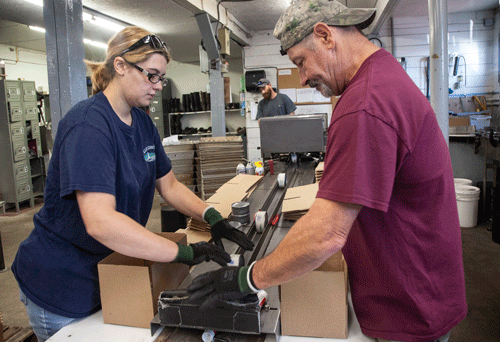 International markets have their own rules and so it's Nagela DeVito's job to prepare specialized nutrition labels for every country. DeVito is innovation and quality engineer for the business.
"Every time we have to make a label for Canada, we study their regulations because they have different allergens. In Mexico, it's completely different, too," said DeVito, who is also helping to transition Bar Harbor's recipes to include more gluten-free products, a strategic move to serve a growing market of people with gluten sensitivities or celiac disease.
Sometimes Bar Harbor adjusts recipes to meet international palates, too. For instance, in Canada, Bar Harbor's smoked sardines are packed in maple syrup.
"Regardless of whether you're in Whiting or New York, you have to understand the nuances of certain markets," says Minihane. "You try to sell sardines with maple syrup in the U.S., it's not going to go too well."
But sardine sales are going well. In fact, all canned goods are having a moment, thanks in part to the coronavirus pandemic and growing interest in shelf-stable foods. Beyond pandemic-driven demand, Minihane sees other positive indicators for canned goods, including an expanding interest in low-carb diets, driving demand for clean proteins.
"To get the equivalent amount of protein in chicken or beef you pay almost three times the price, and with industrial farming behind it," says Minihane. "The product we have in a can just swims its entire life in the ocean until it's caught, and it's never been treated with anything."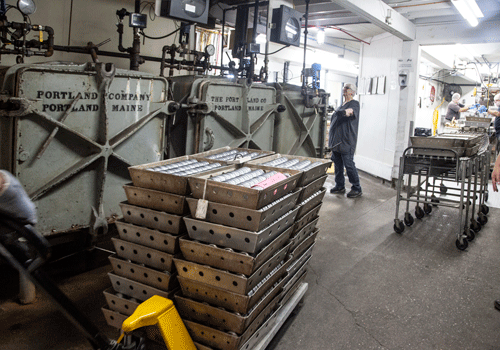 Most of the product line today includes seafood, a fact that attracted its current owner, SeaWatch International, to purchase Bar Harbor in 2016. SeaWatch is the largest wholesaler, harvester, and processor of clams in the world and supplies Bar Harbor with the surf clams needed to make its clam chowders.
To source its sardines, though, Bar Harbor needed to look further afield. Scarce in Maine waters for decades now, the company first imported sardines from Canada. When that supply chain dried up, it went to Latvia.
"Latvia is where the sustainable elements of the sardine fishery are," says Minihane.
Sustainability is important to Bar Harbor. This year the Marine Stewardship Council (MSC) awarded Bar Harbor Foods its Oceans Champion Award, given to partners that demonstrate excellence in their dedication to healthy oceans and a transparent supply chain.
General Manager Mike Sansing says Bar Harbor goes beyond the standard requirements for supply chain transparency because knowing where seafood comes from is a way consumers can impact the health of the ocean.
"If you go to buy fish at the seafood counter, you don't know anything about that fish," said Sansing. Products recognized by MSC bear a bluefish seal.
And Bar Harbor is growing, too, and is planning a physical expansion within two years, likely to be nearby to retain its workforce. Bar Harbor currently employs 31.
Minihane says there will be a processing plant and cannery in Whiting "for a long, long time, because you cannot translate this product having it produced elsewhere. It loses that magic that it has," says Minihane. "There's a sparkle in it when it's from here, and people light up when they see the can."