PHOTOS BY MICHELE STAPLETON
Near the end of our conversation, Genevieve McDonald drops a bit of a bombshell by saying she is applying for law school and hopes to begin classes in the fall of 2022. This comes after she has described her work as a state legislator, her work as captain of a lobster boat, and her roles as wife, and mother of twin three-year-old girls.
"Oh, I'm not done yet," she says matter of factly. "I'm just getting started."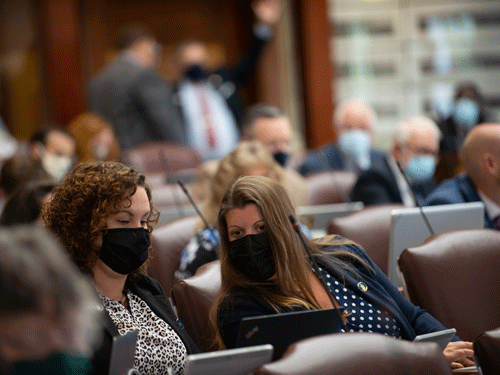 Betting against McDonald is probably not a smart move. Yet there's no denying she swims against the current.
At 38, she is completing her second term as a member of the House of Representatives for the Cranberry Isles, Deer Isle, Frenchboro, Isle au Haut, North Haven, Southwest Harbor, Stonington, Swan's Island, Tremont, Vinalhaven, and Marshall Island Township.
And she is a Democrat. Yes, she admits, many of those who lobster out of her homeport of Stonington lean Republican. In fact, Trump flags are a common sight in many lobster ports.
"I'm a Democrat," she asserts, then adds, "I'm a proud Democrat," supporting progressive values on the environment, and on economic and social issues.
One of her successes in the last legislative session on the environment was a bill that defines the release of more than 15 balloons as littering. A littering code adopted in 1991 was too specific, McDonald explained, so that only throwing a balloon on the ground was prohibited.
Evidence of this plastic pollution is often seen on the water as she fishes, and so McDonald is committed to hauling trash back to shore and not pumping out a bilge with oil in it.
"It was a lot easier to be an environmentalist when I started fishing," she said, 16 years ago. "I found it easier to be a strong environmentalist and a commercial fisherman."
One change is that threats like new rules to protect right whales and floating wind turbine plans have pushed fishermen away from environmental organizations who support those initiatives.
"I was disappointed in the political polarization that has occurred in the lobster industry in the last three to four years," McDonald says. "I'm certainly on the side of the fishing industry," but tension has developed.
After fishing with her husband for six years, she has now been running her boat, Hello Darlings II, for ten years as captain. The vessel's name was Hello Darlin', a reference to a Conway Twitty song that she amended to refer to her twin girls.
When asked if she fishes with her husband Cory, her quick retort is, "No, I want to stay married." She employs a woman as a helper on the stern; this year, they are running 400 traps. Years ago, working as a woman lobster captain might have been unusual, and even difficult, but not now.
"I've seen a tremendous increase in women on the water," she says.
And even if it were difficult, McDonald seems up for a challenge.
Growing up on Mount Desert Island, then on the Blue Hill Peninsula, she was placed in foster care at age 12, and became emancipated from adult care at just 16.
"It wasn't easy," she says. "I grew up very adrift," attending a different school just about every year. "I never had a chance to develop friends."
She recently disclosed on social media that a teacher to whom she'd written a letter while in seventh grade—during those difficult years—found the letter and sent it to her. Neither remembers whether the teacher responded all those years ago, but McDonald counts that teacher as a friend.
"We have kept in touch," and they occasionally run into each other at the grocery store. "I had three incredible teachers," she remembers, who each helped her through that time.
Now, as a mother of small children, she is grateful that their lives are different.
"I have a fantastic spouse, who is a fantastic dad and a very good husband." He has a large extended family in Stonington, so the girls have community support from "so many cousins, and aunts, and uncles. I'm very happy they have these people in their lives."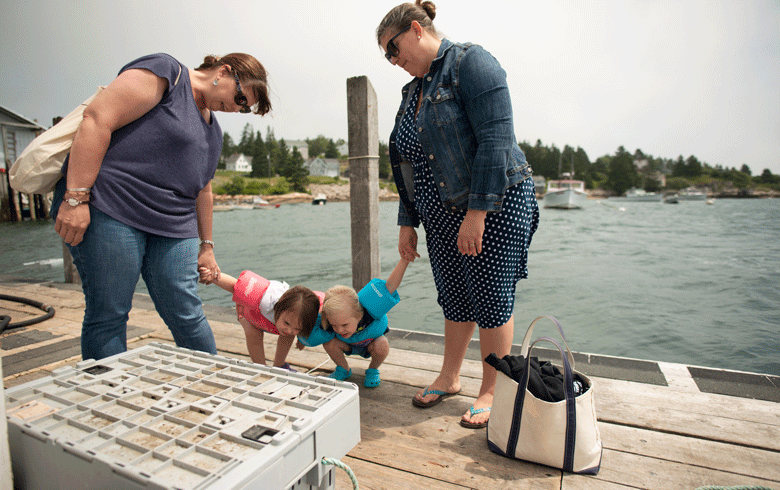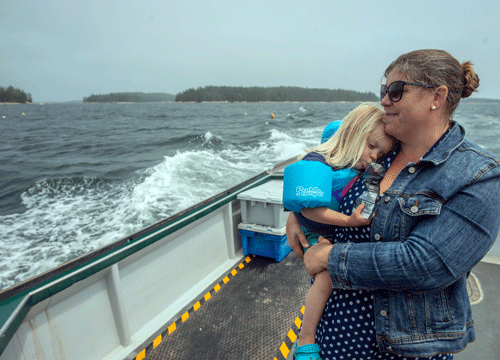 McDonald began her public life when she was appointed to her region's Lobster Advisory Council. Then, when Rep. Walter Kumiega faced term limits, he asked her to seek that seat. He gives her high praise for her efforts.
"Genevieve MacDonald dove into the job of being a legislator headfirst and hasn't slowed down yet," Kumiega said. "As a constituent, I couldn't ask for better representation."
Running for the seat was not in her plans. "I had not considered it," she confesses, but now she's all in, and plans to run for reelection in 2022. She serves on the marine resources and government oversight committees and is House chair of the latter panel.
The oversight committee produced two bills to help prosecute child sexual abuse—allowing victims under the age of 14 to testify remotely and allowing law enforcement officers to pose as minors online.
Law school at the University of Southern Maine will be possible, she believes, because while serving in Augusta, the school is just an hour drive south, and if she has to stay, she has a sister living in Wells.
But her deepening roots in Stonington now include a house, in the village area, the family is renting to own.
"I feel very fortunate to live on the hillside," she says.