The sea has inspired countless artists, but few have seen as much of it as Alan Fishman and Marcie Jan Bronstein, a Belfast couple who have cruised the world. Though they have owned boats as a couple for 30 years, most of their sea-art adventures came aboard Celebrity Cruise ships.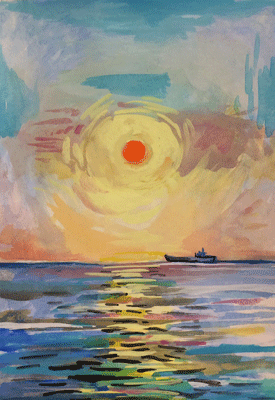 It began when the couple took their son, Noah, on a cruise, and Fishman attended one of the shipboard art lectures. After, he had a simple but life-changing thought: "I can do better."
Fishman's creative resumé includes a stint at New York's Fashion Institute of Technology, which led to a role helping establish a similar institution in Italy, a disclosure that prompts him to wryly observe, "It's hard to believe the Italians needed help with a design school."
He was there from 1985 to 1991, and in that final year, Bronstein joined him.
"We had a boat on the coast of Italy," which she confirms is as idyllic as it sounds. "The orbit we stay in has to do with our boats," she adds.
So after that less-than-impressive art lecture, Bronstein wrote to Celebrity Cruise lines for work, and, much to her surprise, landed jobs for both of them. He lectures on the art of the region or port at which the ship will call—what he calls "itinerary-based art history"—and she teaches photography and watercolor painting. Bronstein also developed an "art lab for all ages" class that was a hit.
The first cruise was to Iceland in 2014, then voyages to places like India, Thailand, Singapore, Spain, Australia, Tahiti, Turkey, and Dubai followed. It got to the point that they could pick up the phone and request to join a particular cruise, and the company would fly them anywhere in the world to get on board.
"The cruise ship was a magic carpet ride," Bronstein says. They would enjoy a comfortable stateroom in the crew part of the ship but be able to enjoy the amenities available to other passengers.
In port, he says, "Marcie and I would get off the ship with our art supplies and go find a place to paint."
"We spent up to six months of each year" on board, Bronstein adds.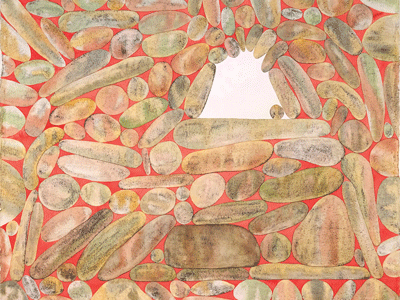 The pandemic put an end to their run, with the last cruise ending in November 2019. Both say they would return to cruising if given the chance.
Bronstein's photographic work emphasizes negative space, and she plays with digital manipulation to create striking color contrasts. The sea plays a prominent role in almost all the work.
Her paintings are abstract, relying on shapes that draw on symbols and archetypes, many featuring, again, a prominent negative space, what she calls a portal. "Flow" is also a goal, she says, and indeed, many of her works seem to have frozen a complex movement.
Fishman is prolific, working in acrylics these days, rendering seascapes and landscapes. "For the five years I was on the ship, I painted the sea every day," he explains. "The sea has always occupied my mind."
Showing a winter night landscape, he says he aims for "a sense of what the thing is about, not the thing… the mood."
Fishman is represented by Harbor Square Gallery in Rockland.
Though he had grown up 70th Street in Manhattan, Fishman had a connection to Maine. "I had gone to summer camp in Maine and had a nostalgia for Maine that never went away," he says, and remembers boarding a train at Grand Central Station for the overnight journey to Casco.
It was at the camp in Maine that his love of boats was kindled. "We had two Cape dory type sailboats," he remembers.
Bronstein grew up in Maryland and had lived in New York and San Francisco.
When prices escalated in New York, the couple learned of a barn that had been converted into a three-story house in Belfast.
"We drove to Belfast for this barn," he says, gesturing to the expansive space that includes her studio on the ground level and his in the soaring third-floor loft. They sailed their boat to Belfast, too. They now own a 34-foot Nordic tug, Wonderline, and enjoy multi-night voyages from their adopted hometown.
The family made a mark on Belfast in the spring as one of Bronstein's designs was chosen for a downtown crosswalk, and Fishman and their son Noah helped with the painting. A time-lapse video may be viewed at: InThisPlayground.com.