When a Western Atlantic bluefin tuna takes the hook, the effect isn't subtle.
"They're like a freight train hitting on your rod-and-reel," long-time Portland fisherman Pete Speeches said of the massive fish. "The reel streams off and the fight is on. It can be 10 minutes or 10 hours."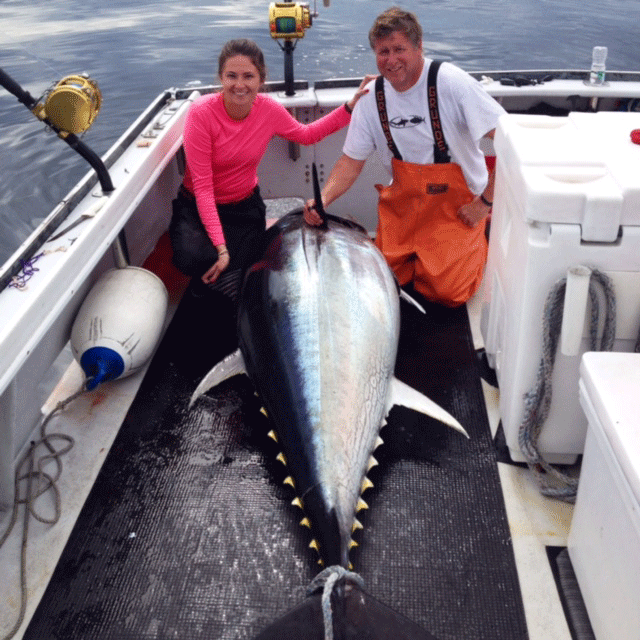 The trick is to outmaneuver the fish—force it to swim, tire it down. Eventually it stops running and starts to pinwheel in smaller and smaller circles.
"The fish that gives us the hardest time are the athletes," he said. "I call them gladiators."
The bluefin is one of a variety of tuna species that frequent the East Coast. Commonly reaching lengths over six feet, this high-jumping, fast-swimming fish travels long distances across the open ocean between spawning and feeding areas, according to the University of Maine Sea Grant.
The commercial fishery is guided by international and federal management programs that include the use of selective gear such as rod-and-reel and harpoons, along with catch limits and seasonal sub-quotas.
"Compared to other bluefin fisheries around world, we have a lot of things that are conservation-minded," said Walt Golet, an assistant professor at the University of Maine's School of Marine Sciences whose specialties include bluefin. "We have by far the largest minimum size in the world."
The goal of the 73-inch minimum size is to ensure the fish grows large enough to spawn before it can be harvested. The use of hand gear is also key to conservation.
"In the commercial category, around 80 percent or better of the bluefin that are caught in the U.S. are done so using rod-and-reel and harpoons—very primitive gear by fishery standards," said Golet. "We catch them one at a time—no big purse seining operations anymore."
Speeches called the fishery the poster child for successful conservation.
"We manage our fishery better than anybody in the world and have had a tremendous rebound in the western Atlantic stock," he said.
For Speeches, bluefin is a lifelong pursuit. For many years, he had an automotive shop in Portland. But the fifth-generation fisherman has also been chasing tuna from the Gulf of Maine to North Carolina since the 1980s. And he's involved in policy and research through the American Bluefin Tuna Association and the Gulf of Maine Research Institute.  In 2016, he was recruited by National Geographic Channel's Wicked Tuna, which follows top New England fishermen. His daughter Erin joined him.
"Around 80 percent or better of the bluefin that are caught in the U.S. are done so using rod-and-reel and harpoons."
How does he find the fast-swimming fish?
"There's an old saying—fish where the fish are, not where you want them to be," he said. "Part of the mystique is knowing where they are. That's a whole book unto itself."
Given his long experience, he's familiar with his quarry's travels.
"Tuna are pretty straightforward," he said. "They want to eat and they're usually where the bait is. If you can find a spot with a lot of forage fish"—like herring, squid, mackerel, and codfish—"you'll usually find tuna."
Or park near the scallop or gillnet fleets; tuna will nosh on the shells and guts shoveled overboard.
The search starts in known haunts closer to shore and goes from there. Speeches' boat, a 45-footer named Erin & Sarah, is outfitted for multi-day trips. There can be a lot of waiting around for the tell-tale bite. Then comes the freight train.
"It's an adrenaline rush," Speeches said.
These days, there's more interest than ever in pursuing bluefin; seasons often close early when quotas run out.
"That speaks to the number of fish that are around and how much is being landed," Golet said.
The majority of domestic bluefin goes to sushi markets in Japan, according to NOAA FishWatch. But U.S. consumers have a growing taste for sushi. Speeches likes to shave slices of raw tuna and pair it with wasabi and soy sauce.
Although the fishery isn't as lucrative as it once was, the delicacy makes it all worthwhile.
"It's where I'm meant to be," he said. "It's a thrill and a lifestyle, not just a vocation."