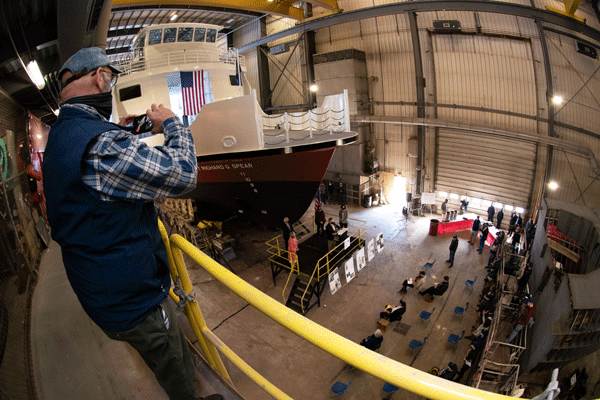 PHOTOS BY MICHELE STAPLETON
The Capt. Richard G. Spear, the Maine State Ferry Service's newest vessel, was launched April 9 at the Washburn & Doughty yard in East Boothbay where it was built. The ferry, 154-feet-long and 38-foot-wide and able to carry 250 passengers and 23 vehicles, will serve on the Rockland-Vinalhaven run.
The total cost including all design, engineering, and construction work was $10.9 million.
The ferry is named for Spear, a Maine Maritime Academy graduate who in 1959 became the service's first employee. Later, Spear served as manager, a post he held until he retired in 1989.
Spear, who died in 2018 at age 96, graduated from high school in Rockland and enrolled in the newly established Maine Maritime Academy, graduating in 1942. During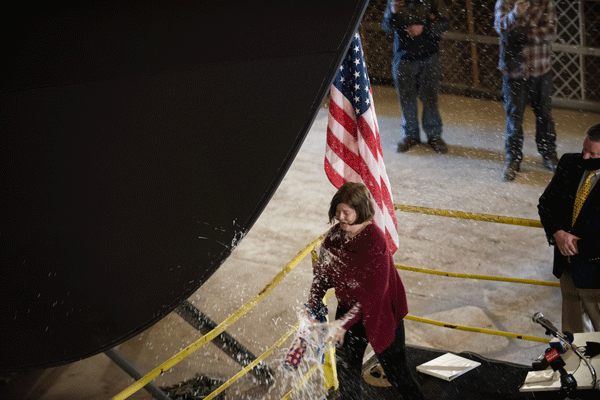 World War II, he served with the Merchant Marine in the Atlantic, Pacific and Mediterranean war zones.
In addition to his mariner work, Spear was a scuba diver and an airplane pilot, and traveled to such places as the North Pole, Antarctica, Cuba, and Australia.