The Green Crab Cookbook
By Mary Parks and Thanh Thái
European green crabs are a scourge on the Maine coast, first introduced during the mid-1800s, likely by sailing vessels. They were first recorded in Casco Bay in 1900, and within 50 years had occupied the entire coast.
These little crabs (up to three inches across) can be present in very high densities in the intertidal and nearshore waters, where they have devastated populations of juvenile soft-shell clams and blue mussels, directly preying on the annual spat from these bivalves. There are also reports of them influencing the feeding and behavior of lobsters and destroying the roots of marsh grasses with their burrowing.
A single adult green crab can eat up to 40 juvenile clams in a single day…
With waters warming from climate change, populations of green crabs are expected to increase even more, possibly threatening the very existence of the soft-shell clam fishery, currently Maine's third-most valuable wild fishery. A single adult green crab can eat up to 40 juvenile clams in a single day, meaning nearly all newly settled clams in areas without physical protection (such as green crab exclusion cages) are cleaned out and do not reach adulthood.
One solution to this issue is to catch and remove the crabs. Several locations have tried directed removal for ecological reasons, but these efforts are limited in scope, and have not had lasting success. Another potential answer is to catch and utilize them as food.
Maine has plenty of fishing capacity, and The Green Crab Cookbook, written and edited by Mary Parks and Thanh Thai, proposes adopting a "If you can't beat 'em, then eat 'em!" strategy.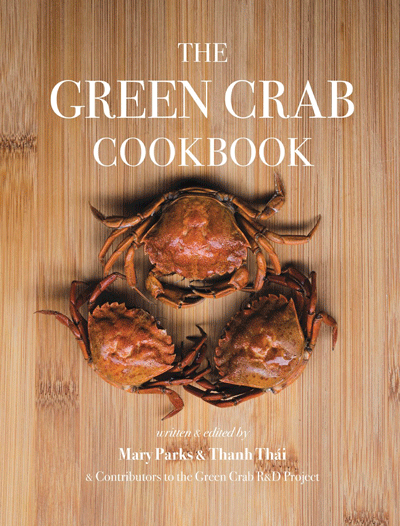 Currently, though, there is almost no commercial fishery, largely because there is little market for these small crabs. This cookbook addresses the latter issue by presenting a number of culinary suggestions for what to do with a bucket of the invaders. You can gather them yourself, turning over rocks along the shore, or possibly purchase some in your area from one of the apparently growing number of commercial fishermen keeping them (more information on suppliers can be found at greencrab.org).
The recipes described are notably international. A good part of the book stems from a trip Parks took to Venice, Italy in 2017, where she was hosted by a family of traditional moecante, or Venetian lagoon green crab fishermen.
These watermen specialize in catching and holding green crabs until they molt, whereupon they are sold for some of the highest prices of any seafood in Europe, up to $55 a pound. The moecante are skilled in estimating exactly when the crabs will molt, holding them in large, suspended baskets until just the right moment.
Immediately after molting, the soft-shell crabs are deep fried and served 2-5 crabs to a plate, available only during very limited periods seasonally, during both spring and fall molts. They are eaten whole, legs and all. Hard shell crabs also produce masinette, or clumps of crab roe. This succulent orange caviar can be served mixed with picked crab meat on half shells or mixed with pasta to create a savory dish.
Thanh Thái is Vietnamese and drew on her cultural background to create recipes based on the rice paddy crab, found and eaten across southeast Asia. These crabs are also regarded as pests, boring into the soft bottom and damaging young rice shoots. A rich cuisine has developed around them, with the side effect of controlling the populations. Her recipe for Bun Rieu, or crab noodle soup, looks delicious, and there is an appealing picture of a crab Bahn Mi, or baguette sandwich, with the crab claws sticking out at all angles like a child's vision of what a crab sandwich should really look like.
Some of the recipes also have intersection with other developing Maine seafood industries, like a crab, ginger, and kelp stock, or oysters on the half shell dotted with masinette. All told, the cookbook presents some 20 varied recipes, along with brief but interesting background on green crab biology and their place in Venetian and Vietnamese cuisine.
It is a good guide for utilizing these all-too-common invaders, and perhaps a step forward in creating a new seafood industry diversifying our waterfronts.
The book is available for $30 at GreenCrab.org
Ben Neal lives on Islesboro and teaches at Colby College.